Ezhacherry Ramachandran – Malayalam poet and lyricist who penned the song, "Chandana Manivathil"
Ezhacherry Ramachandran is a poet and journalist based in Kerala. He writes in Malayalam, and has also penned lyrics for a few Malayalam film songs and plays. His poetry collection, Ennilloode was awarded Kerala Sahitya Akademi Award for best poetry in 2008. He is also a recipient of Aasan Smaraka Puraskaram 2017, Kadammanitta Award 2017, Ulloor Award, State Bala Sahitya Institute Award 1995, Pandalam Kerala Varma Award and many other honours. Among all poetry works, his works for children are immensely popular.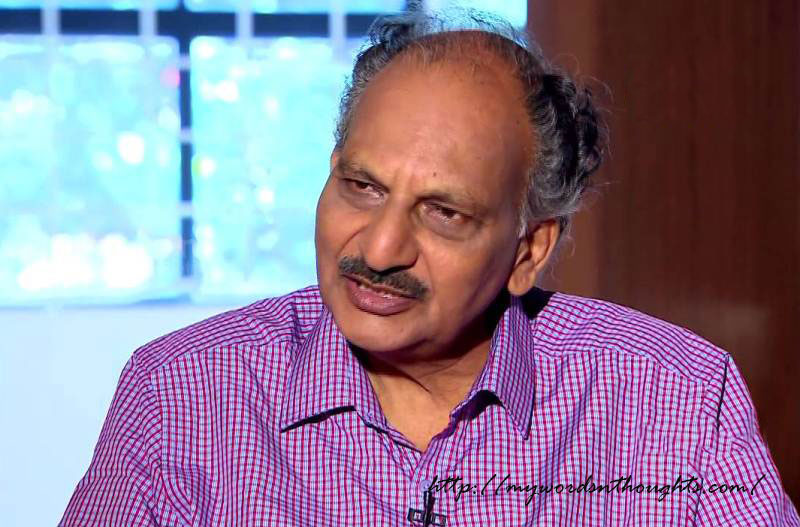 He penned the nostalgic film song, Chandana Manivathil
Ezhacherry Ramachandran was born in Ezhacherry of Kottayam district, Kerala in 1944. His schooling was done at Edanad. As the journalist he worked with Deshabhimani for many years and also served as the chief editor of its weekly publication. As a writer he rose to prominence through poetry, and wrote songs for movies and professional drama too.
He penned lyrics for Malayalam movies such as Nerariyum Nerathu (1985), Meenamaasathile Sooryan (1986), Vaiki Odunna Vandi (1987), Marikkunnilla Njaan (1988), Omanaswapnangal (1991), Kalyaanji Aanandji (1995), Rakthasaakshikal Sindaabaad (1998), Kanal Kannaadi (2008), Pathaam Adhyaayam (2010) etc. Though he is not popular as a lyricist, Chandana Manivathil from Marikkunnilla Njaan sung by Venugopal is one among his famous film songs.
Popular poet of present times
He is fondly called 'Ezhacherry' and his poems are known as 'Ezhacherry Kavithakal'. Romance, woman, ragas and music closely mingle in many of Ezhacherry poems, and is one among his signature styles of writing. He has authored countless poems for children, published 5 books belonging to this genre and often supports women and feminism through his works.
Controversy surrounding the death of celebrated Malayalam lyricist Vayalar Ramavarma
It was only in 2011 it was revealed that Vayalar Ramavarma died due to medical negligence at the time of Emergency in 1975, and not because of an operation following the condition of cirrhosis. It was revealed in a public function by poet Ezhacherry Ramachandran that Vayalar died after receiving blood of a different group. He said that operation was successful and he accepted blood from different people, including prisoners of Poojapura central jail, ardent fans of the poet. He revealed that the poet started shivering while accepting 33rd bottle of blood, which belonged to another blood group. Later he stated that he is not sure about its authenticity.
Ezhacherry Ramachandran – Some interesting and less-known facts
1. He was the first recipient of M.S. Rudran Award for Poetry.
2. He authored lyrics for more than 30 movies since mid-1980s throughout 1990s and later.
3. He won best lyricist award multiple times for professional drama.
4. He wrote more than 550 poems till now, which include 5 anthology work in children poetry and 2 prose works (1 in history and a memoir).
(Visited 488 times, 1 visits today)