Have you heard about temples for Kaurava brothers?
In front of Kaurava temples of Kollam, known as Malanada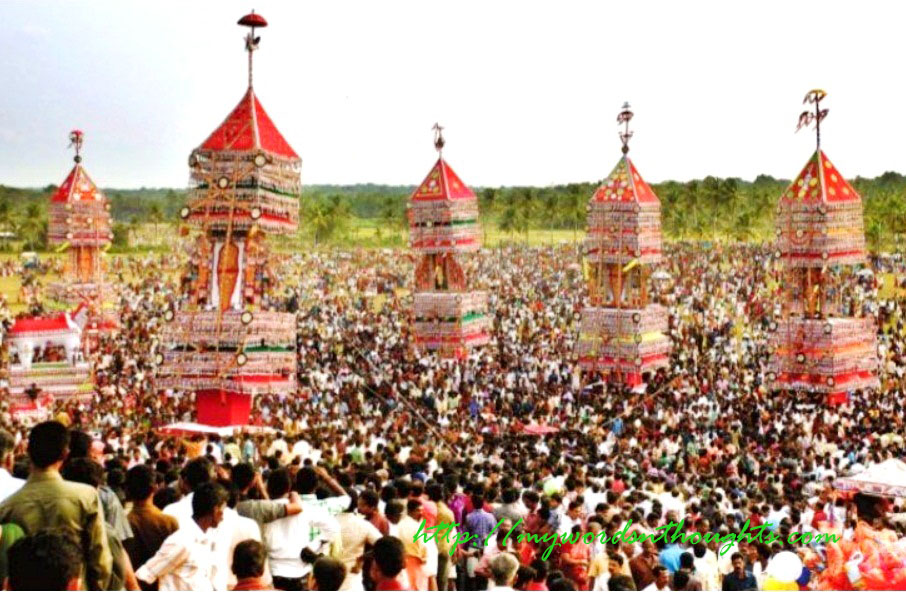 As per stories Duryodhana, the eldest of Kaurava brothers gives tax to 14 acres of land at Peruviruthy of Kunnathur Taluk belonging to Kollam district. When you visit the temple premises of Poruvazhy Peruviruthy Malanada Temple during festival season, the place resembles Kurukshetra, where the great Mahabharata war was fought. Perhaps it may be fantasy of someone or just folklore, Malanada temple resided by Kauravars brought fame to native land. Aivarkala giving fragrance of Pandavas' presence, Pandavan Para etc are some of the places nearby, place name coined from Mahabharata.
If Duryodhana is worshipped in Malanada, you can see Dusasanan in Ennasseri. In between these two brothers, there is a temple for Kaurava sister Dussala at Kunniradath Malanada. As per legends, there are Malanadas (places of worship) for all the 101 Kauravas in the surrounding places. But no one knows the exact positions or the names of all Kauravas. Let us go for a walk through the Malanadas to see 101 Kauravas and beliefs scattered around the place.
Duryodhana at Malanada
Among all Kaurava temples in Kollam district, Poruvazhy Peruviruthy Malanada Temple is very famous. Annual celebrations and fireworks display are equally popular. In the late 1980s, there was a mishap resulted in the death of many, one of the shocking firework accidents of Kerala ever. Still Malanada has not come out of this three-decade old fireworks accident. Yet annual festival is conducted every year.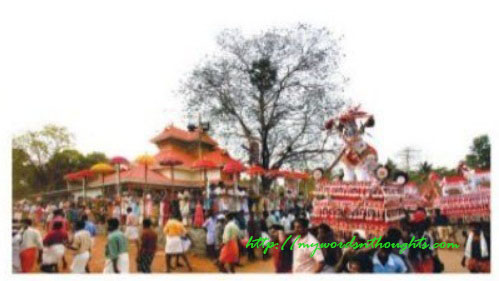 The temple is located in a big paddy field at a hilltop. The annual festival at Malanada is known as 'Malakkuda' which means mountain with umbrellas. There is a pageantry of 'Edupu kaala' and 'Edupu kuthira' (structures of horses and oxen) known as Kettukazhcha during the grand day, which form an integral part of temple festival every year observed in the Malayalam month Meenam. 'Edupu kala' and 'Edupu kuthira' are decorated structures of 70 or 80 feet height and it involves thick competition between the groups for its making. It's a spectacular display of craftsmanship accompanied by traditional orchestra of drums, Vaythari and thousands of people gather for the procession.
Each structure will be carried by a group of people, and they use ropes to balance it from both sides. When one side slides, people on the other side draws it from the other side using ropes. If needed, they also loosen the rope. The performers receive huge support from the crowd. Earlier firework display was conducted in a grand manner. Following a mishap in 1990, certain controls were implemented in firework display.
There is a popular legend connecting Duryodhana and temple. During early days, there was one bus service named Duryodhanan. Though most of the people believe it to be Duryodhana temple, there is presence of Lord Siva. After sending Pandavas to exile, Duryodhana reached here in search of them. This place filled with Siva Chaitanya was chosen by Duryodhana for worship, and years later Duryodhana too was installed as an idol here. Kurava people who owned spiritual power existed here earlier.
As per myths, Duryodhana intended to kill Pandavas through the black magic – shadow kill. Devotees believe that Upadevata Pulissery Ammoomma is Dussala (pronounced as 'Puli' in Malayalam, which means leopard), and Vyadhi Thampuran is Karnan. Gurukkasseri Devi temple is also a part of this temple structure. Annapoorneswari is the presiding deity. Food alms are given on the first day of every Malayalam month here. Kaduthasseri Palace built by Kayamkulam Raja is located just near to this Devi temple. As queen was ill, astrologers instructed her to pray here instead of Malanada. When she was cured, Raja built a palace here as a thanking note to lord. 100 acres of land was granted by Kayamkulam Raja to the temple as freehold, and that's why the place came to be known as Peruviruthy. The land tax of the above property is being levied in the name of 'Duryodhanan' even now.
Shakuni Uncle of Malanada
From Kottarakara Puthoor West market junction, one has to take the route of Cheerankavu to Kollam and travel 3 kms to reach Shakuni temple. The Malanada is situated in front of Pavithreswaram High School. Similar to all Malanada temples of Kollam, this one too is fully open. Sky is the sree kovil, and abhishekam done in rain and sun rays. As per stories, Shakuni uncle divided the arrows among Kauravas (Pakuthu Nalkuka) here, and hence the place came to be known as Pakutheswaram, and later Pavithreswaram. There is another explanation that it's the abode of sacred lord, and hence the name. On the first Saturday of every Malayalam month, there is Mahabharata reading here and on special occasions, recitation of Siva Purana is also conducted.
It's a Swayambhu (self-formed) temple. Palaikottu family later built the temple structure with floor and outer walls. Shakuni in the form of praying Siva is the presiding deity. Bhuvaneswari Devi, Nagaraja and Nagayakshi are Upadevata of this temple. Now a committee is being organized which conducts regular worships, poojas and also annual festival which is conducted in a grand manner. Inauguration (Kodiyettu) is observed on Makaram 20 and the grand festival on 28th every year, and is known as Uchaaram. Purana Kittan stones found in the temple premises are believed to have medicinal values. Oorali belonging to Kuruva community conducts daily rituals here. Similar to Madams for temple, a palace is associated with every Malanada of Kollam. Ooralis stay in these palaces.
A temple for Karnan – the elder brother to Pandavas
Karnan is one of the most powerful characters of Mahabharata. Karna's temple is located in Kallumannu of Kottarakara-Karunagapally road. You need to travel 2 more kms through that path to reach Karna temple. Red and black clothes hang from the top ceiling of the idols installed there. It's believed that Karnan hears devotees' prayers easily and reaches for them. Ooralis are seen as the representatives of God who has the power of temple priests. They conduct daily poojas here.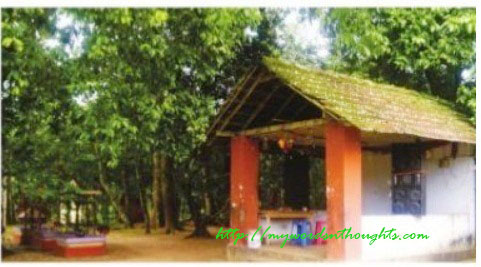 Aditya is the presiding deity of this temple. It was Duryodhana who installed Karna here, according to myths and stories, along with two others – Ilayaappooppan and Valiyaappooppan (grandfathers). Now also offerings to Karna are given to Ilayaappooppan and Valiyaappooppan. Karna abodes in a Kaavu (sacred grove) on the west side of this temple. Annual celebrations begin on Kumbam 1st and permission to enter the grove is granted only on Kumbam 2nd. Oorali is accompanied by Naaluveedans (members of a particular family) to put leaves (ilappaadu) and rice as a part of rituals. There are separate groves for grandfathers too. Oorali stands on a leg to perform the rituals, as that much land is only allocated to perform the rituals. The rest land is fully allocated to divine powers and characters related to Hindu mythology – as per popular beliefs. Kambadikali and Bharatakali form a part of annual celebrations, and are conducted by people belonging to Kurava community. Now things have changed a little bit.
Temple of Kaurava sister – Dussala
After Kurukshetra wall, the only sister of Kauravas, Dussala wandered around and reached Ealayil (paddy fields). Using a branch of Pala (Indian devil tree), she dig a pit in soil to take water. Then she planted that branch nearby. Since then this piece of land came to be known as 'Pala Natta Kandam', and now as Paalattukandam. Rice grown in those paddy fields is used for daily poojas at Kunniraadath Malanada, a procedure started decades ago and still continuing. This one is one of the most popular beliefs of Kunniraadath Malanada, the temple dedicated to Kaurava sister. Kottakaattusseri Old Palace is the temple palace of Kunniraadath Malanada.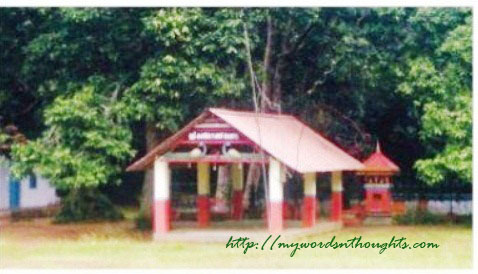 Mooppar of the palace had a strange dream. He informed about his dream to the rulers of Kannamath. That's how the temple was constructed later. Kodiyettam is conducted on first Sunday of Kumbham month and the annual celebrations end on the next Sunday, and the whole events are witnessed by thousands of spectators. Malakuda Pooja and Kettukuthira are most important. Pattu (silk), Karupp, Kacha (cloth), Mani (bell), aracanut and beetel leaves are the common offerings here. It's the family temple of Kannamath ancestral family, and the whole poojas and celebrations are still organized and conducted by the family.
If you reach Karunagapally, you need to take Chakkuvalli and Charumoodu Road, take right diversion just before Kannamath Market and travel 2 kms to reach this Malanada. If you take Kayamkulam route, reach Chalumoodu and take Chakkuvalli road route and reach Kannamath Market. Then travel 2 more kms left to reach the temple. Both these routes have almost same distance.
Dussasanan in Ennasseri
Ennasseri Malanada is one of the prominent temples of Sooranad West panchayat. In the vast hill of red soil, there is a field at the centre filled with trees. Dussassanan is the main Moorthy here. Karnan also accompanies him. Parvathi resides here in the form of Maruthaa Devi, and Lord Siva is also worshipped. Annual temple festival begins on the closing day of annual celebrations of Kunniraadath Malanada dedicated to his sister, Dussala. Kaalakett Ulsavam is the integral element of annual festival conducted here. Ooralis of Kunniraadath Malanada and Peruviruthy also arrive here to cheer the eve. The grand event is conducted on 3rd Sunday of Kumbham, and the main priest wears black kacha, cap and palm umbrella for the procession and blesses the devotees. Huge crowd cheers the eve.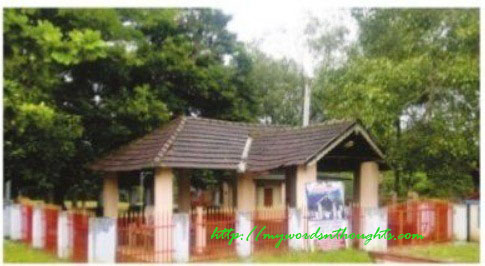 To reach the temple, the devotee has to take the route of Bharanikavu-Chakkuvalli-Thamarakulam Road and descend at Sooranad West High School Junction and travel ½ km. It's better to start the journey from Malanada temple. Kayamkulam and Karunagapally are the nearest railway stations, and 28 kms and 20 kms from both these stations respectively. Adoor (12 kms) and Shastamkotta (10 kms) are the important places near to temple.
Office number of Malanada Temple – 0476 – 2820338
You can read a few more articles on Kerala temples, with detailed description of legends and celebrations associated with them. Here is the page link. Click on the images in the gallery to read
(Visited 1,644 times, 1 visits today)