Shobhana Bhartia – Media personality and journalist belonging to Birla business family
Shobhana Bhartia is an Indian journalist and media personality who currently serves as the Chairperson and Editorial Director of the Hindustan Times Group. As a politician she was nominated to Rajya Sabha in 2006. She is the daughter of Krishna Kumar Birla and granddaughter of Ghanshyam Das Birla, noted Indian industrialists of the Birla family. Though the family has many female members spanning to 6 generations since mid-1950s, only she has been able to make a mark in her professional career. Next successful female member of the family is her grandniece and Kumar Mangalam Birla's daughter Ananya Birla – a pop singer, belonging to 6th generation.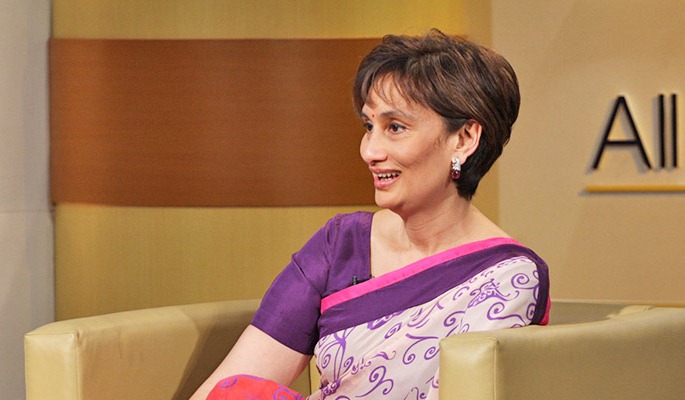 Shobhana Bhartia alias Shobhana Birla was born in 1957 into a prominent business family. She had a conservative upbringing in Kolkata, as a member of Marwaris, a community of traders and entrepreneurs which never encouraged career choices of women. Unlike other female daughters of Birla family, she embarked a journey of her own and succeeded in the field of media. Her paternal grandfather Ghanshyam Das Birla was a prominent industrialist of 20th century and a close associative of Mahatma Gandhi. Gandhi spent his last three months in Birla's house just before he was assassinated in 1948. Shobhana was born almost a decade back. Yet her family has been strong influenced Gandhian principles and politics.
She joined Hindustan Times in 1986 as the youngest chief executive as well as the first female, marking her beginning in journalist career. She was 29 years old then. She played an important role in the growth of this publication. Later she turned editor as well as handling financial accounts. She took charge as vice chairman and editorial director in 1999. She received National Press India Award in 1992, apart from many other owners. For her contributions towards the field of media and journalism, she was given Padma Shri in 2005.
Shobhana Bhartia – Some interesting and less-known facts
1. Traditionally woman members of Birla family never worked. When industrialist Krishna Kumar Birla announced that Shobhana Bhartia would be joining his group's media empire, it shocked many.
2. She launched Metro Now, a morning tabloid in Delhi targeting younger readers.
3. Basant Kumar Birla is her uncle. She is the niece of industrialist Madhav Prasad Birla.
4. Kumar Mangalam Birla who heads Aditya Birla Group is her nephew.
5. Rameswar Das Birla, Baldeo Das Birla, Krishna Kumar Birla, Aditya Vikram Birla, Ganga Prasad Birla, Chandrakant Birla, Basant Kumar Birla and Yasovardhan Birla are some other prominent figures of Birla family belonging to different generations. Most of them were associated with business and well-known industrialists.
6. Aditya Vikram Birla was her first cousin.
7. Ananya Birla – a pop singer and Aryaman Birla – a cricketer, children of Kumar Mangalam Birla are the well-known members belonging to present-day generation.
8. She is known for giving importance to punctuality and time management.
9. Her husband Shyam Sunder Bhartia currently serves as the Chairman of Jubilant Life Science Limited.
10. Her son Shamit Bhartia serves as a Director at the HT Media group too. Shamit Bhartia is married to granddaughter of Dhirubhai Ambani. Thus it links two great illustrious business families of India.
11. Seth Shobharam, grandson of Seth Bhudharmal, who lived in the early 19th century, was the first one from Birla family who got into trade and business. He was a local trader. It was his son, Seth Shiv Narayana in the second half of 19th century who ventured business outside their hometown Pilani, now a part of Rajasthan. Birla industrial family flourished since then.
(Visited 657 times, 1 visits today)