Vava Suresh – Popular snake catcher and wildlife conservationist from Kerala
Vava Suresh is a well-known wildlife conservationist and a snake expert from Kerala. A great snake lover, despite being bitten by poisonous snakes multiple times, he has rescued more than 50K snakes across Kerala till now. He owns a celebrity status across Kerala, and he frequently showcases his snake catching videos on television. In recognition to his services to wild life as well as society, he has been offered temporary job at government sector, which he declined. He feels that he won't be able to help the society, if he is bound to a particular job. He has survived more than 300 venomous snake bites, with total count of snake bites far exceeds 3k and has been seriously injured multiples, including the most recent viper bite in year 2020.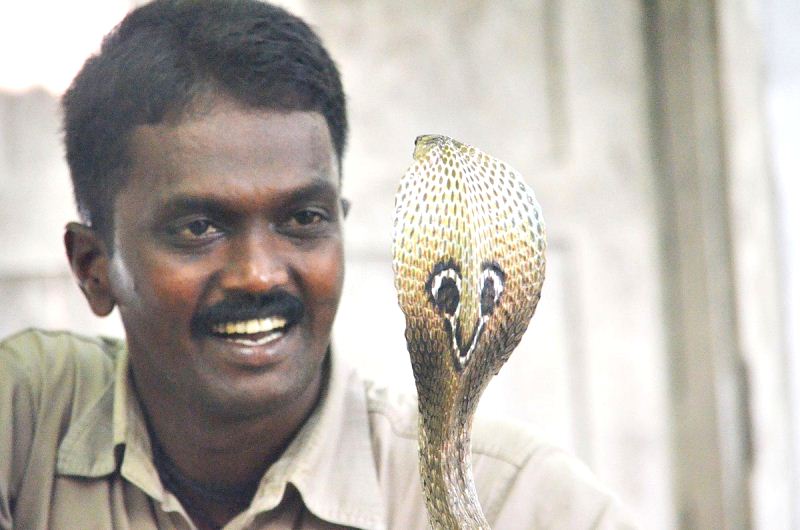 He caught a baby cobra at the age of 12
Vava Suresh was born into a poor family in Thiruvananthapuram in 1974. Since young he developed a passion towards snakes and animals. As he was not interested in studies, he wandered in the fields and used to bring injured birds to home and nurse them. He watched fight between snake and mongoose and also snake matting during his wandering days in fields.
He was only 12 when he caught a poisonous snake for the first time, and it was a baby cobra. To study the behaviour of the snake, he kept it hidden in his home. He started learning more about snakes from there on. At the age of 15, he started catching small snakes. In this attempt, he protected himself and never harmed the animal too. Now also he is behind those stranded snakes, mostly in the inhabited areas, and later sends them to forest. His harmless behaviour towards snakes earned him love from all. He never took formal learning and it was only through his experiences which he developed his skills.
He came to limelight when local cable channels started to spread in Kerala
He came to limelight in the mid-2000s when media highlighted his snake catching techniques without any aid. He is first among snatch catchers of Kerala, who earned immense love and fame. He had to surgically remove one finger following a cobra bite, and following a snake bite in 2012 skin of his right palm got grafted. He has been honoured by many societies and organizations.
A very humble person, he is willing to help anyone, and is just a phone call away. Anyone can call him for help, if they spot any snake. He also shows the snake to the spectators, if they request him to do so. He is willing to face criticism, but requests others not to fill poison in words. It's now almost three decades since he has been 'flying' behind snakes to save human lives as well as the lives of snakes. He spent several sleepless nights in travelling from one place to another. Even at nights, he catches snakes.
In year 2020, he completed 29 years in this field. He never demands money for his service. Whatever people offer him money with love, he accepts. He never does this task for money. Apart from snakes, he has safely sent wild cats, hedgehog, river dog, civet etc to forests. He kisses even poisonous cobras and exhibit them before public, which is indeed unique.
Rumours which hurt him most
In 2019 some people spread rumours that he is linked to mafia which sells snake venom. He was so deeply hurt that he decided to leave the field. However he couldn't stay away from snakes and his fans, who called him for help. Some media wrote wrong about him when he was not willing to show a caught snake at nearby junction at Balaramapuram, Thiruvananthapuram. Time constraints didn't allow him. But the spectators didn't think the same. Though he showed them the snake, it was not enough for them. Next day online portals were filled with news against him. He faced near to death situation a few months later in 2020, when he was bitten by a viper. The incident also happened when he took the snake out of sack to show to people.
Vava Suresh – Some interesting and less-known facts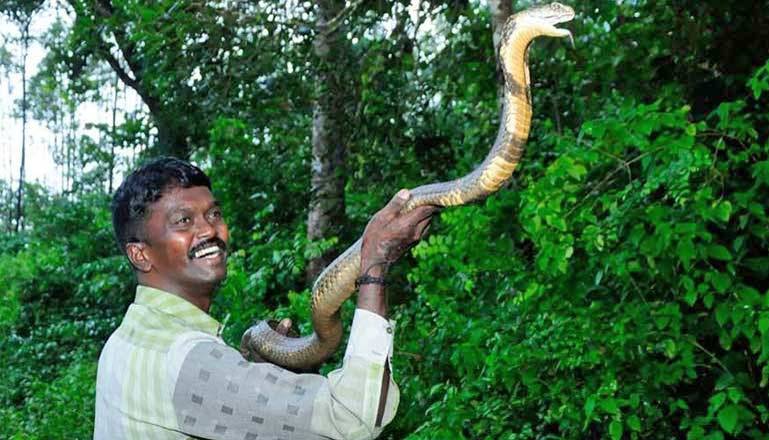 1. During his visit to Kerala in 2013, Britain's Prince Charles expressed his desire to meet Vava Suresh. They met at Vazhachal and had a half hour conversation. Prince Charles addressed him as 'Amazon Man' and asked him about the magic to catch big snakes bear-handed. Though Prince offered him an honorary doctorate from a British university, Vava Suresh refused it with love.
2. He always catches snakes bare handed and never uses any instrument. Also he never harms them even if they bite him.
3. He has been kept on ventilator twice and in ICU four times, following snake bites. Till now he has been bitten by more than 3000 snakes, including 300 venomous ones.
4. He earned nicknames like Snakeman, Vasur, Snake Master etc.
5. Among all snake species, King Cobra is his 'weakness'. In the three decades of his experience in this field, he has sent 184 cobras to forest till now.
6. He helps child cancer patients of RCC, Thiruvananthapuram. He uses the award money and also remuneration which he gets for attending functions, for this purpose. For many years he has been taking lottery tickets, in belief that luck will knock his door someday which can fuel his charity activities.
7. His is still a bachelor. Apart from his parents and three siblings, he also protects a few animals, which include wingless kite and injured rabbit too.
(Visited 353 times, 1 visits today)