K. Jayakumar – Acclaimed writer, lyricist and bureaucrat from Kerala
K. Jayakumar is a Malayali bureaucrat he has been a civil servant of the Indian Administrative Service cadre. He retired as the Chief Secretary of Kerala in the year 2012. Also a notable poet, writer, lyricist and screenwriter of Malayalam, he serves as the first Vice-Chancellor of Thunchath Ezhuthachan Malayalam University in Malappuram since then. K. Jayakumar is the son of popular Malayalam film director, M. Krishnan Nair of "CID" series (starring Prem Nazir) fame. His younger brother Sreekumar Krishnan Nair, also known as Sreekuttan directed O' Fabi (1993) – India's first partially animated movie and a few more films. In 2021, Jayakumar received the Kerala Sahitya Akademi Award for his overall Contributions and Asan Poetry Prize.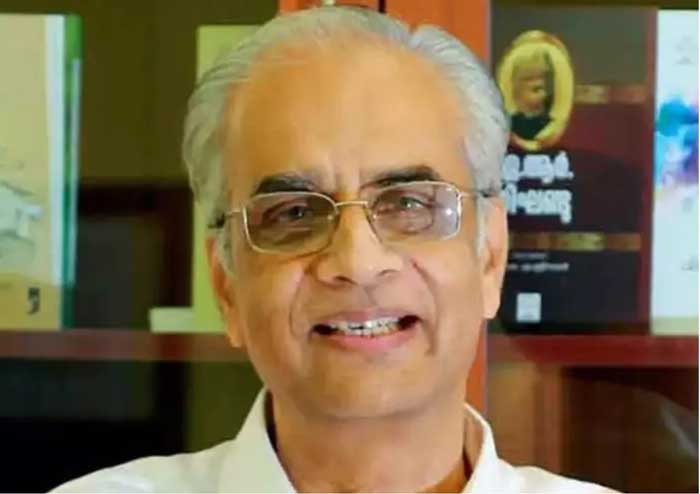 Jayakumar belongs to 1978 Kerala cadre batch of IAS
Jayakumar was born to filmmaker M. Krishnan Nair and his wife Sulochana Devi in Mannanthala, Thiruvananthapuram. He belongs to 1978 Kerala cadre batch of IAS and began his civil service as an assistant collector in 1980. Till he retired in 2012, he held several administrative positions of Kerala including District Collector of Kozhikode, Director of Tourism Department, Joint Secretary at Ministry of Tourism & Culture under central government, and many more. He retired as Chief Secretary of Government of Kerala. He now serves as the Chairman of Sathya Sai IAS Academy, Thiruvananthapuram.
A prolific writer and lyricist
He is a poet, lyricist, screenwriter and a painter too. He penned lyrics for nearly 100 Malayalam films, which include many nostalgic songs of 1980s and 1990s. He has also written songs for radio, television and private albums. The devotional song – Kudajaadriyil Kudikollum Maheswari of unreleased film – Neela Kadamb (1985) is one of his popular songs. He also penned lyrics for Kunjaattakkilikal, Ee Kaikalil, Malarum Kiliyum, Akalangalil etc. He penned lyrics for the songs of the film, Thakshashila directed by his brother Sreekuttan.
He published many anthology poetry works and a few translations too. He translated Tagore's Geetanjali to Malayalam. Ardhavrithangal, Solamante Pranayageethanga, Rumiyude Pranayakavithakal, Aathriyude Sadhyathakal etc are his poetry anthologies. Lalitha Jeevitham, Aparathayod anuragapoorvam, Aadityahridayam etc are his other works. Kerala – a poem in green and gold and Seduction of the Soul are his famous poems. In 2022, he was honoured with Jnanapana Puraskaram.
His entry to film world and lyrics was not co-incidence
While he was doing his B. Sc in Mar Ivaneous College, Thiruvananthapuram, he penned the first song for Bhadradeepam, a movie directed by his father. The song was 'Manthara Manamulla Kaatte….' It's more than 50 years now, since he penned the first lyrics.
He always felt curious behind writing lyrics for film songs. He is inspired by the great Vayalar Rama Varma. Since young he had a habit to learn Vayalar songs, which include several evergreen numbers. Though his father was a film director, he was attracted to the songs most. When his father returns after film shootings, he asks most about songs penned by Vayalar. In fact he has some hand scripts of Vayalar, which his father gave – the songs written by the poet for Krishnan Nair films. He still carries them as treasure.
Vayalar inspired him a lot as a lyricist
He joined film industry only because of his admiration towards Vayalar. To join film industry, he first approached P. V. Gangadharan of Grahalakshmi Productions. At that time he had already joined civil service. Ozhivukalam (1985) was the next film under this production. The movie belonged to Bharathan – Padmarajan team, and music was composed by Johnson. When he went to Chennai for song recording, he was not at all nervous of a 'fresher'.
Johnson gave him a tune and he penned lyrics, "Choolam Kuthum Kaatte Kooki Kooki Vaa". Some girls from a ladies' hostel are going for a picnic – That's the film situation. The song was sung by Lathika and Asha Latha. He penned another song for the film without a tune, "Sayanthanam Nizhal Veezhiyilla, Sravanapookkal Urangiyilla". He was accepted by music lovers after penning 'Kudajadriyil'. Unfortunately the movie was never released.
Popular Malayalam songs penned by K. Jayakumar
Kudajadriyil Kudikollum and Deepam Kannil Sandhyadeepam from Neela Kadamb, Aakaashaganga from Kunjaattakkilikal, Chandanalepa Sugandham and Kalari Vilakk from Oru Vadakkan Veera Gatha, Souparnikamritha Veechikal from Kizhakkunarum Pakshi, Thoomanjo from Thakshashila, Sooryamsuvoro Vayalpoovilum and Moovanthiyaay from Pakshe etc are some of his popular songs.
Also read: Stories behind some of the popular songs penned by K. Jayakumar.