Spiced Banoffee Pie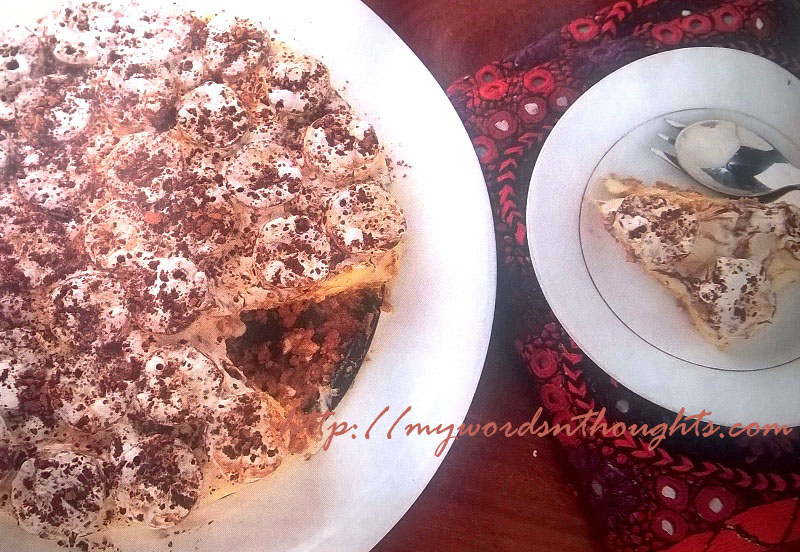 Ingredients for Spiced Banoffee Pie:
1. Ginger biscuit – 100 gm
Digestive biscuit – 100 gm
2. Butter – 250 gm
3. Spices of different types, powdered – 1 small spoon
4. Condensed milk – 1 tin
5. Thick cream – 1 cup
6. Robusta banana – 4, sliced into round pieces
7. Cocoa powder – To decorate
How to prepare Spiced Banoffee Pie?
1. Mix together the biscuits and powder them using a chappathi roller.
2. Add half amount of butter to it and mixed spices powder, and then mix well.
3. Take a flan pan 7-8 inch size and apply a little oil or butter to it.
4. Transfer the biscuit mixture to it, spread it and press well using a spoon.
5. Place the flan in refrigerator to set.
6. Pour the remaining butter to a pan, and place in flame.
7. Add condensed milk to it and stir continuously in low flame.
8. After 6-7 minutes, when it turns light brown colour take off from flame.
9. Add 2 big spoons of cream to it, blend well and allow it to cool.
10. Pour this caramel on top of biscuit base as a layer.
11. Spread banana pieces as second layer, and sprinkle cocoa powder on its top.
12. Place your Banoffee Pie in refrigerator once again.
13. Just before you serve, pour the remaining cream (blend it well before you use) on the top of banana.
14. Spread a little more cocoa powder on its top and serve.
Archive: Vanitha Magazine Dec 15-31, 2016
One more Banoffee Pie recipe for you. Click on the link to read.
You can read a few more delicious pie and tart recipes here. Here is the page link. Click on the images in the gallery to read.
(Visited 189 times, 1 visits today)