Some Untold Tales of Thrissur Pooram of Yesterdays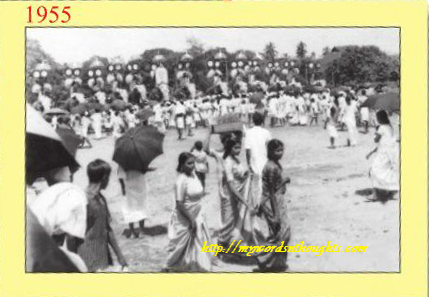 Pooram was once conducted with just 8000 rupees. This amount was enough to celebrate the whole event in grand way. When small celebrations have slowly moved to a big platform and more than one crore is being spend every year to cheer for the festival. At present Thrissur Pooram is the biggest temple festival of Kerala, and its popularity has spread worldwide. Many tourists do visit the place during the festival season. What about few years back? Every Pooram owns a few glorious tales to tell and let us go a few decades back to see how Thrissur Pooram was celebrated in the 1950s and 1960s.
Sweet memories of yesterdays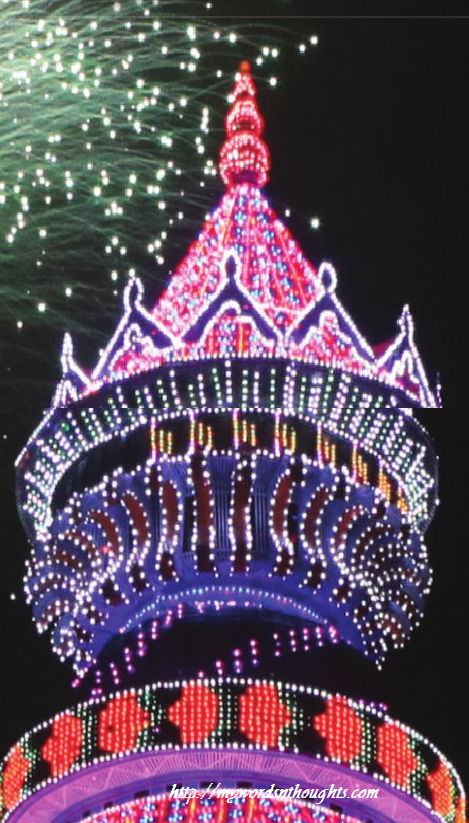 Still we can see many seniors of Thrissur families who have wonderful Pooram stories to tell; some glorifying stories of the past about elephants and fireworks, how they celebrated pooram, how they reached the place at a time when transportation was not easy and many more. Like a new born baby, Thrissur Pooram too had an infant stage, baby walking steps, some falls as a toddler and rise after falls to reach the position where it is today.
Karekaattil Jose, Guruvayur Kesavan and Kadavallur Aravindakshan, associated with fireworks, kudamattam and panchavadyam respectively, were some of the glorifying names of yesterday's pooram. Poomulli Ganeshan, Guruvayur Raman Kutty,Nayarambalam Sivaji and Guruvayur Krishnan Kutty were some of the famous elephants associated with Pooram earlier. Old days of Pooram too had its own glory. But it's also true Pooram's charm has only increased over the years, though some restrictions have been brought in for the display of fireworks.
Glorious yesterdays of fireworks display
There was a time when fireworks of both the groups – Thiruvambady and Paramekkavu were exhibited for long hours. As time passed by, many restrictions have been brought in and nowadays the display of local firework items has almost been banished. Now Chinese items are mostly preferred and the charm of traditional amitt and nelapott has lost its glorious days in Kerala temple festivals.
For fireworks Karekaattil Jose was a prominent figure of Thrissur pooram, and other temple festivals of Thrissur. His 'black magic' at sky using blue colours is quite famous. After he left the world, blue colour too disappeared from Thrissur Pooram, as its colour mixing secret was only known to him. But blue and red colours still form a part of fireworks of south. These colours are a bit risky for preparation and hence used only rarely for fireworks display. Now certain chemicals used for it have been banned too!
A few more firework artists, known by the name, Aasan in local terms (which literally means Guru) – Chelappaadan Anthony Repayi, Vadakkethala Kochaappu, Kavisseri Kuttan Kurukkal were also associated with Thrissur Pooram a few decades back.
Some of the popular items disappeared from fireworks
Similar to blue colour of colour explosions, a few more items have also vanished from scene with the emergence of new varieties. Pakiri, Adaykkaapetti, Nelkathir and Mulapookkutti are among those items. In those days, pooran fans need not wait till early morning for the visual feast. Instead fireworks start by 2 pm at late night and ends in the early morning only. As years passed by, rules have been made strict, and now less time allotted for fireworks display. While colourful items are exploded for Sample Vedikettu, sound items are given preference for the real pooram.
Mulapookkutti was used to make fun of opposite team. Once lighted, it gives whistle sound as if to mock others. Nelkathir was one of the popular items. When exploded, this item assumes the shape of paddy flower (Nelkathir) at sky. There is one item similar to Nelkathir in south Kerala – Sooryakanthi (Sunflower), which also takes the name Thengu (Coconut) in neighbouring districts of Tamil Nadu, as it explodes to form a beautiful golden flower resembling the shape of the head of a coconut tree. Changes are inevitable, and in future too we can expect many changes in fireworks display.
Pooram spending just 8000 bucks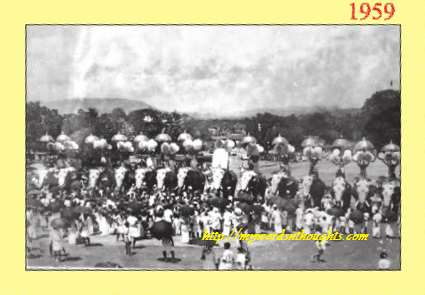 If 8000 rupees are used for present times, it won't be enough even for printing notice. But during early days, this amount was sufficient enough the whole expenses of a season. Unofficial records suggest that each section, Paramekkavu and Thiruvambady spends more than 10 million Indian rupees for celebration of Pooram for just 1 week.
From where do they collect this amount of money from? Pooram Exhibition is one of the major sources. Money is also collected from local people, and it remains one of the major sources since early days of Pooram. Over the years, collection of money has taken make changes, and if inflation rates are adjusted 8000 bucks of yesterdays may be equivalent to lakhs of money today!
In the past 60-70 years many major changes have occurred. Less dense population in those days, and huge amount to collect was one of the major challenges in organizing poorams during its primitive years. Local people were not economically sound in those days giving major troubles. But it was an unwritten rule that people should contribute to Pooram, by whatever way they can, and such monetary helps became the backbone of Pooram's success.
But very often such money collection has turned to some ugly mode too, when money collectors compelled people to give more money. Each section mainly fireworks, chamayam, elephants etc would be allotted to a particular person or group, and after that, it's their duty to arrange whole money to carry that task.
Thrissur pooram without elephants and decorations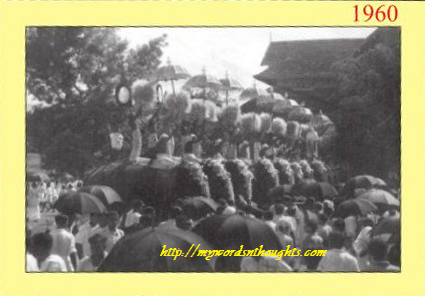 Have you ever heard about Thrissur poorams without elephants, mahouts and ornaments? In olden days, elephants and elephant chamayams were not owned by Devaswoms. They used to give an amount called 'Ekkam' to bring elephants for pooram. Before 50 years, some elephants used to get 200 to 300 rupees as Ekkam. Rules of Panchavadyam of present times were laid down and presented by Venkichan Swamy. When he played it for the first time, the amount he received was rupees 16 only.
Though Pooram festival is known for the co-operation of all festival fans of Thrissur main town and surrounding areas, whole event revolves around two major groups – Paramekkavu and Thiruvambady, and whole desams come under the roof of any one of these groups. There is competition for each and every element associated with pooram, either it is panthal work or chamayams, fireworks or Kudamattam.
It's said that Shakthan Thampuran who started such a grand event in Thrissur wanted people to fully engage in the Pooram festival, and to achieve this he purposefully created competition between two major temples which participate in the event. He believed that healthy competition will be benefited most, and his vision proved right too.
After the reign of Shaktan Thampuran, lack of proper organizers for the show resulted in several unhappy events and unhealthy competitions. Certain internal conflicts occurred within the members of desams. To avoid such practices, many attempts have also been made, and that's one of the reasons why Thrissur Pooram earned fame and popularity over the years. Some elephant owners as group decided to give elephants to both groups in turn, to reduce the tension between two groups.
Pooram also has some old ugly chapters where tension between two groups turns so intense that members of either group don't talk to each other. Their enmity grew intense with beginning of festival (Kodiyettam). They didn't even participate in celebrations of the opposite group and marriage matches between the groups were also not encouraged or done.
When Thrissur Pooram was never conducted
Following Corona virus outbreak in year 2020, whole public events associated with Thrissur Pooram were cancelled. It was not for the first time when 48-hour long celebration which signifies the meeting of 10 deities, has been reduced or cancelled. It has happened 4 times before since 1947, where Thrissur Pooram was conducted just to follow customs and traditions. Yet it's the for the first time ever in Kerala's history, Thrissur Pooram originally started 2 centuries back got cancelled completely without even conducting a few events, originally arranged and instructed by Shakthan Thampuran. Procession of deities outside temple won't be conducted first time ever in the history of Pooram.
In recorded statements, cancellation of events occurred in year 1943 and celebrations were reduced significantly. It was for the first time, cancellation of Pooram events got published in dailies. During plague season of year 1945, Thrissur Pooram was conducted, but with guidelines. To discourage people joining the Pooram festivals, Information officer of Kochi government gave an ad in dailies advising people to stay away.
When Mahatma Gandhi was assassinated in 1948, the celebrations were reduced. It was for the first time ever celebrations were cut short after independence. It was also published in newspapers that as lower caste people were allowed to enter Thiruvambady temple, Brahmin Madam authorities disagreed to conduct Irakki Pooja inside temple. For the same reason Brahmaswam Madams didn't enter temples. Breaking traditions, Paramekkavu group and Thiruvambady group entered Thekke Gopuranada together.
It was followed by 1957 and 1962, where events were reduced following restrictions on fireworks and arguments over Pooram exhibition respectively. Following Indo-China war in 1962, Pooram was conducted by just 1 elephant. Now also Pooram events are totally cancelled in fancy year 2020 because of a virus originated from China.
Here I came to an end of this interesting subject. If I came to know about similar surprising tales of yesterdays, I shall update it here. Keep watching this space.
Also read: Image gallery of Thrissur Pooram 2017 and specialties this year.
Image and article courtesy: Mathrubhumi
You can read a few more articles related to Thrissur Pooram celebrations commenced in the month of Medam, the biggest temple festival of Kerala. Here is the page link. Click on the images in the gallery to read
(Visited 1,158 times, 1 visits today)