Ambili Devi – Popular actress of Malayalam small and big screen
Ambili Devi is a popular and established actress of Malayalam small screen. She has also played a few noted supporting roles on big screen, mostly playing sister roles. She started her career as a child artist of mini screen and appeared in a couple of series in 1996, before playing her first lead role through Samayam (1999) aired on Asianet. She received Kerala state Television Award for Best Actress in 2005 for the soap, Amma. 'Sthreepadam' is one of her most popular roles on small screen. Among her big screen roles, her role as the younger crippled sister of Prithviraj in Meerayude Dukhavum Muthuvinte Swapnavum is memorable.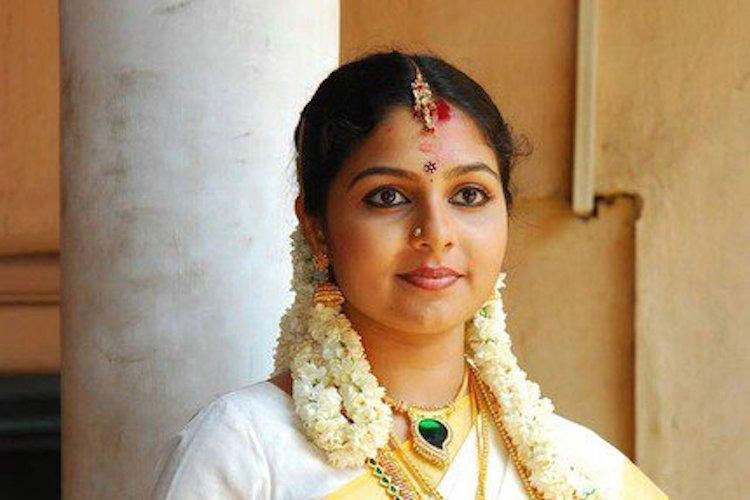 She started her acting career as a child actress on small screen in 1996
Ambili Devi hails from Chavara of Kollam district. Her first acting stint was with television, when she appeared as a child artist in the serial, Thaazhvarappakshikal in 1996. She also appeared in the serial, Akshayapathram the same year. Her stint in classical dance forms gave her entry to television. In 1999 she played her first lead role through the series, Samayam, and then appeared in a series of shows. She appeared in around 40 TV serials till 2019, before she took a small break post pregnancy. She is one of the most sought television actresses of Malayalam television industry in the past two decades.
Sthreepadham, Velankani Mathavu, Seetha, Adiparasakthi Chottanikkarayamma, Sabarimala Swami Ayyappan, Krishnathulasi, Sreekrishnavijayam, Adiparasakthi Chottanikkarayamma, Ente Pennu, Devi Mahatmyam, Sthree Janmam, Kalyani Kalavani, Sathyam Sivam Sundaram, Mizhi Thurakkumbol, Ente Alphonsamma etc are some of her popular shows on small screen.
Her appearance in movies and music videos
She joined films after she became a popular in small screen. She played Kunchacko Boban's younger sister in year 2000 release, Sahayathrikakku Snehapoorvam. Since then she mostly played younger sister's role in Malayalam movies – Mohanlal's younger sister in Hariharan Pillai Happy Aanu, Prithviraj's younger sister in Meerayude Dukhavum Muthuvinte Swapnavum.
She acted in one Tamil movie, Viswa Thulasi, where she played younger version of Nandita Das. She appeared in short films, music videos and also hosted a few shows. When she couldn't get big roles on big screen, she concentrated on to her television career, and earned popularity among TV viewers.
About Ambili's personal relationship
She was first married to cinematographer Lowell in 2009 and had a son. It was an arranged marriage. But they got legally separated. She married TV actor Adithyan in 2019 and has one child. Her first child was 7-8 years old when the second baby was born. She took a break from acting when she was nearly four months pregnant, because of health issues. At that time she was doing lead role in popular series, 'Sthreepadam' and a few more shows.
Adithyan and Ambili knew each other during their early days in television, and they became good friends. They met for the first time in 2005 in the film sets of Kalyana Kurimanam, when Adithyan was a newcomer and Ambili, a busy star. They worked together in Adithyan's first serial, Pavithra Bandham, and became friends while doing Sneha Thooval, where they played couple.
Though Adithyan started loving her he didn't muster courage to express their love. He tried to impress her through gifts, but Ambili couldn't understand his love. He always felt that Ambili has a face similarity with his mother. There were rumours that they were in a relationship, and there were false accusations about Adithyan. Their friendship also ended abruptly, and they decided not to work together. Later they got married to other persons and both got divorced as well. They later met and got married. In 2021, Ambili leveled serious allegations about her acting husband Adithyan. She alleged that her husband has an extramarital affair.
2001 Kerala School Kalalsavam controversy
There was a controversy in 2001 Kerala School Kalalsavam, when Ambili Devi was selected as the winner of Mona Act over Navya Nair and the decision became controversial. Later those points became crucial in determining Kala Thilakam, which eventually went to Ambili. With tears Navya then burst before media and accused that Ambili didn't do anything and she was given the title on the merit that she has already appeared in movies. Navya Nair later went on to become a huge star in Malayalam cinema, while Ambili after trying luck in movies, moved to small screen and established as a star there.
Ambili Devi – Some interesting and less-known facts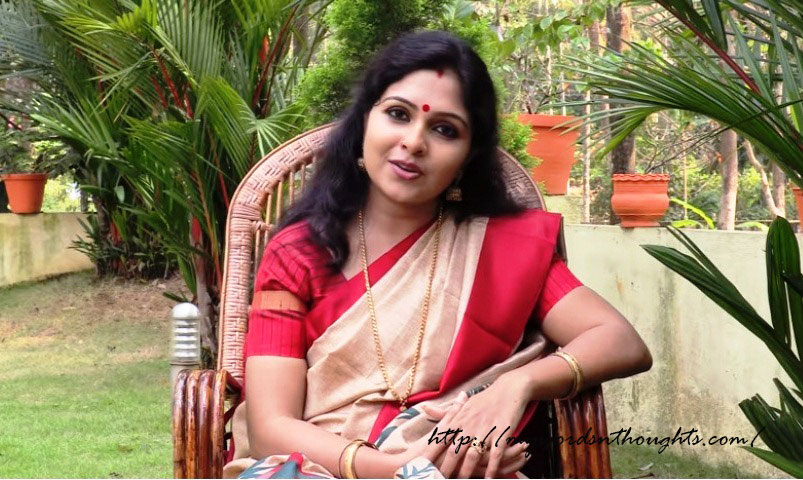 1. Her husband Adithyan is the nephew of Malayalam's popular star Jayan. His father Soman Nair is the younger brother of Jayan. After Jayan's accidental death, Soman Nair gave his younger brother's name to his son, and hence Jayan is Adithyan's official name.
2. Meerayude Dukhavum Muthuvinte Swapnavum is her most memorable role on big screen, where she played the full-fledged role of Meera. She earned Critics Award & National Film Academy Award for this role.
3. She and Adithyan have worked together in many TV soaps before her marriage. Adithyan, though had feelings towards her, never expressed it and due to some misunderstandings Ambili ended the friendship and decided not to work with him. After her divorce, she married him, who was a divorcee too. Adithyan divorced in 2016 and Ambili in 2018.
4. She is bringing up her son Amarnath, from first marriage. When his pet dog died, Adithyan presented him a pet dog, which brought the child close to him. Their bonding gave enough courage to the relatives and close ones, and resulted in the marriage of Ambili and Adithyan.
5. Along with her career in television serials, she was good in academics too. She prepared her SSLC exams in the shooting sets and later achieved good marks. An accomplished classical dancer, she was trained in Bharatnatyam, Kuchipudi, Mohiniyattam, Folk dance and also owned a post-graduation degree in Bharatnatayam from Bharatidasan University.
(Visited 772 times, 1 visits today)