Top 10 Memorable Roles of Reema Lagoo – The most popular screen mother since 1990s
There was a time when Nirupa Roy, Durga Khote, Sulochana Latkar and Achla Sachdev gave new dimensions to onscreen mother roles in Bollywood. Since late 1980s the trend was created by a new set of artists without breaking that screen image. Some of the leading names include Kirron Kher, Farida Jalal, Smitha Jayankar, Rathna Pathak, Jaya Bachchan, and above all, Reema Lagoo. No doubt, Reema Lagoo is the most popular and successful screen mother of new age Bollywood. Almost a permanent fixture in Rajsree films, she played screen mother to all major Khans and lead super heroines of Bollywood since late 1980s. A few of her mother roles are indeed very popular and regarded as the best mother roles in past 25 years or so. Her role as a middle-aged modern mom has widely been appreciated. In fact she started accepting mother roles at a very young age of 30, and played mother to almost all lead stars of Bollywood, though they most of them had a very small age difference.
A very familiar face on big screen and small screen, she was active in Marathi cinema and theatre too. Though she is mostly seen playing negative roles on mini screen nowadays, she is best remembered as a doting mother on big screen. Television shows on Doordarshan – Tu Tu Mein Mein and Sriman Srimati also brought her to prominence in the mid-1990s.
When death took away unexpectedly leaving behind many of the characters unfilled, it's definitely a great loss to Bollywood. She left behind a legacy for many artists to follow her footsteps. The most popular mother with Rajshree films, she played a dotting and peaceful mother several times, and she fit well to middle-class mother roles. Let us see Reema Lagoo's top 10 memorable roles in Bollywood. This is my humble tribute to one of the popular screen mothers Bollywood screen has ever seen.
Hum Aapke Hain Kaun – This particular one is my personal favourite, and her killing smiles are indeed beautiful. She played mother to Madhuri Dixit and Renuka Shahane in this film, the most successful film of Rajshree Productions. Definitely it's one of the top character roles of 1990s. After the huge success of this family drama, she became the most sought onscreen mother of Bollywood screen in the second half of 1990s. She was also seen in two of the top songs of the film, and she sync-lipped to Lata Mangeshkar for one of its tracks. She also earned a Filmfare nomination for her supporting role. Also read about her roles as Salman Khan's mother.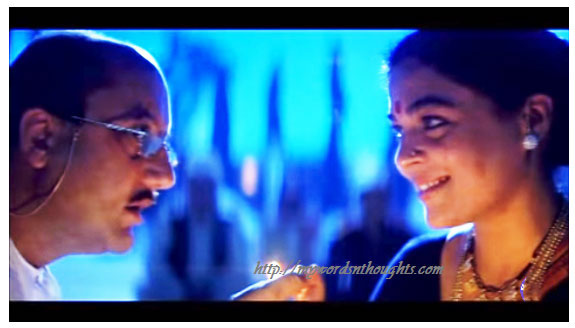 Meine Pyar Kiya – She played a doting mother to Salman Khan in the film, and her character role was well recognized. Since then she played mother roles in almost all films under Rajshree film productions, except Prem Ratan Dhan Paayo. In fact she is best known as 'Rajshree Mother'. She also earned a Filmfare nomination for her role as a supportive mom.
Kuch Kuch Hota Hai – She played Kajol's mother in blockbuster Karan Johar film. Though her role is short, it's worth remembrance. She was seen persuading her daughter to give love another chance and accept Salman with open heart. It's one of the finest scenes of the film.
Vastaav – Her role as Sanjay Dutt's mother is perhaps the most powerful mother role she portrayed onscreen. Her character narrates how she kills her son, and her performance earned her a Filmfare nomination too. The movie also received rave reviews from critics and was a box office hit. She received a Filmfare nomination for this role.
Kal Ho Na Ho – She played a matured role in this film and her character silently watches the slow death of her single son. The son's role was played by Shah Rukh Khan, and Reema played a supportive mother in this film. After Sooraj Bharjatiya, Karan Johar too offered good roles for Reema Lagoo in his films and she was a perfect fit for the roles offered to her. She started working with both these directors since their debut film.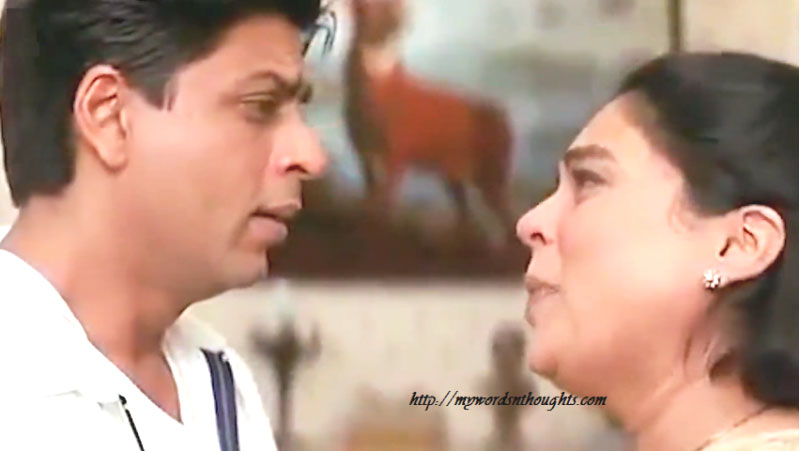 Mein Prem Ki Deewani Hoon – Though the movie was a flop, her role as Abhishek Bachchan's mother worth mention in my list. It's an entirely different from her desi mother roles, and she looked graceful as an urban mom. Her role is a well-understanding mother who clearly reads his son's mind and thoughts.
Aashique – She has been a part of several landmark and successful movies of Bollywood, and her role as understanding mother in Aashique is one such. Rahul played her son's role in this musical hit. She also earned a Filmfare nomination for her role as Vikram Roy. Throughout her career though she remained extremely popular as onscreen mother, and received 4 Filmfare nominations, she couldn't receive any.
Yes Boss – She played Shah Rukh's mother in this comedy drama film. Though her role as an ailing heart patient is short, it played a significant role in movie's script. The film was successful at box office too.
Hum Saath Saath Hain – She played a powerful mother in Rajashree productions. Salman Khan, Neelam, Saif Ali Khan and Mohnish Behl played her kids' role in this strong family drama.
Jis Des Mein Ganga Rahta Hai – The movie was a flop at box office. Yet her role as an emotional foster mother of Govinda is praise worthy, and I am adding this movie to the list.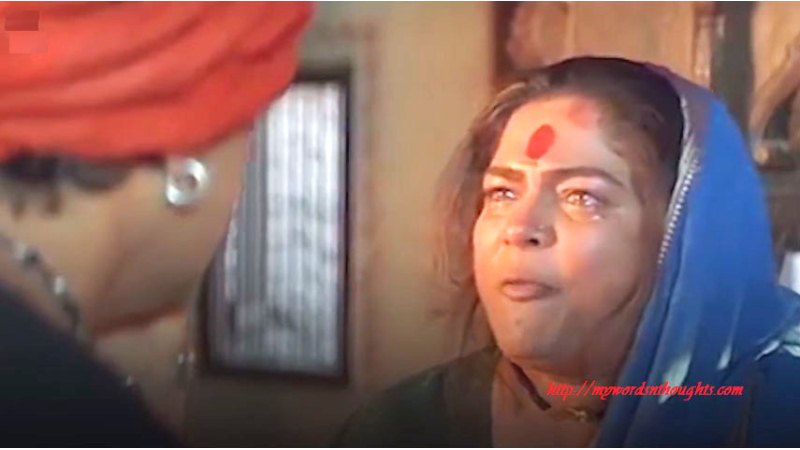 Reema Lagoo frequently worked with Salman Khan in several movies, and majority of them have been commercially successful. She played Salman's mother in Meine Pyar Kiya, Saajan, Judwaa, Pathar Ke Phool and Hum Saath Saath Hain, while she played Salman's female co-star's mother in Hum Aapke Hain Kaun and Kuch Kuch Hota Hai. Needless to say, all these movies have been either super hit or blockbusters. She also played Salman's mother in Shaadi Karke Phas Gaya and Nishchay, which were duds at box office. She also worked in Salman Khan starrer, Kahi Pyar Na Ho Jaaye. Reema played Salman's mother in 8 movies. Read more.
Though Reema Lagoo is best known for her mother roles, she also played noted roles in Kalyug, Rihae, Aakrosh etc. A few more noted roles of Reema Lagoo as screen mother include – Judwaa, Pathar Ke Phool, Henna, Jeena Marna Tere Sang, Yeh Dillagi, Prem Deewane, Rangeela, Pyar To Hona Hi Tha, Gumraah, Jhoot Bole Kauwa Kaate, Vansh, Dilwale, Sangram etc. She has played screen mother of almost all leading actors of Bollywood of 1990s. Towards the end phase of her career, she mostly concentrated on to television roles.
Read a few more miscellaneous posts on Bollywood stars of today
(Visited 528 times, 1 visits today)