Some simple techniques to make your barbeque dishes tasty
Barbeque, also spelled as Barbecue is a very popular cooking method for cooking chicken. As it consumes less oil, many people opt for it. While cooking barbeque dishes, the outer layer of meat is slightly burned. But if you are not an expert, the outer layer is over cooked and damaged, while the inner portion is not cooked well. You can take note of these few points to improve and enhance the taste of your dishes.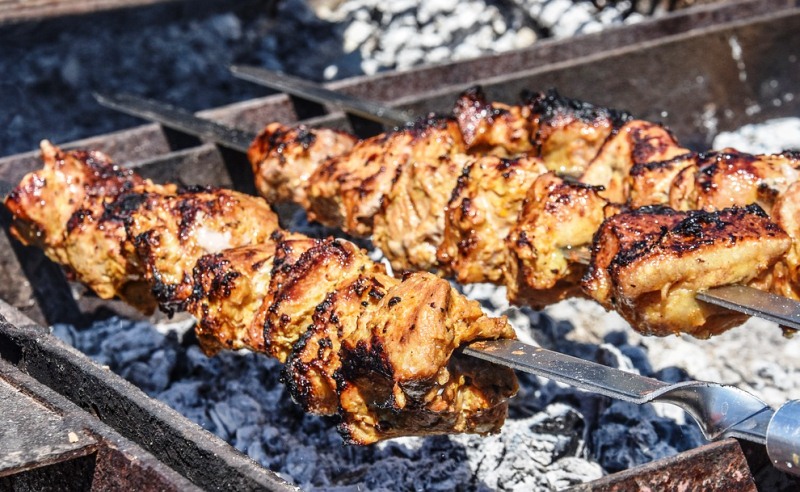 1. While grilling chicken in excess heat, the outer surface of chicken may be burned while the inner portions remain half-baked. Barbeque should be done in bright coal, not under direct fumes.
2. Assure that upper part of your grill is cleaned properly. If you are grilling chicken for the second time, clean it well before reuse.
3. If you are able to adjust two different temperatures on either side of grill, it's better. One side, put some extra coal to add intense temperature and on the other side, put only less amount of coal to provide medium heat for grilling.
4. In between meat and grill, there should be at least 3.5 inch distance.
5. When you take the meat of barbeque from refrigerator, keep it outside for a while, and it should reach room temperature before grilling.
6. Take extra care and choose only thick pieces for grilling. If slices are thin, they dry easily.
7. You can draw thin layers in meat pieces. If so, inner portions of meat will be well cooked.
8. To make cooking process easy, never use short cut method and press the pieces using a spatula.
9. To cook all portions uniformly, turn the pieces occasionally.
10. To avoid pieces from drying, brush with oil occasionally.
11. While using oven for grilling chicken, cook marinated chicken pieces first. Also draw lines in meat. Then you can use grilling mode. Otherwise inner portion may not be cooked properly.
12. Use a paper towel and completely remove moisture content of the chicken used for grilling. Your prepared chicken will turn more soft.
Image source: Pixabay
Want to know how to enhance and improve the taste of some of the common dishes? Here is the page link. Click on the images in the gallery to read
(Visited 304 times, 1 visits today)