Ramayana is presented in these styles in Kerala
Epic Ramayana has different written versions and a few are quite contradictory to one another. Hundreds of versions of this great epic have already been written. Many versions are entirely different from original version written by Valmiki, and Indians have widely accepted Tulasidas' version – Ramacharita Manas, which is deeply rooted in Indian traditions and cultural norms of the society as well. Kamba Ramayanam, Adhyathma Ramayanam Kilipaatt, Ramakatha, Tibetan Ramayana, Indonesian Ramayana, Malaysian Ramayana, Khothani Ramayana (Turkistan), Budha Ramayana, Jain Ramayana and Thailand Ramayana are a few regional written versions of this great epic in different languages across the world.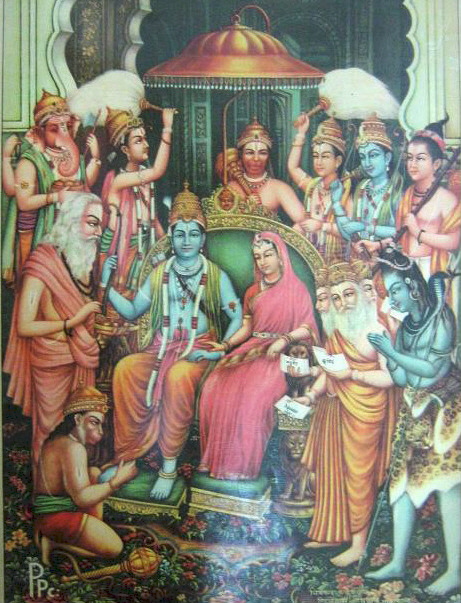 Similar to written epics, many folklore versions are also in practice and they have their own stories. Most of them are without any written documents, and often change in storyline as they pass from one person through another through tales and talks. In most these cases, a traditional element closely linked to native culture is also associated with such folklores and oral versions of stories. As songs are the easy way to memorize and popularize vaamozhi (oral tradition), they are widely accepted in different cultures. Apart from written and oral versions, drama versions have also been widely preached.
In Kerala too, Ramayana is presented in these styles in different parts of Malayalam speaking regions, and they are well reflected in presentation forms as well. They have many folk style versions, without any written books (Vaymozhi), and have been preached through art forms and folk songs. Similar regional versions of Mahabharata are also available in different parts of the world, not only in India. In Palakkad, a regional version of Mahabharata called Maavaaratham Paattu is available in common culture. It's a singing version also known by the name, Chaakkaad Paattu.
In almost all tribal groups of Kerala, an oral version of great epics is available, Chetti Ramayanam and Adiya Ramayanam being a few instances. Vayanadan Ramayanam – is yet another common tribal version, quite popular among research students. As different communities own their own versions of Ramayana, a few are quite similar to Valmiki's original version, and the rest entirely different from the original. There are a few stories suggesting Sita to be the daughter of Ravana. Let us see a few more versions of Ramayana styles of Kerala.
Seeta Kali and Bharata Kali
Seeta Kali and Bharata Kali are traditional art forms of Kuruva community, descendants of primitive tribal groups. These two traditional dance forms are widely practised in Kollam & Pathanamthitta regions. Bharata Kali is purely traditional and a ritual art form, while Seeta Kali (Sita Kali) is for entertainment purposes. Sita Kali is usually practised during Onam season in traditional MalanKaavu (a type of temple in Kerala) and as offerings in ancestral Kerala homes (Tharavadu), accompanied by musical instruments.
"Pandu Pandu Kaalathalliyo (2)
Threthaayuga Kaalathalliyo (2)
Vadakku Vadakku Rajyam
Naalupaadum Valanjozhukum
Sarayoo Nadi Theerathalliyo……."
Thus it goes the anthem of Seeta Kali.
Mappila Ramayanam
It's widely preached in northern regions of Kozhikode. It combines the sweetness of Mappila Paattu with the traditional essences of folklore in equal proportion. You can see many Arabian words and also many local terms and usage in this version of Ramayana. Authors of most of these songs are unknown, and songs are heavily influenced by laws and rules of Mapila Pattu. Hence they can be included in Mappila Pattu genre.
A humour element has been added to different situations of Ramayana and presented in a distinct style in Mappila Ramayanam. Similar to different Kantas of Ramayana, Mappila Ramayanam is too divided into different sections.
Kurumpattukal (Short songs) of Ramayana
Adopting different situations and characters of the epic, certain folk songs (nadan pattukal) have been made by people belonging to different sectors and different regions. Some of them are short stories and a few are lengthy. Among the Pulaya/Cheruma communities of northern districts of Kerala, their Vattakali and Kolkali are accompanied by 'Ramayana thoughts' in different tunes.
Puthu Ramayanam
Certain versions of Ramayana are not so old. A few years back, a book with title, 'Naveena Ramayanam' has been published. Yet another version is 'Nadodi Ramayanam' authored by Vattamkulam Shankunni, based on the folklores and oral versions. This book was published by Kerala Folklore Academy. So it's clear, many versions of Ramayana are yet to come!
Go through the gallery to read a few more unique articles on traditions followed during holy Karkidakam month by Keralites just before the commence of Onam season. Here is the page link. Click on the images to read.
(Visited 816 times, 1 visits today)