Prawn Pulao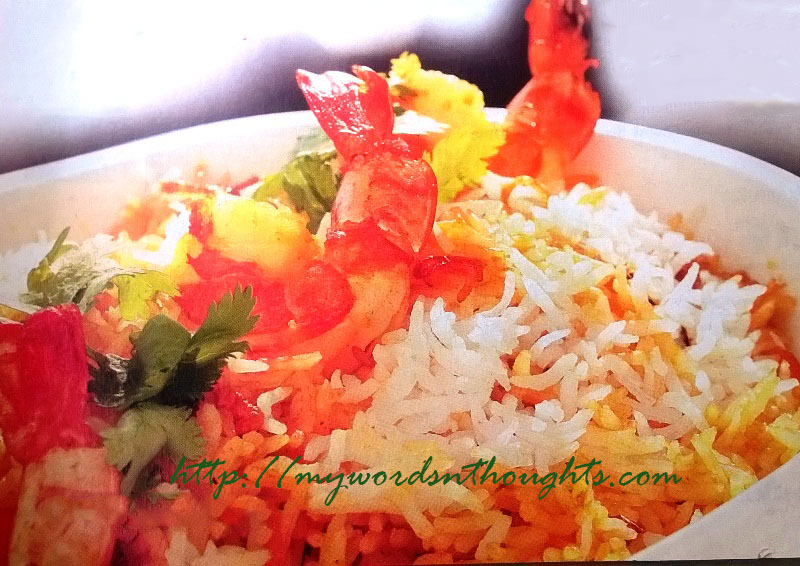 Ingredients for Prawns Pulao:
1. Cleaned prawns – 1 kg
2. Ginger chopped – 3 tsp
Garlic – 20 cloves
Shallots – 20
Green chillies – 14
Coriander powder – 1 big spoon
Funnel seeds – 2 tsp
Turmeric powder – 1 tsp
3. Dalda/oil – 3 big spoons
4. Shallots sliced thin – ½ cup
Coriander leaves – a little
6. Coconut scrapped – 3 big spoon
Cashew nut – 2 big spoons
7. Lemon juice – From 1 lemon
Cinnamon – 2 (1 inch piece each)
Coriander leaves – 1 bunch
10. Jilebi colour – 1 pinch
Onion sliced thin – 2 cup
Method of preparation of Prawns Pulao:
Mix all items of 2 and grind well and saute well in dalda/oil.

Add 1/2 cup chopped shallots and prawns to it and saute again for a while.

Add all items of item 6 and cook prawns closing the lid.

Stir once in a while and put the flame off when moisture is almost absorbed.

Grind well coconut and cashew nut and make a fine paste. Mix with lemon juice and add to prawn curry.

Cook rice adding desired amount of water, cloves, cinnamon and cardamom.

Drain water and add enough salt. Mix it well.

Add rice on the top of prawns curry.

Add jilebi colour to milk and sprinkle it on the top of rice.

Fry onion in ghee till it gets golden brown colour.

Drain the onions from ghee and pour the remaining ghee on the top of prawns.

Close the lid and place in hot hearth. The hearth should not have fire, but have flames. Put some flames on the top of lid as well to bake the pulao.

If you are baking in an oven, wet a cloth and spread on the top of rice before closing the lid.

Bake in 200 degrees for the first 15 minutes and in 150 degrees for the next 15 minutes.

When you serve, sprinkle a few fried onion on the top.
Author's Note: In my opinion, this is biryani recipe as dum method is used. I have simply translated recipe published in Vanitha Magazine with same title, without making changes. Here is another published recipe.
Read a few more Pulao recipes here. Here is the page link. Click on the links to read.
(Visited 204 times, 1 visits today)