Pathila Thoran
It's a delicious and nutritious dish. Young leaves of green spinach, methi, thakara, thazhuthama, peas (Payarila), pumpkin, colocasia, elephant yam and koovalam can be used to prepare this dish.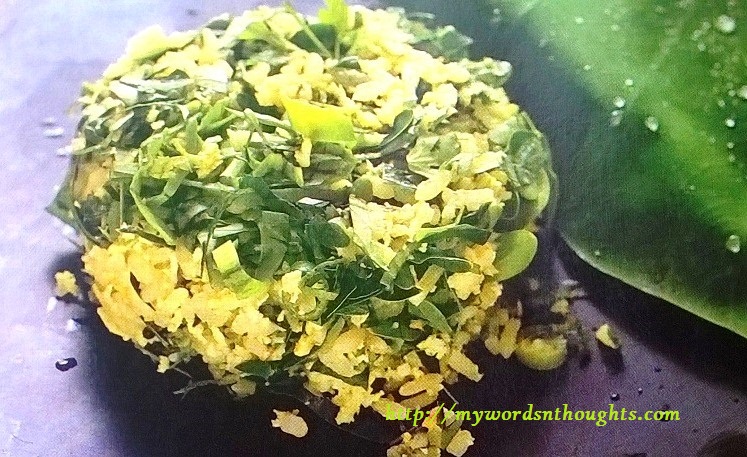 Ingredients for Pathila Thoran:
1. Coconut scrapped – 1 cup
Green chillies – 2
Turmeric powder – ¼ small spoon
2. Coconut oil – 1 small spoon
3. Mustard – ¼ small spoon
4. Raw rice (Pachari) – 1 small spoon
5. Different types of leaves finely chopped – 3 cups
Salt – To taste
How to prepare Pathila Thoran?
1. Mix all ingredients listed as 1, and crush one to prepare gravy for thoran.
2. Heat oil in a pan, splutter mustards and then fry rice.
3. Add all leaves to the pan and mix all the contents together.
4. Add gravy to it, blend well, close the lid and cook in low flame for 2 minutes.
5. Now open the lid, cook till water content is fully absorbed. Keep stirring.
6. Serve hot with rice.
Courtesy: Vanitha Magazine, July 1-14, 2017
Also read a few more leafy vegetable dishes. Here is the page link. Click on the images in the gallery to read.
(Visited 836 times, 1 visits today)