Para Vaikkal or Nirapara – A Hindu ritual of mid-Kerala
Para is a cylindrical measuring device which was once widely used in Kerala during feudal reign and it's normally used to measure rice and other forms of grains. Since then such offerings are given to temples as well, signifying symbols of prosperity and wealth. It's simply called Para Vaikkal or Nirapara in local terms, and is any form of offerings in Para – this measuring device. Kerala is known for its unique culture particularly associated with religious customs of Hindus, and Para Vaikkal is one of the great offerings given by devotees to please god or goddess to fulfill their ambitions.
Though Para is rarely used as a measuring device nowadays, it's now an integral part of Kerala's culture which signifies prosperity and gives the nostalgic feel of those old days when farming and agriculture were closely associated with Kerala tradition.
Para is a very common offering in the temples of Thrissur, and people also place para at homes as a part of temple celebrations of Devi temples, mostly in the Malayalam month Meenam. Aana para is a true symbol of prosperity and is quite common in the cultural capital of Kerala, where the paras are accepted by decorated elephants. Paras are also placed at temples as a part of annual festivals, and it's a delight to watch colourful paras placed before the idols. It's also done as a part of temple festivals in a few Devi temples of south Kerala. Para of Vellayani Devi temple is popular.
What are the main offerings of Para?
Flowers, fruits, vegetables, grains and coins are the normal offerings of Para. Jasmine and Nerium (Arali) are the common flowers used for Flower para. Among all paras, rice para is most significant, particularly rice without removing husk (Nellu). Para by filling Malar (a form of roasted rice) is also quite common. Aval para can also be placed, though it consumes more amount to fill a para.
Rice is traditionally associated with Kerala's culture and in those old glorious days, para was most commonly used to measure Nellu or rice. Now also para filled with Nellu (rice without removing husk) is placed during Hindu marriage rituals and other traditional functions, and also rituals closely related to Kerala Hindus' culture.
Among all fruits, banana is quite common as it is closely associated with Kerala culture. Read to know more. Paras using grapes, apple, orange, mango etc are also quite common. Vegetables and coconut can also be offered for para. The most expensive offering is para with coins or rupee notes, and devotees can also offer gold, silver etc also though it's not common.
Common rules associated with para if done at home
A devotee offers a para as per his financial capability and personal satisfaction. Para should be filled completely and it's good if rice para overflows. A devotee can place para in only odd numbers – say 1, 3, 5 etc, and he can increase the number of paras he wishes to offer. Usually devotees fill different things in each para, and never mix a single para with more than one ingredient. There is also a custom called 'Aniyikkal' associated with para and similar religious rituals, where rice flour mixed with water is used to draw beautiful pictures similar to 'Kolam' of Tamil Nadu regions. Para and other offerings are placed after decorating the floor with rice flour.
Paras in odd number are normally placed in a single row. Paras of 1 or 3 are quite common. Paras are usually placed on banana leaves with tips facing east direction. A special kalam is prepared using rice flour and Kerala lamp will be lighted at the time of arrival of Velichappad and his team. Agarbattis are also lighted, and jasmine/nerium flowers are also placed very often. A full coconut is also placed. In addition to it, rice can be placed in a nazhi (a very small measuring device similar to para) which will be taken by the team while going back. They may take anything they want, placed as para.
As per popular belief, if you are offering para for the first time, it is a good omen to place somewhere inside the home. Devotees usually place their first para in the living room. If so, your home will be filled with prosperity and many good things are to happen. Otherwise you can place the para inside or outside home at courtyard as per space availability, as you please. Aana para is conducted outside the home only.
Velichapadu who carries a sword is accompanied by his associates and a few people who play chendamelam with Kerala's traditional music instruments. A person, usually from Kanikyar tribal group will carry a small sack of rice always, and if the devotee demands, he will fill one of his paras with the rice he carries. But after the para, he will take that rice back. The devotee needs to pay for it extra.
Velichappadu – the representative of goddess circumvallates the para along with his team, and leaves the house after blessing its inmates. He also expresses his happiness if he is pleased with Para offerings, and it is taken as the word of Bhagavathy. The rituals complete by breaking coconut in the front side of the home
.
Para vaikkal is an integral part of the temple rituals associated with Bhagavathi (goddess) temples of mid-Kerala, similar to the Irakku Pooja of Mudipuras (a particular type of Bhagavathi temples) of south Kerala. The idols of deities have only heads and long hairs, but no body. People place them on heads and dance during the whole rituals (recollecting from my pleasant childhood memories). In Thrissur regions, almost every Devi temples conduct para in their local residential areas.
Kurichyar who visits homes as a part of para
It's quite common during the occasion, the folk people belonging to Kurichyar caste also follows the group. He will reach home once the main group leaves the place after breaking coconut. The group sings and dances as per their tradition. Their language is different and music instruments too.
Paras placed at festivals
Temple festivals normally fall in the Malayalam month of Makaram-Meenam when summer time just starts in Kerala. It's a common sight to watch paras placed in temples, and it many range more than 100. They are also called Kaazhcha Para, where devotees offer Para of their choice to temples.
Paras are also placed as a part of Ayyappan Vilakk festival of Thrissur regions. Devotees also place paras in front of their homes when idol of temple is taken as a procession on decorated elephants, as a part of Aaratt Ceremony.
When I placed Para for the first time
I came to know about para for the first time when I shifted to Thrissur and I offered my first para to Thechikottu Kavu bhagavathy, Peramangalam. I placed three paras. As it was for the first time, I placed it inside the home. Though I did everything almost perfect, the moment which Goddess entered my home, my heart beats went high and still now I can't find the reason why I had an experience of shiver. It happened so exactly the same moment the team entered the home. I searched for dakshina to give it to velichappadu, but carried it within my closed hands while searching the whole home for it.
When Velichappad blessed my family, I was fully in a new magical world. A neighbour comforted me telling that, it's not surprising; as goddess is entering our home, it happens so and it happens with her during every occasion. Soon after they left, Kurichyar/Kanickyar team also sang and danced for a folk song. They wore a red cloth over their white dhoti, and also carried a few strange musical instruments. They placed an idol of goddess in the courtyard and sang a tribal song praising her. I couldn't recognize their tribal language.
Aana Para – A part of several temple rituals
Aana Para means Elephant paras, where elephants accept the offerings placed at homes. Very often a decorated elephant also accompanies velichapadu and his team, when he visits each home to accept the para. If it is aana para, the paras will be placed in a row in the courtyard.
In south Kerala regions, it's a part of temple rituals where devotees place offerings on streets or front of homes, while deities are carried by decorated elephants as a part of temple processions.It's known by the name – Thattupooja. Often fireworks accompany Thattupooja.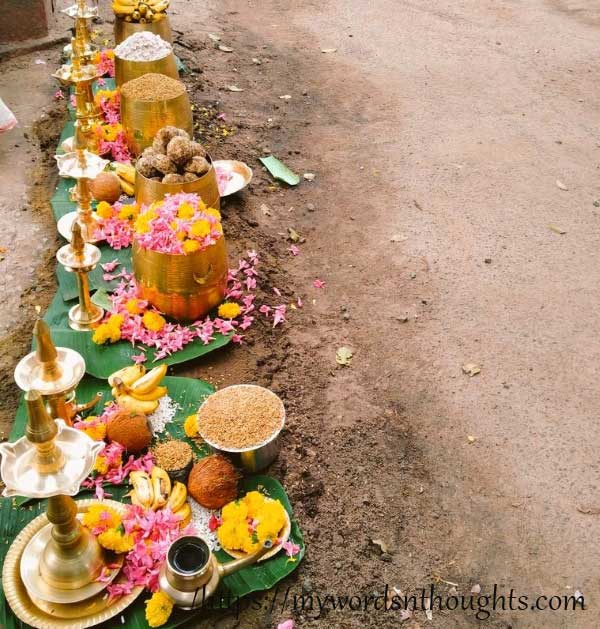 You can read a few more articles related to temple rituals, offerings, customs and celebrations, mostly associated with temples across across Kerala. Here is the page link. Click on the images in the gallery to read
(Visited 5,573 times, 1 visits today)