Rajini Chandy – The new kid on the block
Year 2016 witnessed a few senior artists making a remarkable debut in Malayalam cinema. In 2016, K. L. Antony & Leena Antony – the senior real life couple debut through a single film, Maheshinte Prathikaram which was a major hit at box office. Latest entry is Rajini Chandy who made a smashing debut to Mollywood at the age of 65 through comedy film, Oru Muthassi Gadha. Rajini received rave reviews for per performance, and the movie became hit at box office. This 2016 Onam release was directed by Jude Antony Joseph of 'Om Shanti Osana' fame.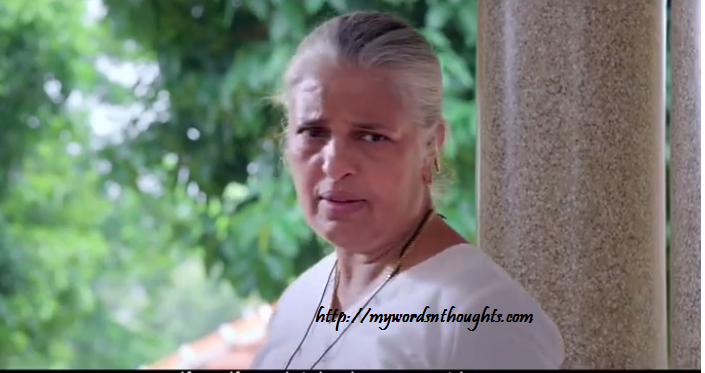 Rajini's bold attitude character in Oru Muthassi Gadha is quite similar to Sheela's role in Manasinakkare, one decade back. When Manasinakkare was released, many of her natives tried to find her similarities with Kochu Thresia of Manasinakkare. But no one even imagined that Rajini would portray a similar kind of role on Malayalam screen one decade later. Rajini is fondly called Rajini aunty by her natives.
A small note on Rajini Chandy's personal life
Rajini Chandy is married to V. V. Chandy, who formerly served as Vice President of American Express International Bank and chief executive of Oman International Bank. Her single daughter is currently settled in US with her husband and three kids. Rajini's eldest granddaughter is now 21 years old. Rajini is currently settled in Alappuzha with her husband.
Rajini got married to Chandy at a young age of 19 and got settled in Mumbai. Chandy taught her English and Hindi languages and also driving. Rajini got her driving license while at Dubai. As Chandy was a busy banker, Rajini used to do home purchases driving her car.
So bold in her real life too
When she got settled in Aluva, she used her car as in Dubai. In those days, it was a rare sight to watch a lady driving a car so fast in rural Alappuzha, and it also earned her the nickname, Nooru (meaning 100 – the high speed of the car). In those days natives used to tease her by throwing mangoes to the car, jumping in front of the car etc. But she cared nobody. As days and years passed, she earned people's appreciation and now she is fondly called aunty by the natives.
Rajini – With no theater experience or film background
A late entry to Mollywood, Rajini surprised everyone with her instant comedy timing and outstanding acting skills. But it will be surprising to many she has no theatre or acting background, except that she participate in cultural activities just for fun. She has never taken acting seriously and has once acted in a male role for a play staged at Aluva Kodukuthimala unit. She is also a member of a veteran group – Bindas Couple, who dances for fun.
Though acting has been a dark continent for Rajini before, she is quite popular in her native place as a fitness freak. She earlier ran a fitness club for a short while, and that's why she got that image. Very often people also invite her to inaugurate similar fitness clubs in her local town.
How Rajini's entry to Mollywood happened?
Once she inaugurated a fitness club opened by a native of Alapuzha, Anil, from whom she came to know about the film's auditions. At first Rajini was not willing to do it and Anil finally managed to convince her. She also informed one person named Maju, and same day she received a call from him. She cut the phone as she needed to get permission from Chandy. Rajini said yes only after receiving permission from her husband, and called him back.
Next day the director visited her at home, and she met him in casual dress. Jude finalized her for the role, and on his second visit gave her the film script. Then only she came to know that her character is so significant.
She received a lot of encouragement from the team
As she was a newcomer with no acting experience, she was very nervous during initial days. But she received good encouragement from film director and other members of the team, particularly dubbing artist Bhagyalakshmi who played parallel lead in the film. She bi-hearted the film dialogues, but faced starting troubles during her early shooting days. But within two days she turned serious and the rest is history. It's one of the best senior actor roles seen in the recent times.
During her shooting days, she made a great bond with her co-star Bhagyalakshmi who guided her in dialogue delivery. Bhagyalakshmi suggested her to deliver anger dialogues in low pace; otherwise it's difficult during dubbing stage. They exchanged gifts when shooting was over.
Rajini's hobbies
Since she stayed in Mumbai, she got interested in arts and crafts. She loved cross-stitching a lot since then. When she got settled in Alapuzha, she converted her hobby to profession. Though it needs a lot of patience to do each piece of work, she enjoyed a lot. She also sold many of her works to foreigners, apart from gifting them to dear ones.
Gardening is her next passion. Once she owned a great collection of orchids. She loved pets also, and also had a few at her home. But owing to her fear to Maneka Gandhi, she opened the cages. Currently she is doing poultry farming only. Above all she is a good cook, and love to prepare dishes for small parties arranged by her husband as a part of his profession. Chicken Roast, Koorkka Mezhukkupuratti, Fish Mulakilittath and Bitter gourd fry are her trademark dishes.
She was also once interested in providing free Mathematics tuition to kids nearby. For that she had to learn Mathematics first, and started with three girls of her neighbourhood. It can be said that they together referred old question papers and learnt mathematics.
You can read a few more articles on celebrity chats and short biographies below. Here is the page link. Click on the images in the gallery to read.
(Visited 1,603 times, 1 visits today)