Top 33 Malayalam film songs of S. Janaki for those who love Nostalgic 1970s and 1980s
S. Janaki is a gifted female voice for south Indian music fans, and she has given memorable songs in all south Indian languages, and a few in Hindi. Though she is not a Keralite, her voice is quite matching with female heroines of Malayalam screen, unlike many other female voices. Her Malayalam diction is flawless and exceptionally well comparing with her contemporary non-Malayali female voices. It's a big surprise to many, Andhra Pradesh is her home place and Telugu is her mother tongue.
Her popular melodies of 1960s
Music legend M. S. Baburaj gave S. Janaki her first break to Malayalam cinema, and gave her some of the finest of his compositions such as Thaliritta kinaakkal than… (Moodupadam – 1963), Anjanakkannezhuthi… (Thacholi Othenan – 1964), Sooryakanthee…. (Kaattuthulasi – 1965), Oru kochu swapnathin ….. (Tharavaattamma– 1966) etc. Their combination was quite similar to Madan Mohan-Lata Mangeshkar duo who gave some of magical compositions in the era of 1960s. Unarunaroo Unnipoove of Ammaye Kaanaan (1963) composed by K. Raghavan, Nindra Than Neerazhi of Pakal Kinavu (1966) composed by BA Chidambaranath and Innale Neeyoru Sundara of Stree composed by Dakshinamoorthy were also popular songs during this period. Very soon Janaki's flawless Malayalam diction made her the most sought female voice and one of the popular singers of Malayalam all-time.
Janaki announced her retirement from professional singing career
Most recently in September 2016 she announced her retirement from playback singing after a long singing career of 6 decades. It's unpleasant news to all Janaki fans who still want her to sing a few more songs. She decided to stop stage performances and end her singing career with a Malayalam song, the industry which gave her career best songs, best appreciation and fan following. As a great fan of Janaki in the nostalgic 1980s it's my humble tribute to this legend, whose voice is as pure as mother's lullaby and give us mother's love and care.
When Bollywood music went through an unpleasant era in the 1970s, Malayalam witnessed one of the finest eras of music. Like me, there are countless music fans who were born in 1980s or earlier for whom songs of 1980s are nostalgic. Thanks to legends who created melodious music during this period, and Yesudas, Janaki, Jayachandran and Chitra too deserve special appreciation to give life to numerous hits during this period. From 1970 to 1985, she remained the female supreme power of Malayalam film music winning 11 out of 15 State awards for best female voice. So I would like to list top songs sung by Janaki in the glorious era of her singing career.
Fondly called Janakiyamma, she was blessed to sing some of the beautiful compositions of Johnson, M. G. Radhakrishnan, A. T. Ummer, Jerry Amal Dev and Shyam during their glorious years in Malayalam cinema. She regularly sang songs penned by Bichu Thirumala. Quite co-incidence majority of the songs listed are solo tracks. Interesting read: Onam blossomed in Malayalam film songs.
List of her top 30+ songs during the period 1970s-1980s
1. Mauname from Thakara – Let me start the list with this award winning song of 1979. Definitely this song is listed among the top 10 songs of Janaki, and one among the countless songs which gave her accolades. This sad solo song was pictured on Prathap Pothan and Surekha, Poovachal Khader penned lyrics and music composed by M. G. Radhakrishnan. The song earned her state award for the year 1979.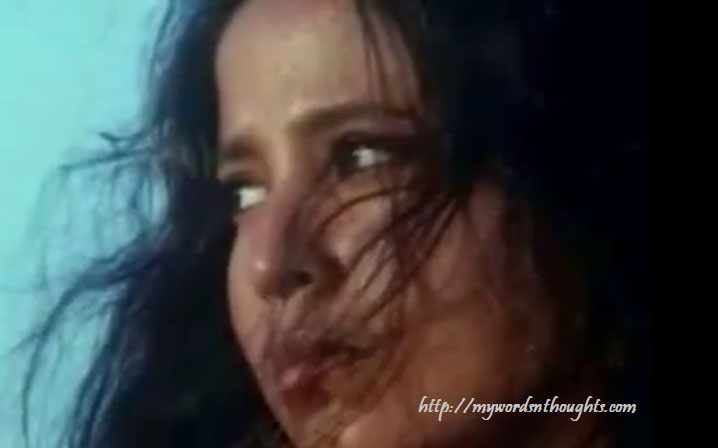 2. Mainaakam Kadalil Ninnuyarunnuvo from Thrishna – This 1981 film was directed by I. V. Sasi, and one of the early releases of megastar Mammootty. The song was penned by Poovachal Khader and composed by Shyam. Its tune was later reused for the Hindi dubbed version of Malayalam romantic film – Daisy. The song earned her state award for the year 1981.
3. Gopike Nin Viral from Kattathe Kilikkoodu
–

One of the career best songs of Janaki, this solo song based on classical music was pictured on Sri Vidya. The song also featured Mohanlal and Revathy. The lyrics were penned by Kavalam Narayana Panicker, and music composed by Johnson. Janaki earned her 5th state award in a row in 1983, and was given state award for best female playback singer for her work in various films including Kattathe Kilikkoodu.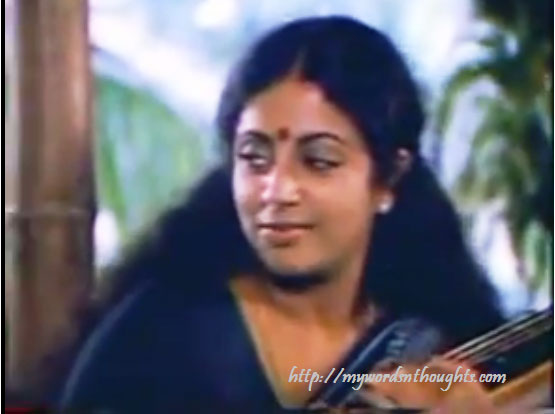 4. Swarnamukile from Ithu Njangalude Katha – The film is known for the pairing of Shanti Krishna and Sreenath who tied knot later. Swarnamukile is one of the melodious songs belonging to the film. The movie was released in 1982. The movie was the first release of Mukesh and Shanti Krishna. The music was composed by Johnson and lyrics were written by P. Bhaskaran.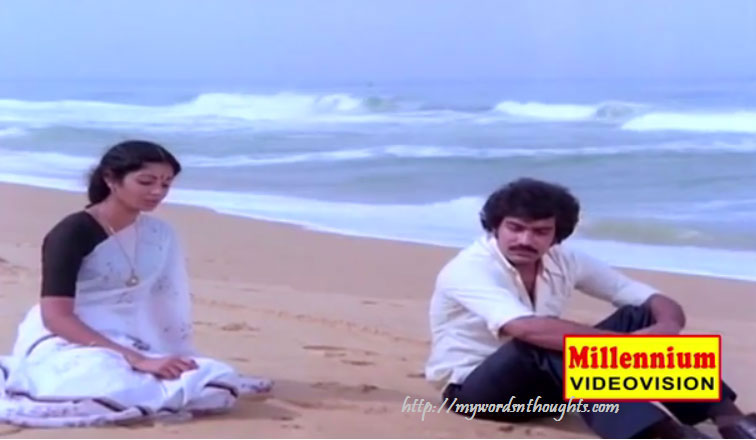 5. Naatha Nee Varum from Chamaram – It's one of the popular songs pictured on Zarina Waheb, the most popular Bollywood actor in Malayalam cinema. It's yet another beautiful solo track of Janaki created by M. G. Radhakrishnan and Poovachal Khader. The song also gave Janaki the state award for the year 1980, aside two more songs – Manjanikombil and Oru Mayilppeeliyay.
6. Ennittum Nee Enne from Naseema
– Yet another evergreen solo melody in Janaki's voice composed by King of melody – Johnson! The song was pictured on the beautiful actress Rani Padmini who was murdered during her glorious years at a very young age. The sad sentimental song also featured Mohanlal. Its 'heart-breaking' lyrics were penned by P. Bhaskaran and is still popular among youth.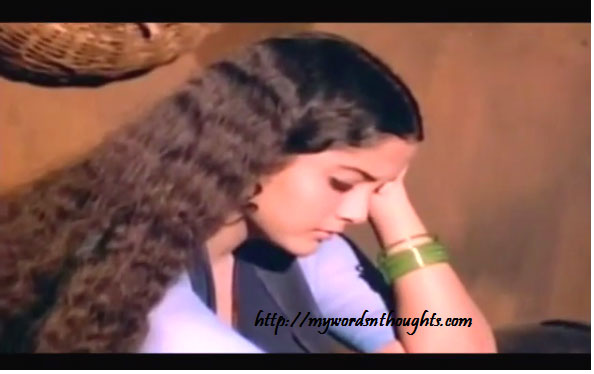 7. Moham Kondu Njan from Shesham Kazhchayil – Celebrating motherhood, the song was pictured on Kaviyur Ponnamma and Menaka, and an evergreen classic sung by Janaki. The music was composed by Johnson and lyrics penned by Konniyoor Bhas. Its male version was sung by Jayachandran, and both these versions are extremely popular.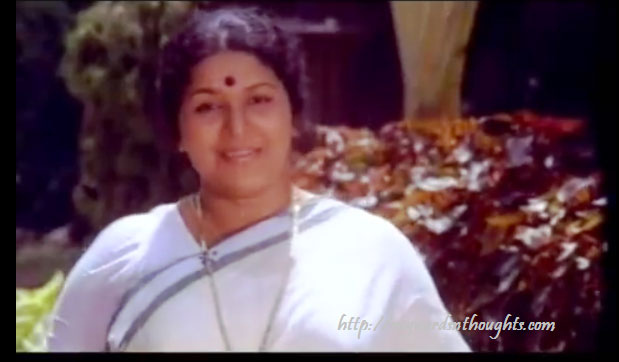 8. Unaru Vegam Ne Sumarani from Moodalmanju – Loosely based on Bollywood thriller Aamne Samne, the movie marked Bollywood's popular female composer Usha Khanna's debut in Malayalam cinema. This solo track was penned by P. Bhaskaran. The song was pictured on Sheela, and released in 1970. The movie had yet another solo track of Janaky – Manasa Manivenuvil.
9. Rakendu Kiranangal from Avalude Raavukal – One of the boldest themes ever shown on Malayalam screen, the music is quite memorable. Rakendu Kiranangal is originally copied from the movie, Swami (Palbhar Ke Liye sung by Lata Mangeshkar) composed by Rajesh Roshan one year earlier. The music was composed by A. T. Ummer, and the movie also included another solo track of Janaki – Unni Aarariro. Lyrics were written by Bichu Thirumala.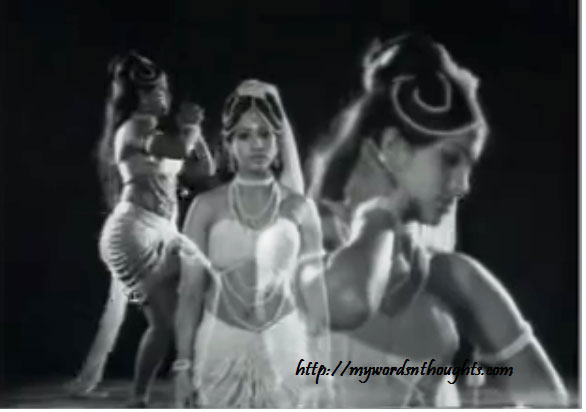 10. Neela Jalashayathil from Angeekaram – Yet another song recreated by A. T. Ummer-Bichu Thirumala team, its male version was sung by K. J. Yesudas. The movie also included a solo track of Janaki – Shishiramaasa Sandhyayile.
11. Raavil Raaga Nilavil from Mazha Nilavu – This popular romantic track was pictured on Poornima Jayaram and Shah Navas. Composed by Raveendran, lyrics of Raavil Raaga Nilavil were written by Poovachal Khader.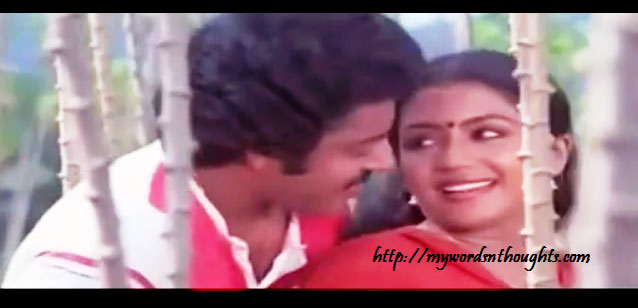 12. Veene Veene from Aalolam – This melodious solo track was pictured on K. R. Vijaya. Songs of this musical released in 1982 was composed by Ilayaraja and Kavalam Narayana Panicker, and lyrics written by Kavalam.
13. Title track from Thenum Vayambum
– The song has two solo renditions sung by Yesudas and Janaki each. An evergreen song pictured on Sumalatha, the song was composed by Raveendran. Lyrics were penned by Bichu Thirumala.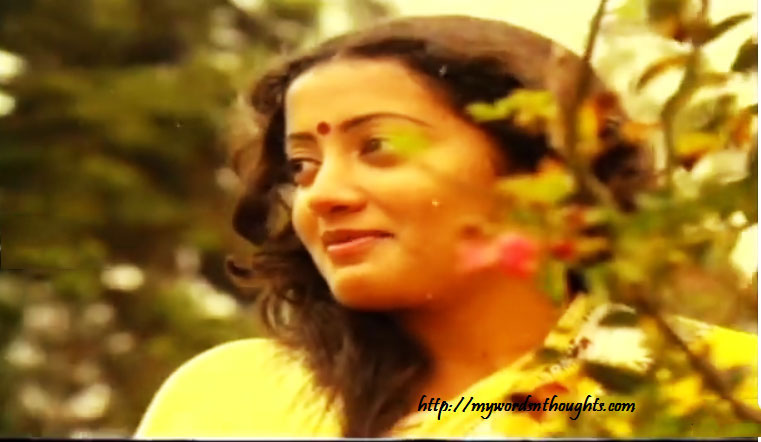 14. Kaathirippoo from Aaroodam – This lovely song was pictured on Seema and Master Vimal. This solo track sung by Janaki was composed by Shyam and written by Kavalam Narayana Panicker.
15. Oru Mayilppeeliyay from Aniyatha Valakal
– A popular track created by A. T. Ummer-Bichu Thirumala team, the song aside Manjanikombil and Naadha Nee Varum gave Janaki Kerala state award for best female playback singer for the year 1980. Bichu Thirumala's voice was also used to record the song. The song was pictured on Subha.
16. Sandhye from Madanolsavam
– This evergreen track is still popular among music fans. Music was composed by Salil Choudhary, with lyrics penned by ONV Kurup. The song pictured on Zarina Wahab gave Janaki State Award for best female voice.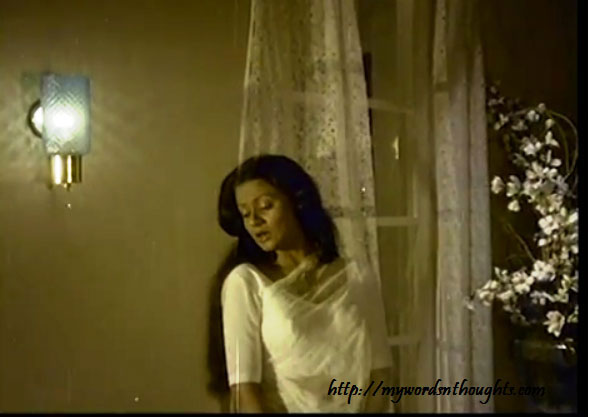 17. Mizhiyoram from Manjil Virinja Pookkal – All the songs of Mohanlal's debut film became extremely popular. The film starred Poornima Jayaram and Shankar as lead pair and Mohanlal as antagonist. The movie also included the solo track of Janaki – Manjani Kombil, which earned her state award aside evergreen hits, Oru Mayilppeeliyay and Naadha Nee Varum.
18.

Maunam Polum Madhuram
from Sagara Sangamam
– This Jayaprada-Kamal Hassan classic is originally a dubbed version of Telugu film with the same name. The music was composed by Ilaiyaraaja and its beautiful lyrics were penned by
Sreekumaran Thampi. The first duet song to be featured in this list, this evergreen romantic song was sung by P. Jayachandran aside Janaki. Music was extremely popular in all the three versions.
19. Malarkodi Pole (Mayangu) from Vishu Kani
– This lullaby featured Vidhubala and Prem Nazir, and this solo track was composed by Salil Chowdhary. Its lyrics were penned by Sreekumaran Thampi. The movie also included a male version sung by Yesudas.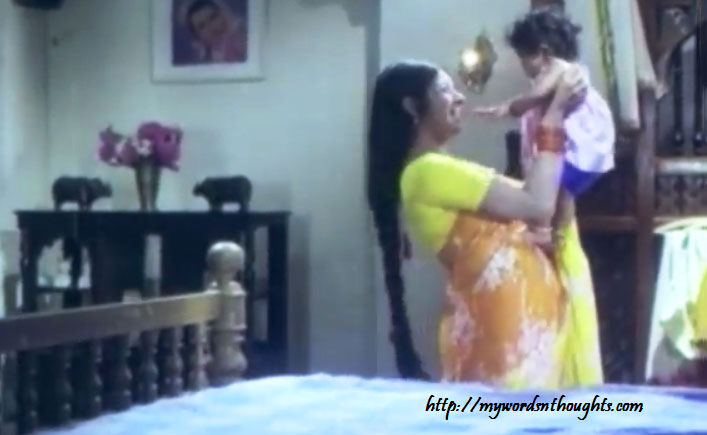 20. Kaanaakuyile Paadoo Paadoo Nee (Mazhavilkodi) from Swapnam – Best among Salil Choudhury's works, this song was originally used for Hindi and Bengali versions by the same composer. Hindi version was used in Annadata (1972) featuring Jaya Bhaduri. Nanditha Bose was featured in Malayalam version. The movie also included one more popular track of Janaki, Shaarike En Shaarike.
21. Ponnurukum Pookkalam

from

Koodevide
– This solo track was pictured on Suhasini. All the songs composed by Johnson were extremely popular, and lyrics were penned by O. N. V. Kurup. The movie also included another popular track sung by Janaki – Aadi Vaa Kaatte. The movie starred Mammootty, Suhasini and Rehman in lead roles. The movie had only two songs – both solo tracks sung by Janaki.
22. Jalasankhu Pushpam Choodum from Ahimsa – Lyrics were penned by Bichu Thirumala and music was composed by A. T. Ummer. This evergreen song featured Seema and Sukumaran.
23. Kaayal Karayil Thanich Vannath from Kayam – This 1982 movie is best known for its melodious songs. Music score was done by M. K. Arjunan and lyrics was written by Poovachal Khader. This solo track was pictured on Vijayan and Anjali Naidu.
24.

Kiliye Kiliye
from Aa Ratri
– This 1982 movie starring Mammootty and Poornima Jayaram became the first Malayalam movie to collect 1 crore rupees at box office. This song is extremely popular among kids and featured actress Anju as a child artist.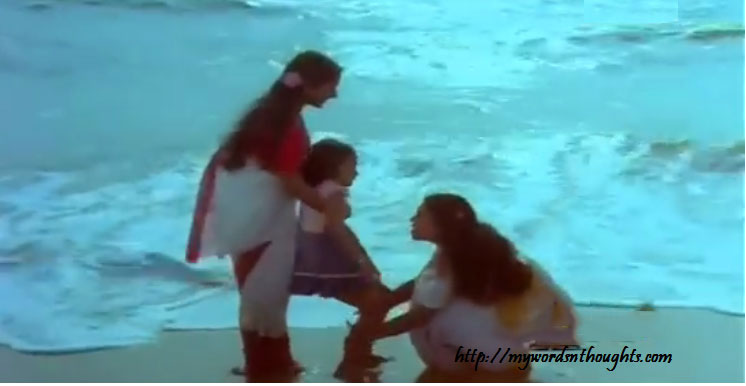 25. Aa Nimishathinte from Chandrakantham – This evergreen song had two versions sung by Yesudas and Janaki. The movie starred Prem Nazir and Jayabharathi in lead roles. The music was composed by M. S. Viswanathan, and Sreekumaran Thampi penned the lyrics.
26. Thumbi Vaa Thumbakudathin
from Olangal
– The song composed by Illayaraja became so popular that it was later reused in many versions including Hindi for Amitabh Bachchan starrer Paa. This solo joyful track is very much loved by kids. The song featured Bollywood star Amol Palekar and south Indian heroine, Poornima Jayaram.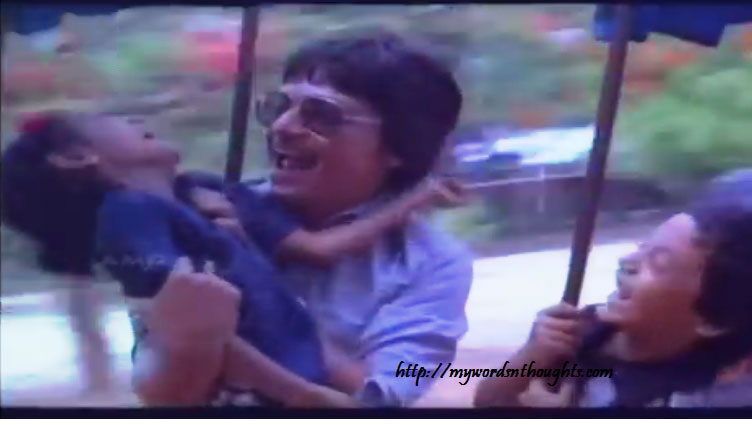 27. Yamune Ninnude from Yatra – This dance sequence featuring Shobana was a chartbuster hit of year 1985. The music was composed by Illayaraja and lyrics were penned by O. N. V. The film too was the highest Malayalam grosser of the year.
28. Kasturi Maankurunne
from Kaanamarayath
– Sobana sync lipped to Janaki's voice for numerous hits in the first phase of her career, and this song is one such. The song gave her the 15thand final state awards for best female playback singer.
29. Yamune Nee Ozhuku
from Thulavarsham
– One of the rarest films of Sridevi in Malayalam cinema, she worked with top hero Prem Nazir in this black & white film. Sudhir and Sridevi were featured in this duet sung by Janaki and Yesudas. Thulavarsham was one of Sridevi's early films in a lead role before she went on to become a huge star in Bollywood. The movie had two music directors and three lyricists. Yamune Nee Ozhuku was penned by Vayalar Ramavarma and composed by Salil Chaudhury. There is also a Bengali version of this song.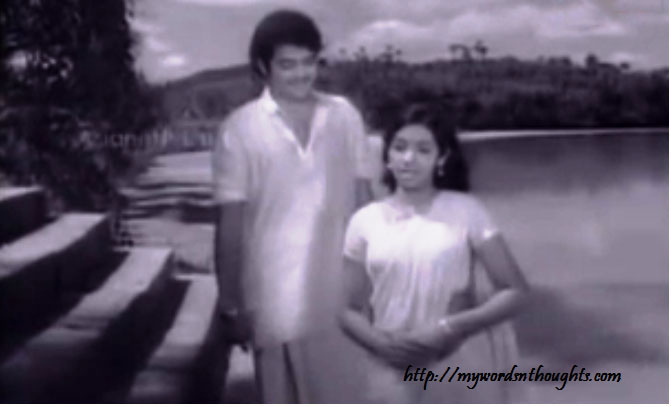 30. Veenapoove from Jeevikkaan Marannu Poya Stree – It's one of the finest compositions of M. S. Viswanathan. Lyrics were written by Vayalar Ramavarma, and the movie starred Sheela in the lead role. The song makes us remember the famous poem, Veena Poovu of Kumaranasan.
31. Oru Vattam Koodiyen
from Chillu
– This poem penned by O. N. V. Kurup is nostalgic to many and the song has two versions. Male version is sung by Yesudas, and the female voice by Janaki. The music was composed by M. B. Sreenivasan. The song featured
Venu Nagavally

and Shanti Krishna.
32. Pulayanar Maniyamma
from Prasadam
– This song has two versions, a male version by Yesudas and female version by Janaki. The movie released in 1976 starred Prem Nazir and Jayabharathi in main leads. Music was composed by V. Dakshinamoorthy and lyrics penned by P. Bhaskaran.
33. Nirangal Than Nritham
from Parasparam

– I would like to end the list by one of my most popular songs of Janakiyamma. Its lovely lyrics were written by O. N. V. Kurup and the music was composed by M. B. Sreenivasan. The sad melody featured Zarina Waheb and Venu Nagavally. Janaki's voice was frequently used for Zarina Waheb in Malayalam movies, and their combination songs have been quite appreciated. Read about

Bollywood heroines who worked in Malayalam Cinema.
Ivide Kaattinu Sugandam of Raagam, Hemanta Geetam from Thalam Thettiya Thaarattu, Swararaagamaayi from Pacha Velicham, Ilam Manjil from Ennistam Ninnishtam, Kaattu Tharattum of Ahimsa, Ragangale Mohangale from Tharattu, Karimizhi Kuruvikal from Parannu Parannu Parannu, Oro Nimishavum from Archana Teacher, Thechipoove Mizhi Thurakkoo from Hridayam Padunnu, Manjum Kulirum from Sandhyakku Virinja Poovu, Ente Janmam from Etho Oru Dikkari, Sindoora Sandhyakk Maunam from Choola, Ee Kulir Niseedhiniyil from Aayiram Kannukal etc are among the popular songs sung by Janaki. Though she sang several popular duets during the period, she earned popularity through her solo songs. With mid-1980s Chithra came to music scene, and became the young voice and top singer of Malayalam very soon. Yet she sang melodious songs occasionally. She sang a couple of melodious songs for Pappayude Swantham Appoos released in 1992. Both the songs – Olathumpathu and Enn Poove Pon Poove featured Shobana. Mele Mele Manam from Mammootty starrer No. 1 Snehatheeram Banglore North can also be tagged under the same category.
Read a few more articles on Malayalam cinema, on different general discussions. Here is the page link. Click on the images in the gallery to read
(Visited 12,742 times, 1 visits today)