Paneer Makhni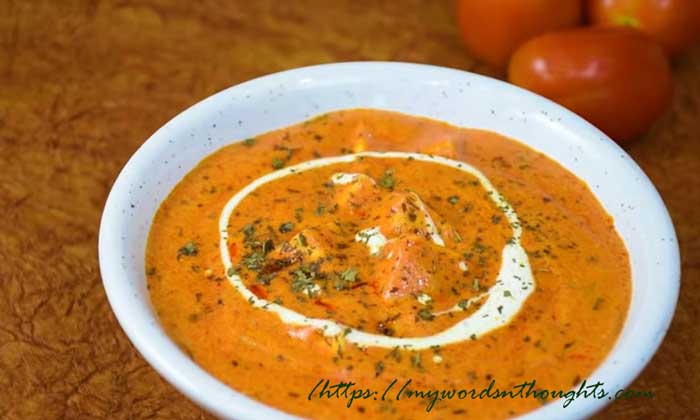 Ingredients for Paneer Makhni:
1. Paneer pieces – 500 gm
2. Tomato – 500 gm
Cashews – 100 gm
Oil – 2 table spoons
3. Fresh cream – 100 milli
Butter – 250 gm
White pepper powder – ½ tsp
4. Salt, honey – As needed
How to prepare Paneer Makhni?
1. Mix ingredients no: 2 in a saucepan, and boil for half an hour till tomatoes turn pulpy.
2. When it cools off completely, make a fine paste.
3. Again boil it in the saucepan.
4. When gravy thickens, add ingredients no: 3 and boil for 15 minutes in slow flame.
5. Add paneer pieces and salt. Put off the flame.
6. Pour a few drops of honey too.
Courtesy: Vanitha Magazine May 1-14, 2005
Note: You can add crushed Kasur meti too, towards the end of preparation.
Also read a few more paneer recipes. Click on the images in the gallery to read.
(Visited 15 times, 1 visits today)