Paavakka Kichadi (Bitter Gourd Kichadi)
Kichadis form an integral part of traditional Kerala sadya, served during wedding ceremonies and traditional festivals. Unlike Kichadi dish of North India, Keralities make this excellent side dish by adding curd to a vegetarian side dish. Kichadi can be made with a wide variety of vegetables and fruits like bitter gourd, snake gourd, white gourd, cucumber, pineapple, beetroot etc. In this column I would like to add bitter gourd kichadi in a simple form. You can also read recipe of a simple Paavakka Kichadi here.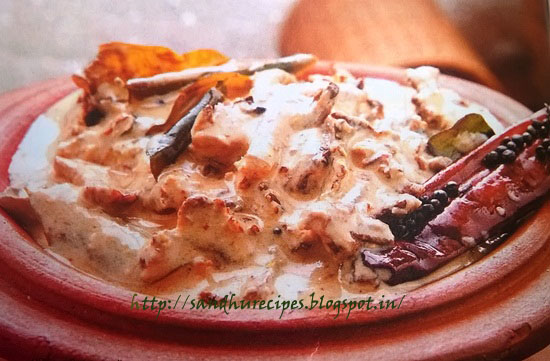 Ingredients for Paavakka Kichadi:
1. Bitter gourd split into 4 and finely chopped – 1 cup
Green chillies spilt into 4 – 4
How to prepare Paavakka Kichadi?
1. Heat oil in a pan and fry ingredients no: 1.
3. Add salt to the fried items and mix well using hand.
4. Finely grind ingredients no: 4 and add to bitter gourd.
5. Heat a little oil in a pan and sauté ingredients no: 5.
6. Add pavakka kichadi to it and mix well and put the flame off.
7. Serve once kichadi is cooled.
Archive: Vanitha magazine September 1-14 2011 edition
You can read a few more curd added vegetarian curry recipes here. Click on the images in the gallery to read.
(Visited 224 times, 1 visits today)