No Bake Cheese Cake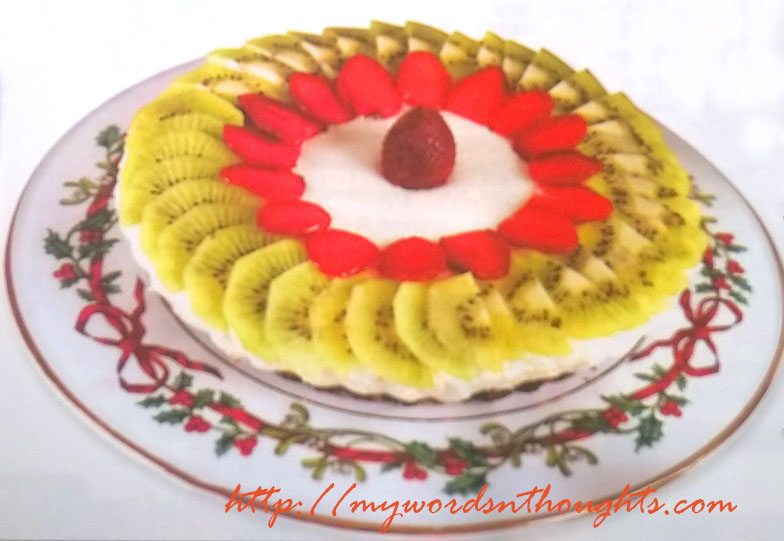 Ingredients for No Bake Cheese Cake:
1. Oreo biscuit with white cream – 100 gm, powdered
Almonds roasted and blended well in a mixer – 50 gm (not powdered)
Butter – 50 gm
2. Cream cheese (Amul) – 100 gm
Fresh cream (Amul) – 100 milli
Condensed milk – 200 gm
3. Gelatin – 1 big spoon, dissolved in ¼ cup water
4. Egg white – From 2 eggs
5. Icing sugar / sugar powdered – 2 big spoons
6. Strawberry and kiwi chopped – For decorating the cake.
How to prepare No Bake Cheese Cake?
1. Mix together ingredients no: 1.
2. Place this mixture beneath a cheese bake dish, press it well and keep in refrigerator for ½-3/4 hour to set.
3. Beat together ingredients no: 2.
4. Add dissolved gelatin to it. Beat the mixture continuously while adding gelatin.
5. Beat eggs adding a little sugar and slowly add to cream cheese mixture.
6. Pour this mixture on the top of cheese bake dish as second layer.
7. Place it once again in refrigerator and allow it to set.
8. Spread chopped strawberry and kiwi on its top and decorate. You can also use any fruit of your choice for decorating the cake.
Courtesy: Vanitha Magazine, January 1-15, 2018
You can read a few more delicious cake and bake recipes. Here is the page link. Click on the images in the gallery to read.
(Visited 89 times, 1 visits today)