Full Roast Chicken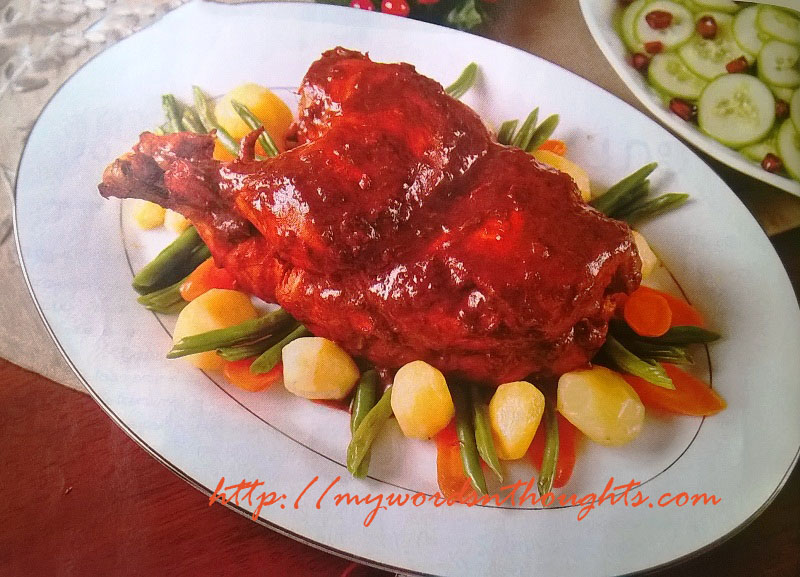 Ingredients for Full Roast Chicken:
1. Chicken – 1 as full, almost 1 kg
2. Chilli powder – 2 small spoons
Garlic paste – 4 big spoons
Ginger paste – 2 big spoons
Soya sauce – 2 big spoons
Tomato sauce – 2 big spoons
Salt – For taste
3. Butter – 2 big spoons
4. Baby potato, carrot and beans – As required
How to prepare Full Roast Chicken?
1. Mix together ingredients no: 2 and marinate the whole chicken using this paste.
2. Keep the chicken in refrigerator overnight.
3. Make deep cuts in chicken on its limbs, thighs and chests.
4. Cook this chicken in pressure cooker without adding water.
5. Wait for 2 whistles and put off the flame.
6. Take the chicken and keep it in another plate.
7. Heat butter in a saucepan and add chicken gravy (left in pressure cooker) and boil the contents till it turns thick.
8. Add the whole chicken to it and stir it well so that chicken gets coated with thick gravy.
9. Cook the vegetables, sauté in butter and serve along with chicken.
Courtesy: Vanitha Magazine, January 1-15, 2018
Read a few more chicken curry/side dish recipes. Here is the page link. Click on the images in the gallery to read.
(Visited 191 times, 1 visits today)