Mixed Tomato – Spinach Salad
Salad is a healthy alternative for a meal, and a good choice if you are dieting or want to lose weight. You can add vegetarian or non-vegetarian salad to your food menu on a regular basis. As most of the items are less cooked, it's highly nutritious and salads are rich in fiber content too. Salads are always listed among healthy and nutritious food items. You can nicely blend fruits and raw vegetables, and use a little bit creativity to prepare amazing and tasty salads.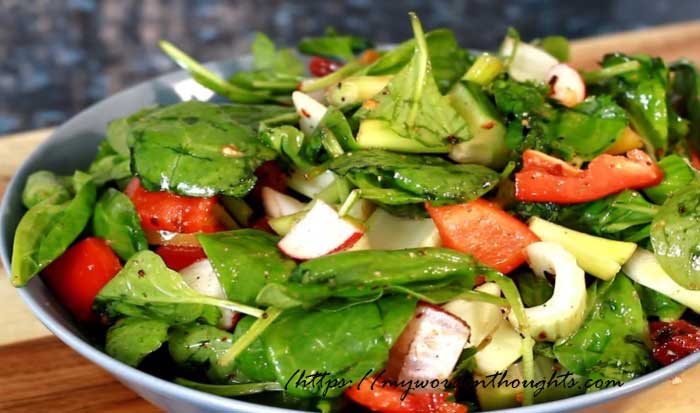 Ingredients for Mixed Tomato – Spinach Salad:
1. Red apple – 1
Tomato with thick flesh – 2
Onion – ½
2. Small leaves of spinach – ¼ cup
For dressing:
3. Olive oil – ¼ cup
Crushed mustard – 1 big spoon
Garlic – 1 clove
Apple cider vinegar – ¼ cup
Honey – 1 big spoon
Salt – For taste
Sugar – 1 small spoon
How to prepare Mixed Tomato – Spinach Salad?
1. Chop ingredients no: 1 together into small pieces.
2. Blend ingredients no: 3 together in a mixer and keep in refrigerator.
3. Take spinach along with chopped apple, tomato and onion in a bowl.
4. Add the dressing and toss the contents well.
Note: You can also add grilled chicken if you want.
Courtesy: Vanitha Magazine November 12-25, 2022
Read a few more vegetarian salad recipes. Visit my page.