Millet Dosa
Millet is known to be a super food. It helps to reduce body weight and prevents heart related diseases. Fiber is present in millets in plenty, which reduces appetite. It also includes plenty of phytonutrients and minerals like magnesium and calcium. Calories are low than normal grains. In short if you are following some diet plan, you can include millets.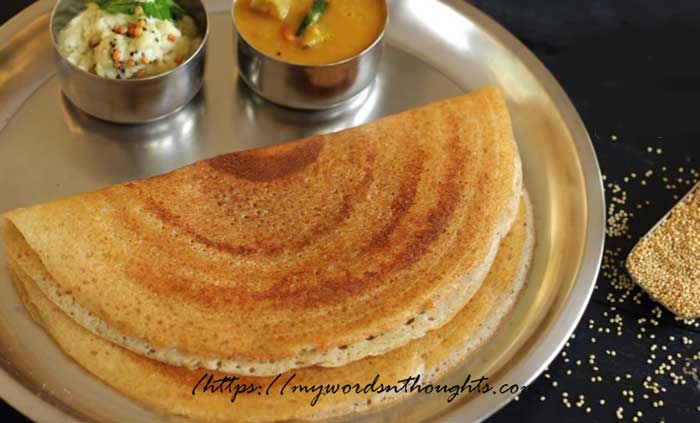 Ingredients for Millet Dosa:
1. Millets after removing skin – ½ cup
Ragi – ½ cup
Broken wheat – ½ cup
Raw rice – ½ cup
Black gram – ½ cup
Fenugreek – 1 small spoon
2. Salt – As required
How to prepare Millet Dosa?
1. Wash all ingredients no: 1 together and soak in water for 4 hours.
2. Add a little water and grind it to a smooth paste to prepare batter.
3. Allow the batter to ferment. It takes almost 8 hours.
4. Add salt to batter, if needed extra water too and mix the contents well.
5. Heat a tawa, add a little oil and pour 1 big spoon of batter to it.
6. Prepare dosas for remaining batter too.
7. Serve with Bengal gram (pottukadala) chutney.
Note: You can also prepare idli using this batter.
Courtesy: Vanitha Magazine March 5-18, 2022
Also read a few more dosa & idli recipes. Click on the images in the gallery to read.
(Visited 40 times, 1 visits today)