Meat Samosa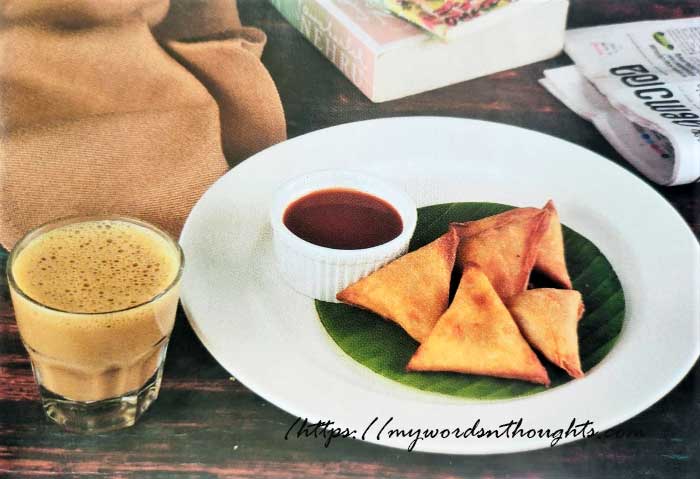 Ingredients for Meat Samosa:
1. Maida – 2 cups
Salt and water – As required
2. Vanaspati – 6 small spoons
3. Oil – ¼ cup
4. Garlic chopped fine – 2 small spoons
5. Ginger chopped fine – 2 small spoons
Green chillies chopped fine – 2 small spoons
6. Onions chopped fine – 1 cup
7. Minced meat of your choice (cooked) – ½ kg
8. Vinegar – 2 small spoons
Salt – For taste
9. Cardamom – 6
Cloves – 8
Cinnamon – 2 pieces
Nutmeg – ¼ part of one
10. Pepper powder – 1 small spoon
11. Coriander leaves and mint leaves chopped fine – 2 small spoons each
How to prepare Meat Samosa?
1. Mix ingredients no: 1 together and prepare dough of chapati.
2. Make gooseberry sized balls and spread them into chapatis.
3. Apply a thin layer of Vanaspati on a chapati and stick another chapati on top.
4. Gently roll the chapatis together, without adding pressure.
5. Continue the process for remaining chapatis too.
6. Heat a tawa and gently heat these chapatis. Flip both sides.
7. Separate the chapatis and cut each of them into four.
8. Heat oil in a pan and fry garlic.
9. Add green chillies and ginger and sauté again.
10. Add onions and sauté again till it's done.
11. Add minced meat, and mix it well. Avoid formation of lumps.
12. Add vinegar and salt, followed by ingredients no: 9, powdered together.
13. Add pepper powder and cook the ingredients in low flame without adding water.
14. Blend it well and put off the flame.
15. Add mint leaves and coriander leaves. This is the filling.
16. Add 2 spoons of maida to a little warm water and mix well. The paste should be thick.
17. Apply a little paste on one side of each chapati pieces and make cones.
18. Place filling inside and stick the edges with maida paste again.
19. Deep fry your meat samosas in hot oil.
Courtesy: Vanitha Magazine May 14-27, 2022
Also read a few more puff and samosa snack recipes here. Click on the images in the gallery to read.
(Visited 16 times, 1 visits today)