Know the magic of these oils. Know how these oils can help you in beauty care.
Scratch your skin using nail. Is a white line appearing? If so, it reminds you that your skin is deprived of moisture and is dry. To give life to dry skin, you can apply different oils on a daily basis. Apply a little oil on your skin and gently massage every day before bath. It's an easy remedy to skin dryness, itching, cracks and infection.
It's a myth that people with oily skin should never apply oil on face. You need to choose the right oil. That's the only thing to notice. It improves skin beauty. Also read: 8 Beauty oils used to enhance your skin glow and beauty.
One question rises. When to apply oil on body? Early morning is the best time for skin care using oils. From 4 am till sunlight heavies, you can choose any time fitting into your daily routine.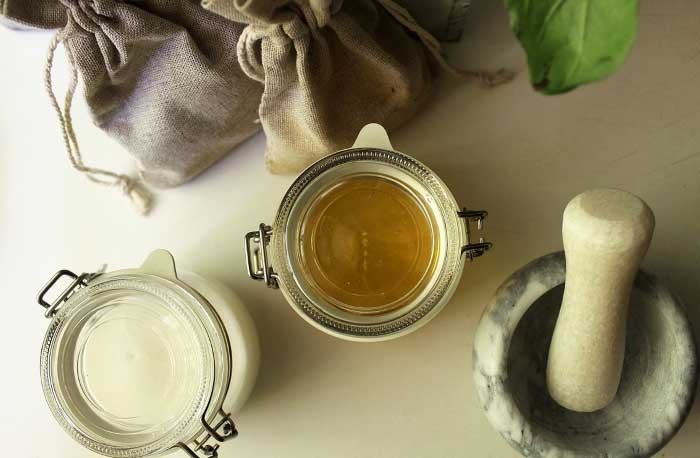 What are the advantages of applying oil on body?
–> It blocks the process of skin loosening, thus reducing wrinkles and retaining elasticity of skin. It reduces stretch marks. If you are too much exposed to sunlight, oil can protect your skin also.
–> Oil massage improves blood circulation and regenerate skin cells. It improves skin brightness and health.
–> From coconut oil and sesame oil to almond oil and olive oil, most oils found at home/kitchen can be included in beauty regime in cheap cost. Real challenge is to find which oils suit you and how much to apply.
Sesame oil/Gingelly oil – A good cleansing agent & anti-aging 'cream'
–> If you apply gingelly oil in the morning, have a bath and go out, it protects your skin from sun exposure. Your skin won't feel tired. It protects skin from sun tans and colour changes and small burns. Because of its anti-bacterial qualities, sesame oil is a quick remedy to pimples, black heads and white heads.
–> You can take a little oil in your hands and manually apply it. You can also mix it with other beauty products and apply on face. If you add a little sesame oil to your night moisturizer it gives a next level feel. But if you have oily skin, never apply sesame oil on face.
–> To make your hair 'energetic', you can add a little sesame oil to aloe vera gel and apply on hair.
–> You can use sesame oil as a substitute of anti-aging night cream. Before you go to sleep, wash your face with lukewarm water and remove moisture completely. Then apply sesame oil.
–> For oily skinned people, sesame oil is a good cleanser. Pour a few drops of oil into a piece of cotton, and use it to clean face. It removes dirt.
Olive oil – For strong & shiny hair
–> To get strong and silky hair and as a remedy to hair loss, hair massage using olive oil is good.
–> Mix 2 white yolk with 2 big spoons of olive oil and apply on scalp and hair. Wash it off after 30 minutes. You will get shiny hair.
–> Mix 1 avocado with ¼ cup olive oil and apply on face and hair. Both will turn baby soft.
–> Prepare a scrub using olive oil and sugar, and scrub on your lips. It removes dead cells and makes your lips soft.
–> Olive oil can be used as eye makeup remover. It also improves the growth of eye lashes.
–> If you have problems with ear wax, drop 2 or 3 olive drops in your ears.
Almond oil (Badam oil) – For soft skin & removing paleness and dullness
–> Almond oil is rich in Vitamin E, Potassium and Zinc. Applying almond oil on skin can remove dryness. This oil is also effective in removing tan, paleness and dullness of skin, darkness around eyes and can remove dead cells too. Massage the affected areas using almond oil for half an hour to get rid of these problems.
–> To make your feet soft, before you go to sleep, massage your feet using olive oil. If you have cracks in your feet, apply olive oil every night, put socks and go to sleep.
–> Almond oil can be used as a makeup remover too.
–> Take half avocado, add 2 big spoons of coconut oil and 1 big spoon of almond oil. Mix together and apply on your dry hair. Gently massage your scalp and hair, and wash it off after 45 minutes. It's a good hair pack.
–> Add almond oil to smashed papaya or thick curd and apply on face as a pack. It removes excess oil of skin and improves shine.
–> You can mix almond oil with sugar and honey, and use as face pack & scrub.
–> If you have sensitive skin, almond oil may not suit you. If you have excess pimples, avoid using almond oil. If you have tree nut allergy, avoid almond oil please.
Castor oil – For good eyebrows and eyelashes
–> When you use moisturizers, castor oil can enhance the process and safeguards skin from excess moisture loss. Always use castor oil, by mixing with any other oils. You can use castor oil along with coconut oil or almond oil for better results.
–> Apply castor oil on nails and massage well. It improves nail growth.
–> Mix castor oil with coconut oil and apply on scalp. It's a good remedy for dandruff, and improves hair growth too.
–> Castor oil is good for the healthy growth of eyebrows and eyelashes. It improves thickness and colour of both too.
–> You can also mix 3 drops of castor oil with 2 drops of almond oil an apply on your eyebrows and eyelashes before you go to sleep.
–> Another option is to take castor oil, almond oil, olive oil and coconut oil in equal quantities and mix together. Store in a bottle and apply on your eyebrows and eyelashes before you go to sleep. It improves thickness and colour.
Mustard oil – Known for its anti-bacterial qualities
–> As mustard oil has anti-bacterial qualities, it can block several skin infections.
–> Mustard oil is rich in Vitamin E, and hence a quick remedy of sun tan and black marks on face and skin.
–> To improve face beauty, apply a face pack using a mixture of gram flour, 1 big spoon of mustard oil and curd, and wash it off after 15 minutes.
–> Mix mustard oil with lemon juice and salt, and use it as toothpaste. Your teeth shine better.
–> If extra usage of chemicals has damaged your hair, there is one remedy to give it a new life. Apply mustard oil on hair and scalp.
–> To get rid of premature hair greying, use mustard oil as hair oil regularly and gently massage the scalp every time.
–> Mustard oil is a good remedy for chapped lips too.
Coconut oil – The best oil for hair and skin
–> As coconut oil is rich in antioxidants and phytonutrients, the skin absorbs the oil easily. Lauric acid and Linolenic acid found in coconut oil can help you with many skin problems.
–> To remove black colour around eyes, mix coconut oil with Vitamin E and apply on those areas. It can effectively remove wrinkles and black marks too.
–> Dissolve coconut oil and activated charcoal, and fill in mascara bottle. Your natural handmade mascara is ready. Mascara bottles can be purchased online.
–> To remove dead cells and improve skin softness, make a mixture of citrus oil, coconut oil and sugar and apply.
–> You can also make an excellent skin scrub using coconut oil, scrapped coconut, lemon juice and sugar. It makes skin more smooth and shiny.
–> Keep coconut oil in refrigerator and apply on the edges of nails. It's a good cuticle cream and turns skin soft.
–> Mix coconut oil, olive oil and beeswax together and use as lip balm. It improves softness of lips and beautify them too.
–> You can mix honey and coconut oil, taken in equal quantities, and use as face pack. It removes wrinkles and scars.
–> Beat coconut oil till it turns cream-like. It's an excellent body butter. You can also add Vitamin E and other essential oils too. Coconut milk is also good for skin during hot summer season. Apply all over your body and have a bath. It removes body rashes.
–> Coconut oil is effective in removing rashes, itches and reddening of skin. It suits even sensitive skin. You can boil coconut milk, and prepare oil. This oil is best for dry skinned people. If you have oily skin, coconut oil doesn't suit you. It can cause pimples.
Image source: Pixabay
(Visited 9 times, 1 visits today)