Best Breakfast Dishes of Kerala
South India is known for its diversity in cuisines on different parts of the region, and Kerala has widely accepted many Tamil dishes for lunch and breakfast. In addition to it, Kerala too adds many dishes to their diet. Influence of Christian and Islam cultures too has also attributed a lot in the wide variety of dishes across Kerala, and a few among them definitely need a mention. As far as I know comparing North Indians, south Indians have a wide range of breakfast dishes like Idli, Dosa, Upma etc. North Indians normally prefer bread, chappathi or rice with some side dish as breakfast in common. What are the common breakfast dishes of Kerala? Which of them are most popular?
Majority of breakfast dishes of Kerala made using batter is fermented before use. Dosa, Idli and Vellayappam are common instances. Rice is the main ingredient of majority of breakfast dishes of Kerala.
Dosa and Idli are the most common breakfast dishes of Kerala
Dosa or Idli served with chutney or sambar is the most common breakfast in Kerala homes. Both of them are made using same batter (a mixture of rice and black gram). Known to be a Tamil Nadu dish, dosa is extremely popular in North and foreign countries too. Ghee roast (known as Ney Roast), Oothappam and Masala Dosa are the common variations of dosa, in addition to plain dosa. Dosa is extremely tasteful if made in an iron tawa, but it needs oil or ghee. Dosa can also be made oil-free in a non-stick pan. Read 7 variants of Dosa recipes here.
Kerala may be a rare place where dosa is also served with non-veg dishes such as chicken curry, egg roast, beef fry or mutton curry. Though dosa is popularly known as thinner paper type, it's also made as thick-small type in the size of a pappad (pappadam), also known by the name – Thattudosa, commonly served in small restaurants (dhabas) on roadside. If served with non-vegetarian side dish, dosas are usually made as thick Thattudosa type.
When potato masala is stuffed into dosa, it becomes masala dosa. Othappam is made by seasoning dosa with onions and green chillies, and very often pepper and carrot. More than 100 varieties of dosa can be made and available at different restaurants of Kerala as well, and some varieties use paneer, minced meat, scrambled eggs and a mix of two or three of these too.
Idli is most commonly associated with chutney, chutney powder or sambar, and Idli made of rice-urud daal batter is common in Kerala. Batter used for Idli is thicker than dosa batter. Read to know how to make soft idlis, and tips to make them better. Chutney may be curry type or simple red chutney grinded in a stone or mixer without adding water. Curry Chutney may be made using red chillies or green chillies, and Pudina chutney is another variety of chutney used with idli or dosa. Tomato chutney and onion chutney are other variants.
In Kerala, sambar is available in different varieties. While south Kerala use vegetables and toor daal only to make Sambar, Thrissur and Palakkad regions add coconut to sambar. Coconut is fried and added in Thrisur style sambar, while normal coconut paste is added to Palakkad Brahmin sambar. Each sambar has its own taste, and vegetables used to prepare sambar can also give distinct taste to your curry.
Pathiri – A trademark Muslim dish
Made using rice flour, Pathiri is a trademark dish of Muslims of Kerala. But it is also made by people belonging to other religious beliefs, and easy available in restaurants and bakeries of Kerala. It is very thin in nature and round in shape, and taken along with non-vegetarian dishes like beef, mutton and chicken.
Appam/Kallappam – A typical Kerala dish
Though Appam is mostly associated with Christians, it has now become a trademark Kerala dish. Also served for parties and celebrations, this rice dish is a perfect combo to both vegetarian and non-vegetarian side dishes, making it a common and favourite breakfast dish of Kerala.
It's a fermented dish, and Palm wine (Kallu) is added to batter and place it overnight to prepare Kallappam. Soaked raw rice is grinded along with scrapped coconut and cooked rice to prepare batter. Yeast can also be used for fermentation and is commonly used to prepare appam. See a few more tips to know how to prepare soft appams. Appam is normally made in an appam maker (appa chatti), and nowadays non-stick pan is common in use. Batter is poured to the bowl like appam maker, and spread to a perfect circle, and closed with a lid. It is steam cooked and never flipped. If the batter is well-fermented numerous holes will be formed, and appam is perfect.
There are different variants of appam such as normal appam, kallappam, palappam, vellayappam, kuttiyappam, vattayappam etc. Coconut milk is added to make delicious palappam. Normal milk can also be added to make tasty and white appam. Kuttiyappam is prepared using rice flour and rava, and normally prepared during Christian celebrations such as Easter. Its best combo is mutton-potato stoo.
Side dishes of appam – Normal chutney can be used with Appam. Egg curry, potato stoo, mutton curry, chicken curry, vegetable curry and chickpeas are common side dishes. Liver fry, Mutton chops, Chicken Dry Fry, Chicken stoo, Fish stoo etc are other curries. In short appam can be eaten with any side dish, and coconut milk added stoos are considered as perfect combos for appam.
Vattayappam – A derivative of appam
Batter for appam is used to prepare Vattayappam. As name suggests, it's round in shape like a cake and is steam cooked. Sugar is added in excess to make it tasty, and garnished using cashews, ghee and raisins. It can be taken as a simple snack or sweet, or can be served with any non-vegetarian dish like chicken curry or mutton curry.
Vellayappam is similar to normal appam, but made using a dosa pan instead of appam maker. For both Vattayappam and Vellayappam, same batter is used. Coconut is not finely grinded in both these cases, thus a slight difference from normal appam and palappam.
Puttu – Known by the name steam cake
It's a typical Kerala dish made using rice powder and scrapped coconut. Variants of wheat powder, rava and ragi are also made. As it is steam cooked and oil content is zero, it holds high nutritious value. Puttu can also be made in hundreds of variants – adding vegetarian and non-vegetarian ingredients. Irachi Putt – adding minced meat and Chiratta Putt – made in coconut shells are some of the trade mark varieties of steam cake. Puttu tastes best if made in traditional bamboo steam maker. Read in detail some of the interesting facts and stories of Kerala's putt.
A simple rice puttu can be served with pappadam and cooked green gram, or with bananas. Chicken curry, liver fry, mutton chops, chicken thoran, egg curry, kadala curry (chickpeas curry) or vegetable stew – it gives different tastes with different side dishes. Puttu is the easiest dish that can be prepared within 10 minutes, making it housewives' favourite. A piece of steam cake with two bananas and a cup of tea is an idol breakfast, of course.
Kerala special Noolappam/Idiyappam
Similar to Kerala's special breakfast dishes like Appam and Steam Cake, Noolappam and Idiyappam too claim their own Kerala trades. Similar to appam and steam cake, rice flour and scrapped coconut are the main ingredients needed to prepare both these dishes, which resembles Chinese noodles. Adding coconut milk to batter makes it more tasty.
Both are steam cooked, and healthy dishes for breakfast or supper. Similar to appam and steam cake, it perfectly matches with a wide range of side dishes – from non-veg to vegetarian. Vegetable stoo, potato curry, egg curry or mutton chops – Noolappam and Idiyappam perfectly match with these side dishes if you are a non-vegetarian.
An Idiyappam maker is needed. Batter is put inside Idiyappam maker, squeezed to the hollows of Idli maker and a little scrapped coconut is placed in between to prepare Idiyappam. It resembles Chinese noodles prepared in an idli maker. It resembles idli also. If they are spread flat on a steam cooker, it becomes noolappam. Both tastes almost same, and only differ in shape. Idiyyappam is idli shaped while noolappam is round like a dosa or chappathi, but looks like noodles spread to a plate. Holes of Noolappam maker are thinner than Idiyappam maker also.
Kozhukkatta
Kerala prepares a wide range of breakfast dishes with rice powder and coconut being the main ingredients. Apart from different varieties of appams including idiyappam and noolappam, Kozhukkatta is also a typical Kerala dish. It is made by adding a little sugar, or without it. It's also made as a sweet dish if a mixture of jaggery and coconut is placed inside the Kozhukkatta balls. Kozhukkatta is equally popular in Tamil Nadu also, and it is made using wheat flour, maida etc. Kozhukkatta is of liquid format with white balls.
Upma, called as Uppmaavu in Malayalam
Though it's not a typical Kerala dish, it's quite common in Kerala. Made using roasted rava, it's seasoned with scrapped coconut, onions and carrots, and a healthy dish that can be served with banana. Rice Seva, Vermicilli Upma and Wheat Upma are a few variants of normal upma. It's also made in different variants.
Poori Masala with Coconut chutney
Poori is not a Kerala dish, and it belongs to the category of dishes accepted by Kerala people. As pooris are fried in hot oil, it's definitely not a healthy dish. But it's a favourite breakfast dish of Kerala, definitely. It's normally served with potato masala and coconut chutney, and considered as a vegetarian breakfast. Batura is another variant of Poori, normally served during wedding receptions and parties, and quite common in Kerala restaurants. Poori is small, while batura is big in size, and both are fried in hot oil.
Kerala Perotta – Trademark Kerala dish
This dish with multi-layers or folds is an integral part of Kerala cuisine. Originated in Malabar, now its popularity has reached world-wide. Made using all-purpose flour (Maida) Perotta is not suggested as a healthy dish, and is best combo with non-veg dishes like chicken, egg, beef and mutton of curry or dry fry type. Perotta can be served at any time, as breakfast or dinner and is a favourite dishes of all Keralities. Now Wheat Perotta is also available.
Oratti – Made from Rice flour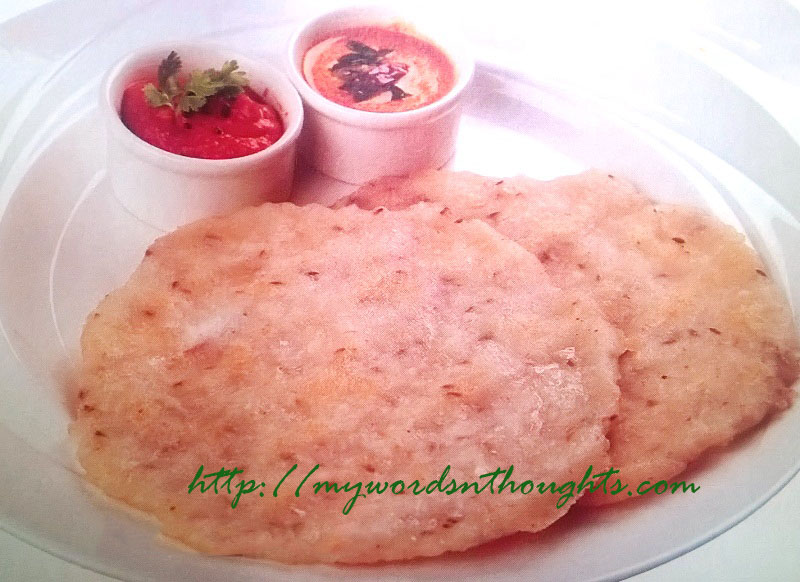 It has been a common breakfast and 4 o' clock snack item earlier. It's made using rice flour, cumin seeds and coconut. It resembles dosa and is slighter thick comparing dosa.It doesn't need any side dish and tastes best when served hot.
Some homes serve rice as breakfast
It's quite common in Thrissur where rice is served as breakfast with some vegetarian side dish. Usually fish or meat is not used as side dish if rice is served for breakfast. Chappathis have also found a place in Kerala's breakfast table in the recent times, though it's a part of Kerala's dinner menu nowadays. In the age of diabetics and blood pressure, Kerala families have widely accepted North Indian dishes – Chappathis and Rotis for dinner.
Pazham Choru makes us remind of our nostalgic days
Keralities have not forgotten yet those nostalgic days of 1970s and 1980s when cooked rice of previous day, known as Pazhinji (or Pazham Choru/Pazham Kanji) used to be a regular breakfast dish of Kerala homes. Pazham Choru literally means old cooked rice. It was during those old days of poverty when common man used to take Pazhinji at 10 0′ clock or 11 O' clock in the mornings after first slot of work in the agriculture fields or paddy fields, and homes were not able to provide breakfast dishes then.
Now Pazhini has been outdated, and also called an unhealthy dish by doctors. It is solely because Keralities have forgotten long ago to work in fields, and now his body is not potential enough to digest Pazham Choru. Sweating is the best remedy to digest this food item, and we Malayalis have already forgotten our green fields and manual works done in agricultural fields, which were once trademarks of Kerala culture.
Conclusion
Yes, Kerala is rich in culture and quite popular for the wide range of traditional dishes served across the state. Yet this culture has never hesitated to accept the best parts of other cultures, and inviting North Indian and Tamil cuisines to our dining table is its best example. Kerala dishes are extremely popular in other parts of the world, for its trademark use of coconut and coconut oil, and the dishes described above can provide you a grand breakfast, of course.
Read about all items served in a traditional Kerala sadya of Thiruvananthapuram district.
(Visited 1,072 times, 1 visits today)