Wheat Momos
Momos is usually prepared using maida (all purpose flour). But if we substitute maida with wheat, it becomes a healthy snack. Steam cooked food are always nutritious, and here is the recipe. You can use filling of your preference – chicken, paneer, vegetables etc and make tasty momos.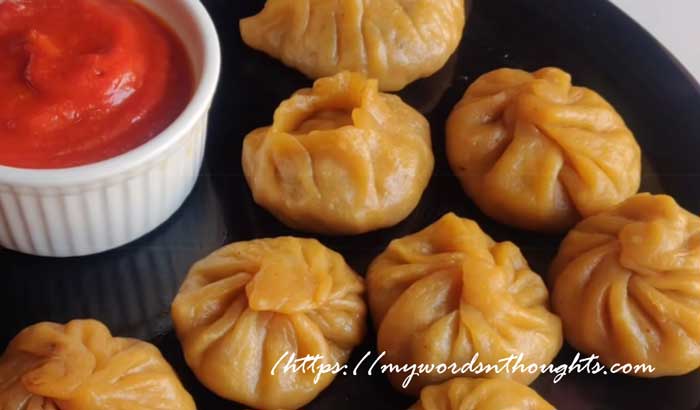 Ingredients for Wheat Momos:
1. Wheat flour – 1 cup
Oil – 1 small spoon
Salt and water – As needed
2. Oil – 1 small spoon
Garlic – 1 clove, chopped fine
Onion – 1/2, chopped fine
3. Cabbage – 1 cup, chopped fine
Carrot – 1/2, chopped fine
4. Vinegar – 1 small spoon
Pepper powder – 1/2 small spoon
Salt – For taste
Soya sauce & chilli sauce – 1 small spoon each
How to prepare Wheat Momos?
1. Knead ingredients no: 1 together, and prepare the dough similar to chapati's.
2. Allow the dough to rest for an hour till it turns soft.
3. Heat oil in a pan and sauté garlic and onions, followed by carrot and cabbage.
4. Add ingredients no: 4 and mix the contents well. Put off the flame.
5. Make small balls from dough and spread to thin round shapes, 5-inch sized.
6. Place a big spoon of filling in the middle portion.
7. Fold the outer edges to get momo shapes.
8. Steam cook momos for 10-12 minutes.
Courtesy: Vanitha Magazine, March 18-31, 2023
Read a few more wheat snack recipes. Visit my page.