Rogan Josh
Rogan Josh is a signature recipe of Kashmiri cuisine, where lamb is used for the preparation. Rogan means the formation of ghee once lamb is cooked. Josh means red colour. Kashmiri dishes are normally red in colour, and Kashmiri chili with intense red colour is widely used for Kashmiri cuisine. Kashmiris also use the juice of Ratan Jot flower (Alkanet) to enhance the red colour of their dishes. Due to non-availability of lamb in many places, mutton or chicken can also be used as alternatives. Now this dish is popular across India and also abroad, and forms a part of different cuisines of India with variations.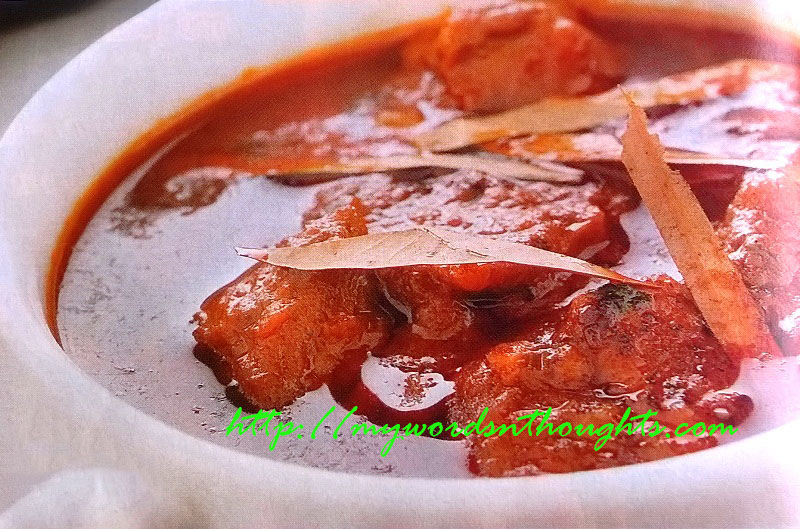 Ingredients for Rogan Josh:
1. Mutton pieces – 1 kg
2. Lemon juice – 3 big spoons
Curd -1 cup
Salt – 1 small spoon
Garlic crushed – 2 cloves
Ginger paste – 1-inch piece
3. Oil – 4 big spoons
4. Cumin seeds – ½ small spoon
5. Green cardamom – 4
Bay leaves (Vayana Ila) – 2
6. Onions chopped – 1
Garlic – 3 cloves
7. Coriander powder – 2 small spoons
Cumin powder – 2 small spoons
Kashmiri chilli powder – 2 small spoons
8. Tomato chopped – 4
9. Tomato purie – 2 big spoons
10. Water – ¾ cup
11. Fried cumin seeds and bay leaves – To decorate
How to prepare Rogan Josh?
1. Mix together ingredients no: 2 and marinate mutton pieces using this paste.
2. Place mutton in refrigerator overnight.
3. Heat oil in a pan and sauté cumin seeds.
4. Add cardamom and bay leaves and sauté for 2 minutes.
5. Add onions and garlic and fry for 5 minutes.
6. When onions are well sauted, add ingredients listed as 7 and fry for 2 more minutes.
7. Add marinated mutton pieces and stir continuously for 5 minutes.
8. Add tomato, tomato purie and water and mix well.
9. Tightly close the pan with a lid and cook in low flame for next 1 hour.
10. Decorate your curry using fried cumin seeds and bay leaves.
11. Serve hot with basmati rice.
Courtesy: Vanitha magazine July 1-14, 2010
Read a few more mutton side dish recipes. Here is the page link. Click on the images in the gallery to read.
(Visited 150 times, 1 visits today)