Kati Roll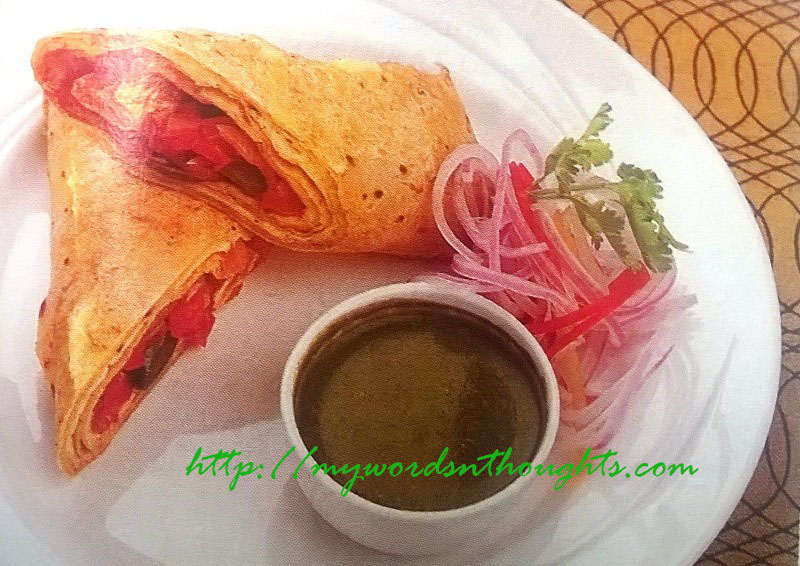 Ingredients for Kati Roll:
1. Chapatti – 15
2. Eggs – 4
Salt and pepper – As required
3. Ghee/oil – 3 big spoons
4. Onion – 1, chopped fine
5. Garlic – 4 cloves, chopped
Green chillies – 2, chopped
Ginger chopped – 1 small spoon
6. Salt and pepper – As required
Garam masala powder – ½ small spoon
7. Carrot finely chopped – 3 big spoons
Beans finely chopped – 2 big spoons
Cabbage finely chopped – 1 big spoon
How to prepare Kati Roll?
1. Prepare chapattis.
2. Beat together ingredients no: 2.
3. Heat oil/ghee, sauté onions till golden brown and add ingredients no: 5.
4. Sauté till it is done and add the powders. Mix it well.
5. Now add ingredients no: 7 and sauté it well.
6. Sprinkle a little water and cook the vegetables in low flame with lid closed.
7. When the vegetables are cooked, allow water contents to be fully absorbed.
8. Heat a tawa and pour two big spoons of egg mixture.
9. Place a chappatti on its top, press it and rotate the tawa once so that eggs get well coated on one side of chappatti.
10. Press chapatti for 10 seconds and flip once using a spatula. Egg will form a layer above chapatti.
11. Add a little filling on its top and roll the chappatti tight.
12. Your Kati Roll is ready. Serve hot.
Source: Vanitha Magazine November 15-30, 2016
Also read: Kati Roll prepared from leftover chicken curry and chappatti
Read a few more wheat flour snack recipes.
Here is the page link
.

Click on the images in the gallery to read.
(Visited 106 times, 1 visits today)