Kannu Vacha Pathiri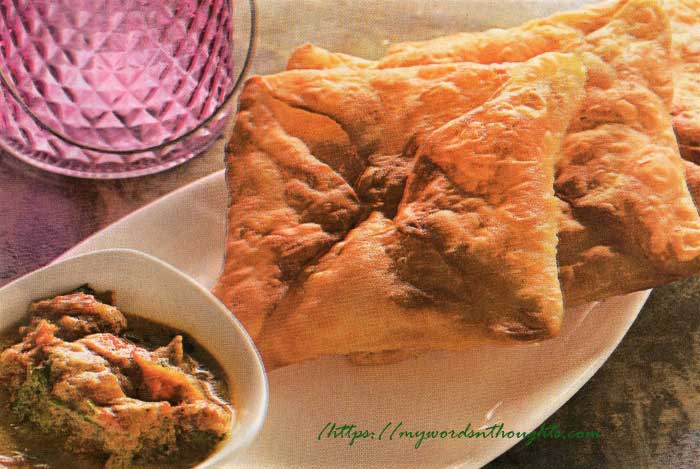 Ingredients for Kannu Vacha Pathiri:
1. Maida – 1.5 cups
Wheat flour – ½ cup
Salt – For taste
Ghee – 2 small spoons
2. Water – As required
3. Oil – For frying
How to prepare Kannu Vacha Pathiri?
1. Mix ingredients no: 1 together.
2. Add sufficient water and knead the dough, similar to chapati.
3. Allow it to rest for 10 minutes.
4. Make 8-10 balls from dough.
5. Grease a space and spread thin chapatis. Apply oil on the surface of chapatis too.
6. Bring edges of left and right towards the centre.
7. Now make perfect square shape. The edges should come at the exact centre.
8. Again bring four corners towards the centre, so that it resembles a flower.
9. Gently spread these chapatis, without losing the shape.
10. Do the process for remaining balls too.
11. Deep fry them in hot oil till both sides turn golden brown.
Courtesy: Vanitha Magazine, March 18-31, 2023
You can read yet another Kannu Pathiri recipe here.
Read a few more pathiri recipes. Visit my page.
(Visited 9 times, 1 visits today)