Kaju Katli
Kaju Katli is a very popular dessert prepared in North India, on the auspicious occasion of Diwali. Kaju means cashews and as cashews form the main ingredient of this delicious sweet, it's known as Kaju Katli. Ghee, saffron, sugar, cardamom etc are other main ingredients used, and very often edible silver foil is used to decorate it. Now it's Diwali season. So, here is special Kaju Katli recipe for everyone.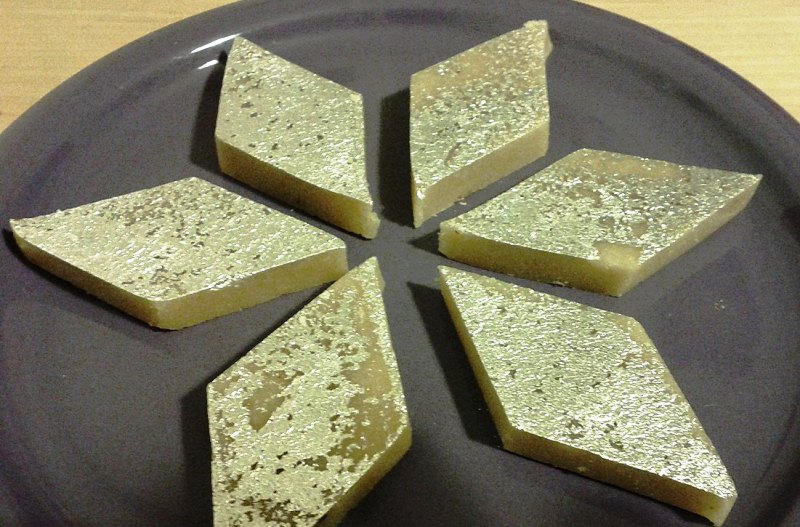 Ingredients for Kaju Katli:
1. Cashews – 1.5 cups
2. Water – ½ cup
3. Sugar – ¾ cup
4. Cardamom powder – ¼ tsp
5. Ghee – 2 tsp
How to prepare Kaju Katli?
1. Make a fine powder of cashews.
2. Heat ½ cup water in a pan, and add sugar and cardamom to it.
3. Keep stirring and allow sugar to dissolve completely.
4. Reduce the flame and add powdered cashews along with a little ghee.
5. Keep stirring to avoid sticking to bottom of pan.
6. When it's done put off the flame.
7. Grease a butter paper using ghee and pour hot Kaju Katli into it.
8. Spread it uniformly and allow add a little ghee to smoothen its surface.
9. You can also decorate it with edible silver foil. But it is only optional.
10. Before you serve, you can cut into desired shapes.
Also read a few deep fried sweets, suited for all occassions. Here is the page link. Click on the images in the gallery to read.