Fruity Cornflakes Biscuit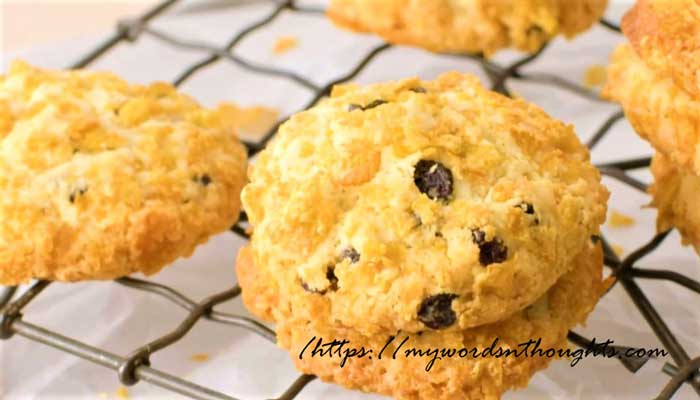 Ingredients for Fruity Cornflakes Biscuit:
1. Cornflakes gently crushed using hands – 5 cups
Coconut scrapped – ½ cup
Brown sugar – ½ cup
Raisins – 1 cup, chopped fine
Dates – 1 cup, chopped fine
2. Maida – 1 cup
Baking powder – 1 small spoon
3. Butter – 185 gm, melted
Egg – 2, beaten
How to prepare Fruity Cornflakes Biscuit?
1. Pre-heat oven in 180 degree Celsius.
2. Take ingredients no: 1 in a bowl.
3. Blend maida and baking powder, and add to the ingredients in the bowl.
4. Add beaten eggs and butter and mix well.
5. Take a big spoon of the mixture and make ball shape.
6. Flatten it to get a cookie shape and continue the process.
7. Grease a baking tray and place these cookies. There should be a gap of 2 inches in between.
8. Bake it for 10 minutes, or till they turn golden brown.
9. When it cools a little bit, transfer to wire rack and allow it to cool off completely.
10. You can get approximately 25 Fruity Cornflakes Biscuits using this measurement.
Courtesy: Vanitha Magazine, November 26 – December 9, 2022
Also read a few more biscuit and cookie recipes. Visit my page.