Egg Sandwich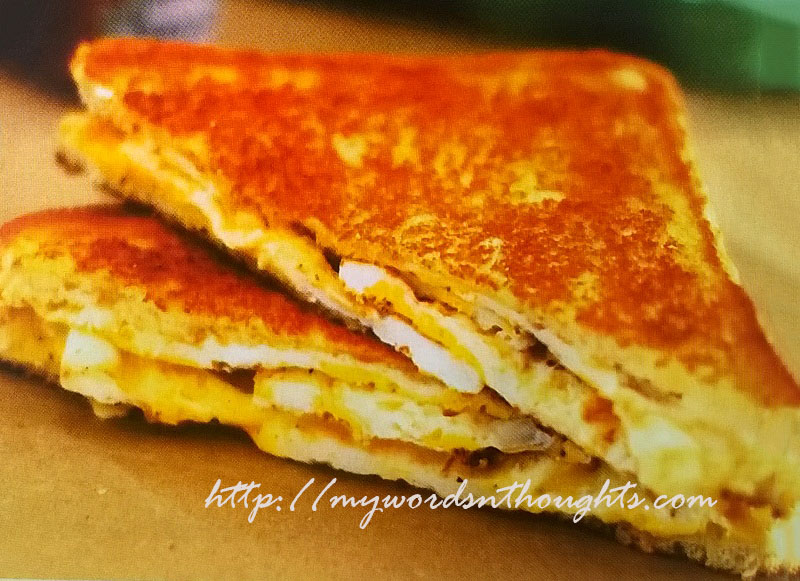 Ingredients for Egg Sandwich:
1. Boiled eggs – 2
2. Onion chopped – 1
3. Tomato chopped – 1
4. Tomato ketchup – 2 tsp
5. Pepper crushed – ½ tsp
6. Salt and oil – As required
7. Mayonnaise – As required
8. Bread – 6 pieces
How to prepare Egg Sandwich?
1. Sauté onions in a pan.
2. When onions turn soft, add tomatoes, pepper and salt and saute again.
3. Keep stirring for a few more minutes and add tomato ketchup.
4. Keep stirring till tomatoes are well cooked.
5. Take off from flame and allow the contents to cool.
6. Blend well eggs, mayonnaise and tomato mixture to prepare the filling.
7. The ingredients should be well mixed.
8. Place a little filling on the top of a bread piece and place second bread on its top.
9. Fry in hot tawa adding a little oil or butter.
10. Serve hot.
Grahalakshmi October 1-15, 2015
Read a few more bread snack and sandwich recipes here. Here is the page link. Click on the images in the gallery to read.