Do you know Poothan and Thira associated with annual temple festivals of mid-Kerala?
With the arrival of Pooram season, in the paths of rural areas of mid and north Kerala, Poothan and Thira figures start appearing. In fierce forms and colourful costumes, they start dancing. With big crone like structure, carrying Devi's Thira, artists travel to different places. They are accompanied by Chenda artists, and the step forward with vigorous dance steps. Such customs are available in southern Kerala are also found, with some changes, though known in different names. One such is 'Mudi', associated with Mudipura, where presiding deity is Bhagavati/Goddess.
Poothan & Thira travel from one home to another in rural places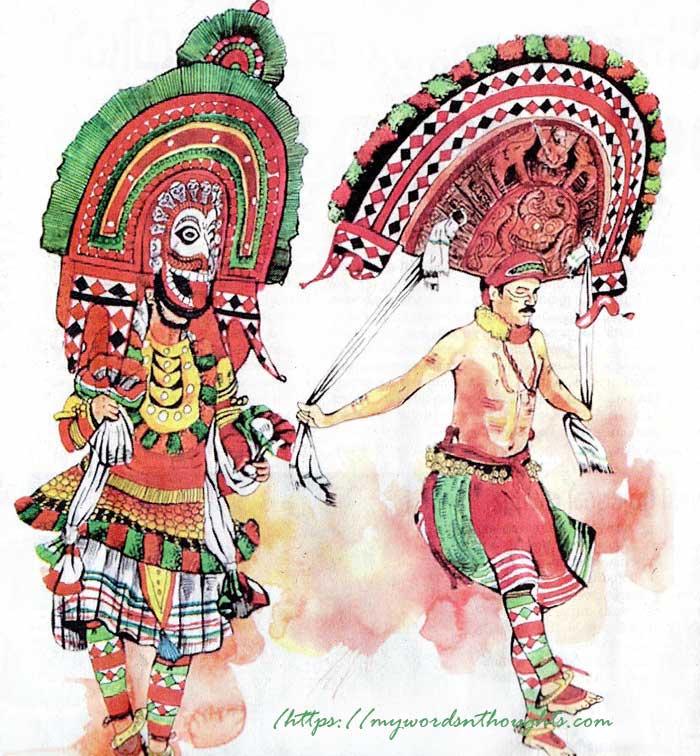 When they travel from one home to another, unique ingredients of festival, joy and beliefs mix up together to give a divine and rural touch. Its chemistry dissolves in the hearts of devotees and spectators. They are welcomed with lighted Kerala lamps, flowers, Nirapara (rice and other offerings placed in Nirapara, a measuring equipment used during old days), new dress, rice flakes and above all the filled minds of devotees. Poothan & Thira throw rice among the spectators and move forward to next home. Only male artists perform.
December is the season of Poothan & Thira
Every year Poothan & Thira visit people during the month of December. It also marks the beginning of annual festival season in temples of Kerala. Festival season of Kerala spreads from almost December to May, and Poothan & Thira enhance the festival mood during this season. Different Poothan & Thira show up at different times based on the temple festivals associated with, and by the month of May, when festival season is over, they also disappear. They mostly appear in the hot summer May, when the sun is at the peak. Almost all streets will be filled with their noise and colours.
They mostly appear in Thrissur, Malappuram & Palakkad districts
Thirayattam, Poothan etc are mostly a part of mid and north Kerala. Thrissur, Malappuram & Palakkad are some of the common districts where they are widely celebrated. Their legends lie in the stories of war between Kali and Darikan, and Chilappathikaram's Kannaki. Many of them are associated with village shrines too, and have variances.
This art form lies close to Theyyam
Like any one religious art form, Thirayattam – dancing of Thira & Poothan Attam – dancing of Poothan are closely linked with local culture and share many colourful mythologies too. In many aspects, they stay very close to Theyyam. Apart from similarities in costumes, face and body painting and mythological stories shared, this art form also holds the belief that divinity of god/spirituality enters the artist's body and their vigour dance moves are based on this. They are traditionally performed by Perumannan community only.
Thira dance belongs to Asura category. Parachenda, a type of Chenda is used as music instrument. Dance steps include – Chilambattam, Pinangaal and Vettimalakkam. Though mask of Poothan is in fierce form, rhythm is soft. Thudi is used as music instrument. Many temples organize both Thirayattam and Poothan Attam, mostly associated with annual temple celebrations. Some temples organize Thira only, while a few Poothan, and some others organize both together. In temples of Thrissur district such as Manimalarkavu and Machad, both are conducted. Apart from local Pooram day (final day of celebration), in Bhadrakali temples they are organized on Bharani star days too.
Preparations for Poothan is not so easy
Poothan means Bhoota Gana, associated with Lord Shiva. That's why they take Raudra (fierce) form. Staring eyes and bitten tongue form the trademarks of the mask used by Poothan. The face mask of Poothan is prepared from the root of 'Varikka' variety of jackfruit. His costumes are colourful. Beaded chains, ornaments, 'minukk', 'alavattam' etc are used. Bangles around arms and shoulders, Aramani (bells around waist) and anklets with sound (chilamb) are also used. Yellow and red colours are used for costumes. Performers also wear big crown weighing around 20 kg, with peacock feathers fixed in the outer side. 'Kol' in right hand and 'Paricha' (shield) wrapped in silk in left hand are other accessories.
Thira is associated with the belief of Bhagavathi (Goddess)
While Poothan is associated with Bhoota Gana of Lord Shiva in Raudra form, Thira is associated with goddess. There is no face mask. Big crown is the main attraction. It's in semi-circular shape, made by fixing 16 plates of jackfruit wood together. Two cloth pieces (like towels) are fixed on either side of the crown for balancing, and the artist holds them while performing. It also weighs minimum 20 kg. The artist needs a lot of practice to master this art and balance the crown using cloth attached on either side. He even jumps and sits, apart from showing his muscle strength and body power while performing with this crown.
For Thira, as mask is not used, special makeup is done on face to beautify. Turmeric powder, rice flour, kohl etc are used. No artificial colours are used. Sesame oil is applied on body before makeup process starts. Midrib of coconut leaves is used to shade colours. Anklets (Chilamb), bells around waist (Aramani), Kodiyada, Chirada, Kalkkatti, Thookk (Ear Rings) and Thaakk are other ornaments.
They start after Para Purappad from temple
After Para Purappad conducted at temple, Poothan and Thira enter the lanes of locality and visit homes. They cover local areas, and inform every home about upcoming temple festival & celebrations. In temple's Thattakam, every temple festival/custom is traditionally regulated by some Tharavadu/family, which means ownership of certain traditions are owned by certain families which they pass over to next generations.
The ancestral home worships Bhadrakali at home. There will be separate installation for the goddess. Once the performers get ready, they reach the courtyard of Tharavadu and seek blessings of senior family members and goddess. Then they move as procession to temple. After evoking a spiritual presence of goddess, they start moving to homes which come under same Thattakam/Locality. On the Pooram day afternoon too, Poothan & Thira figures dance in energetic mood, in the maidan of the temple just before whole ceremony ends.
(Visited 54 times, 1 visits today)