Top 30 Bollywood Songs of Kareena Kapoor
Kareena Kapoor Khan – the ruling diva of Bollywood. She has been mesmerizing her fans for the last 16 years since the rise of new millennium. Through countless roles she played onscreen during this period she has proved herself to be an ageless beauty. When actresses of 35+ move towards senior or serious roles, she is still entertaining audience through her dance moves. For her, age is just a number. No doubt, along with Hrithik Roshan, she is the best find of Bollywood in the new millennium. Though both the actors were supposed to debut Bollywood with a single movie, they entered the entertainment arena through different films though in the same year.
If you list the top Bollywood songs of past 15 years or so, definitely Kareena owns the lion share of most popular songs. They belong to different genres such as romantic, breakups and of course the most popular sizzling dance numbers. It's not an easy task to list 10 or 20 best songs of Kareena Kapoor's career. So, I tried to list 30 best songs and often included more than one song from a single movie. Also read –
Top 5 performances of Kareena.
Also a very interesting fact to add, and a strange co-incidence too.

Since Kareena's debut film Refugee in 2000, Anu Malik composed songs of 5 Kareena movies in a row, and all her movies released in 2000 & 2001, except Kabhi Khushi Kabhi Gham.

The other movies are Mujhe Kuch Kehna Hai, Yadein, Ajnabee and Asoka. In 2003 also, Anu Malik composed three of her films in a row – Khushi, Mein Prem Ki Diwani Hoon and LOC Kargil. He recorded maximum songs in Alka Yagnik's voice, followed by Chithra and others.
Sunidhi Chauhan and Shreya Ghoshal frequently did playback singing for her. During her first phase of Bollywood journey, Alka Yagnik's voice was frequently used by music composers,apart from Chithra. Sunidhi recorded several sizzling tracks for Kapoor. Kareena's voice was first used while recording the song Aaja Re Mahi of Fida. In my opinion, majority of her melodious tracks belong to the past decade (2000-2009), and demand for her item songs have went up with new decade. Music composers have experimented with different new voices for Kareena Kapoor. Have a check.
1. Bebo Mein Bebo and Kyun Phoolom Si from Kambakkht Ishq – Let me begin the list with 'Bebo' song as it's her pet name. She sizzled aside Akshay Kumar for this dancing number and the voice was rendered by Alisha Chinai who is unbeaten for this genre of songs in Bollywood till now. My pick is the soft track – Kyun Phoolom Si rendered by Shaan & Shreya Ghoshal. Om Mangalam (and its reprised version) – is another popular track of the album.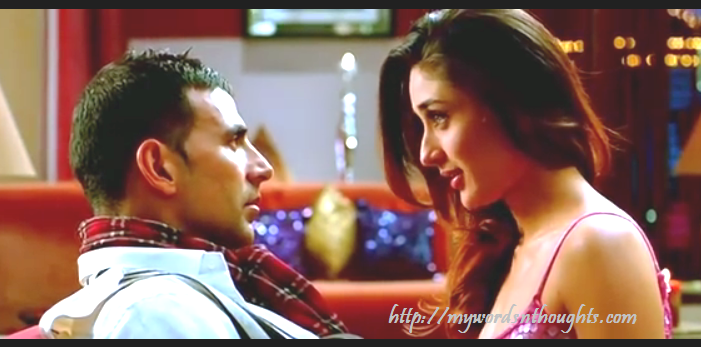 2. You Are My Soniya from Kabhi Khushi Kabhi Gum – It's the best dance number pictured on Hrithik Roshan and Kareena Kapoor. It's for the first time they shared screen space for a Bollywood film. The song was sung by Sonu Nigam and Alka Yagnik. The movie also included the popular dance song – Bole Chudiyan with entire star cast.
3. Raat Na Nasha and Sun Suna Na from Asoka – Both the tracks are extremely melodious, and always counted among the best songs pictured on Kareena. But the movie was a box office failure. Raat Ka Nasha is one of the best Bollywood songs sung by south Indian Nightingale – Chithra. The song was so popular that later Anu Malik used Chithra's voice for a series of songs for Kareena in Mein Prem Ki Diwani Hoon. The solo track – Sun Suna Na sung by Alka Yagnik too is equally popular, and definitely finds a position in my list. The movie also included the sizzling track – Chooke Bole Na Choo Na pictured on Shah Rukh and Kareena.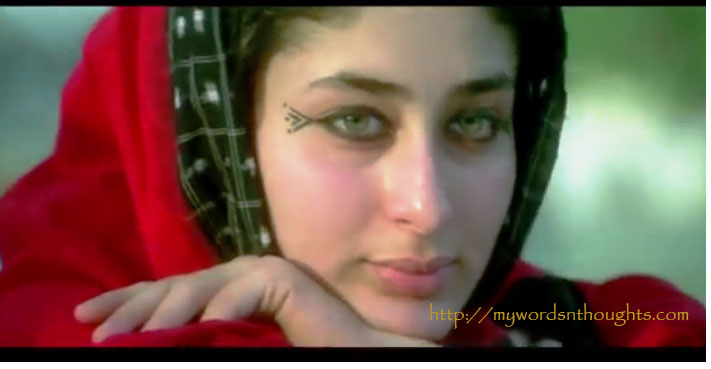 4. Shukra Allah of Kurbaan – A beautiful romantic song pictured on the real-life couple Saif Ali Khan and Kareena Kapoor, it was sung by Sonu Nigam and Shreya Ghoshal. The song was beautifully composed by Salim-Sulaiman, and Salim Merchant also gave additional input to the vocals. Read the top 20 duets of Sonu Nigam and Shreya Ghoshal.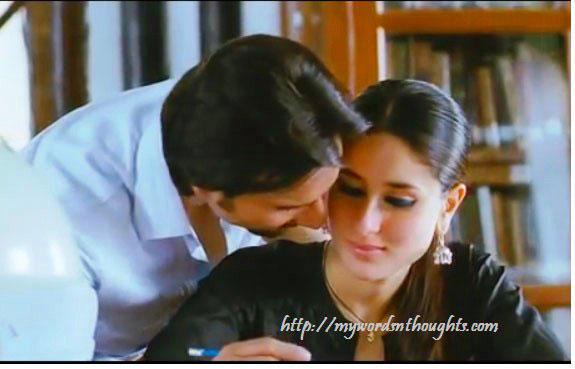 5. Gila Gila, Nazar Aa Raha Hai and Aankhen Band Karke from Aitraaz – All the songs composed by Himesh Reshammiya were extremely popular. Read more. Nazar Aa Raha Hai reminds us of sweet melodies of 1990s, mostly sung by Alka Yagnik and Kumar Sanu. But unfortunately the song was not included in the movie. Alka Yagnik and Sunidhi Chauhan's voice were used for Kareena Kapoor in this movie.
6. Bhage Re Mann of Chameli – Sandesh Shandilya composed this beautiful rain song. The movie proved to the turning point of her career, and this solo track sung by Sunidhi Chauhan is one of the best rain songs pictured in Bollywood cinema. Read top 10 electrifying rain songs here.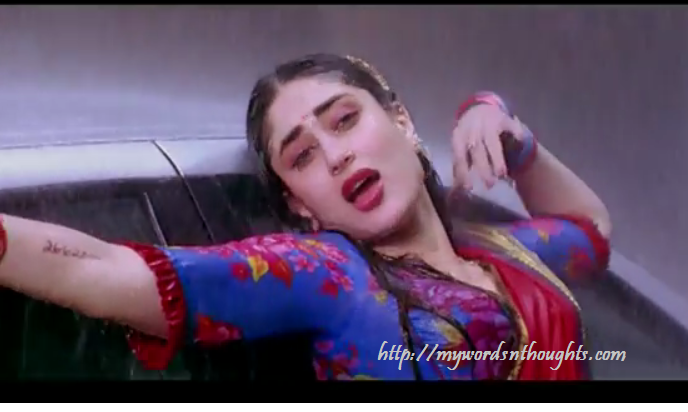 7. Yeh Mera Dil of Don – Her cameo role was the highlight of the film directed by Farhan Akhtar. She was seen seducing King Khan in this sizzling song sung by Sunidhi Chauhan. She reprised the role played by Helen for the movie, and the iconic track sung by Asha Bhosle too was reused for the movie. Kalyanji Anandji composed the original song, written by Indeevar.
8. Teri Meri Meri Teri of Bodyguard– The top romantic song of the year 2011, the duet sung by Shreya Ghoshal and Rahet Fateh Ali Khan was the highlight of the movie. Though Himesh Reshammiya's song was accused to be a copy of a Romanian song, it became extremely popular among music lovers. Definitely its Mukda was copied, but not its Antara. Shabbir Ahmed penned the lyrics.
9. Jiya Laage Na of Talaash: The Answer Lies Within – This melodious track was pictured on Aamir Khan, Kareena Kapoor and Rani Mukerji. The song was composed by Ram Sampath and its lovely lyrics were penned by Javed Akhtar. The song sung by Sona Mohapatra and Ravindra Upadhyay is the most popular track of the album.
10. Yeh Ishq Hai and Tumse Hifrom Jab We Met – The movie proved to be the turning point of her career, and there was no turning back after that. She portrayed the iconic role of Geet in the film, which made her a household name. All the songs composed by Pritam Chakraborty went on to become huge chartbusters. The movie also included dance numbers such as Mauja Hi Mauja and Nagada Nagada, and soulful tracks – Hum To Chalne Lage and Aaoge Jab Tum.

11. Khuda Hafiz from Yuva – A chartbuster song from the first phase of her career, the movie was directed by Mani Ratnam. She was featured aside Vivek Oberoi for this song. Sunitha Sarathy and Lucky Ali rendered their voices for the tune created by Rahman. Read here to know who acted in its Tamil version. The dance number Fanaah pictured on both also turned to be a chartbuster.
12. Meri Zindagi Mein from Ajnabee – One of the early romantic tracks of her career, the song was pictured on Bobby Deol and Kareena Kapoor. Composed by Anu Malik, Kumar Sanu and Sunidhi Chauhan rendered their voices for this song. This song is widely regarded as the first soft romantic song of Sunidhi Chauhan, who mostly sang fast tracks.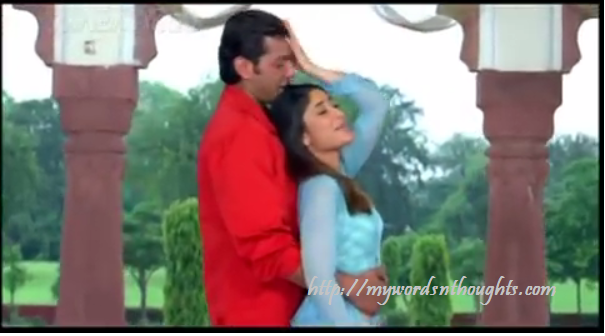 14. Mere Humsafar from Refugee – The movie which marked acting debut of Abhishek Bachchan and Kareena Kapoor flopped at box office. However its songs were well received by music fans and Anu Malik received National award for its compositions. Mere Humsafar sung by Sonu Nigam and Alka Yagnik was the top romantic track of the year. The movie also included many popular tracks such as Panchi and Taal Se Jab.

15. Rafta Rafta from Hulchul –It's one of the rarest works of south Indian top composer Vidya Sagar. He reused the tune of Mukda of a Tamil song from Dhool, while Antara was original. The fresh pairing of Akshay Khanna and Kareena Kapoor was well appreciated in this comedy film.
16. Chammak Chalo of Ra One –One of the best choreographed songs of Kareena's career, the song was sung by Akon and Hamsika Iyer. The movie also included some popular tracks such as Bhare Naina and Dildara.

17. Halkat Jawani of Heroine –This item number was sung by Sunidhi Chauhan and composed by Salim-Sulaiman. Kareena replaced Aishwarya Rai for the lead role for this film.
18. Zoobi Zoobi of 3 Idiots – The movie was the biggest blockbuster of Kareena's career till then, and it was for the first time she got paired with Aamir Khan. Her elder sister too has worked only once with superstar. Read more about actors who worked with siblings of Bollywood. Zoobi Zoobi is a lovely choreographed rain song of the movie.
19. Dil Mera Muft Ka of Agent Vinod – The item song featured Maryam Zakaria as Farah Faqesh. The song was composed by Pritam, and Nandini Srikar rendered the main voice for the song. Kareena looks extremely beautiful in this dance sequence.
20. Eli Re Eli and Chanda Tare from Yadein –One of the early releases of Kareena, the songs composed by Anu Malik were extremely popular. It was her first movie opposite Hrithik Roshan, and later they were paired for three more films in the first half of 2000s. Jab Dil Miley was a lovely duet pictured on both. Eli Re Eli is one among the rare duets of Bollywood sung by arch rivals – Alka Yagnik and Kavita Krishnamurthy. The song also included the voices of Hema Sardesai and Udit Narayan.

21.

Fevicol Se

of Dabangg 2

– Kareena made a special appearance for this item number sung by Mamta Sharma, who earlier sung the iconic item song 'Munni Badnaam Hui' for the movie's prequel.
22. Falak Tak Chal and Dil Haara of Tashan – One of the stylish films of the past decade, Kareena started a new trend of Zero-figure with this film. The movie included both fast and soulful melodies and all the songs were huge chartbusters. Movie's soundtrack was composed by Vishal-Shekhar. Chhaliya is another popular song pictured on Kareena. Udit Narayan & Mahalakshmi Iyer sang the evergreen romantic song Falak Tak Chal, and Dil Haara song was sung by Sukhwinder Singh.

23. Marjaani of Billu – This item song was composed by Pritham and pictured on Shah Rukh Khan and Kareena. The movie also featured Deepika Padukone and Priyanka Chopra performing item songs.
24. Kasam Ki Kasam and Bani Bani Prem Diwani Bani from Main Prem Ki Diwani Hoon – After Asoka, playback singer Chitra got opportunity to sing for Kareena Kapoor for this movie. Chitra rendered her voice for 7 of its songs, and best among her Bollywood works up-to-date. Music was composed by Anu Malik who earlier used her voice for Virasat, Asoka etc. Dev Kohli penned lyrics. Though Chitra sang both duets and solos for this movie, Kasam Ki Kasam and Bani Bani Prem Diwani Bani topped the music charts, and Kareena looked stunning in both these songs. Also read: Top 15 Soulful Melodies Featuring Kareena

25. Jiya Main Jiya of Khushi –This remake of Tamil blockbuster with the same name bombed at box office. However its songs composed by Anu Malik got noticed. Hai Re Hai Re – is another noted duet of the movie. Tere Bina was an instant chartbuster.
26. Rabba Mere Rabba and Jabse Dekha Hai of Mujhe Kuch Kehna Hai – Only the second release of Kareena Kapoor, Mujhe Kuch Kehna Hai was the first hit of her luminous career. Anu Malik composed songs for her first five releases, Mujhe Kuch Kehna Hai being the second. Tushar Kapoor marked his Bollywood debut through this film. The movie is known for several foot-tapping numbers such as Dupatta Mera, Pyar Re and Maine Koi Jadoo, and the heart breaking song – Mujhe Kuch Kehna Hai. Year 2000-2001 was a time when Sonu Nigam emerged as the top voice of Bollywood, and Rabba Mere Rabba is one among his top songs during this period.

27. Title Track of Jeena Sirf Mere Liye – After the successful pairing of Tusshar Kapoor and Kareena Kapoor in Mujhe Kuch Kehna Hai, they were casted for the second time in Jeena Sirf Mere Liye. However the movie was a big flop. But its title track got noticed. The duet was recorded in the voice of Babul Supriyo and Alka Yagnik.
28. It's Rocking from Kya Love Story Hai – It's perhaps the first guest appearance and item song of Kareena Kapoor. The song sung by Alisha Chinai is extremely popular.

29. Teri Meri Kahani of Gabbar Is Back – It's one of the rare movies where Kareena played a significant cameo role which changed the course of the script. She played Akshay Kumar's wife in this film, and the whole story was told almost in a single song. In many angles, its song picturization resembled 'Teri Meri Prem Kahani' of Bodyguard.

30. High Heels of Ki & Ka – The list is incomplete without this huge chartbuster song of 2016. The dance number was pictured on Kareena Kapoor and Arjun Kapoor, and composed by Meet Bros Anjjan and Yo Yo Honey Singh. Also read Top 10 Foot Tapping Numbers of Kareena
Read a few articles on Kareena Kapoor

– One of the most celebrated stars of new generation cinema. Here is the page link. Click on the images to read.
(Visited 19,081 times, 1 visits today)