Devika – Popular South Indian Actress of Yesterdays
Devika (1943 – 2002) was a popular south film actress of yesterdays, who predominantly worked in the 1960s and 1970s. She owns many hit films, pairing with top heroes belonging to different south Indian heroes, and she predominantly worked in Tamil. She is the granddaughter of Raghupathi Venkaiah Naidu, thespian regarded as the father of Telugu cinema. Popular south Indian actress of 1990s, Kanaka is her daughter. Neela Vanam is widely regarded as her best Tamil film.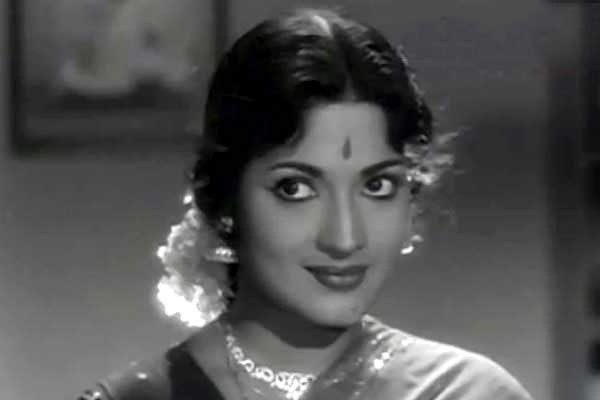 Granddaughter of Raghupathi Venkaiah Naidu, pioneer of Telugu cinema
Devika was born in Chennai on 25 April 1943. Her real name is Prameela Devi. Raghupathi Venkaiah Naidu, who introduced talkies to Telugu cinema, is her maternal grandfather. Devika was married to Devadas, and actress Kanaka is their daughter. She had a strained relationship with her husband, and they finally divorced in 1990.
She started her career as a stage actress, and was a part of SV Sahasranamam troupe, famous for performing Anadu plays. Her beauty and acting skills paved way to celluloid.
Devika marked screen debut in 1950s with Tamil cinema
AVM's production venture, Mudhalali (1957) marked her screen debut opposite S. S. Rajendran. The movie earned was a box office hit and established Devika as a lead actress. In fact the movie received National award for best regional film in Tamil. She was paired with Sivaji Ganesan in a string of movies – Karnan, Bale Pandiya, Aandavan Kattalai, Kulamagal Radhai, Neelavanam, Annai Illam and Pavamanippu, of which her role in Neelavanam became extremely popular. Her role in Sridar films like Sumaithaangi, Nenjam Marappathillai and Nenjil Or Aalayam got noticed.
She made her acting debut in Telugu opposite NTR in the movie, Rechukka. Atta Okinti Kodale, Kanchukota and Aada Bratuku are among her popular Telugu films. Her last Telugu film was 'Srimadvirat Potuluri Veerabrahmendra Swamy Charithra' produced by NT Rama Rao.
Listed among tear-jerking actresses of 1960s
She belongs to the list of tear-jerking heroines of yesterdays, mostly portraying traditional and village belle roles. Yet she remained one of the top heroines of glorious era of 1960s, who attained diva stature. Pullimaan, Kaattupukkal and Karuna are among her popular works in Malayalam. She did brief roles in Bollywood films – Gharana, Naya Din Nai Raat, Izzat etc, directed by south Indian directors. She acted in about 150 films in Tamil, Telugu and Malayalam. She passed away on 2 May 2002, aged only 59, leaving the only daughter Kanaka devasted.
Devika – Some interesting and less-known facts
1. While being frequently paired with Sivaji Ganesan, she has acted in a single movie opposite M.G.Ramachandran in Aananthajothi in 1963.
2. She always feared that her husband will separate her from her daughter. For the same reason, Kanaka couldn't complete education, and started her film journey at the age of 16. She also had a strained relationship with her father, and accused him for defaming both her and her mother.
3. C. Basudev Naidu, Ex-Mayor of Chennai was her paternal uncle.
4. Widely regarded as a beautiful actress of 1960s, she was nicknamed – 'Andalatara'.