Banana – Oats Smoothie
When you are dieting to reduce body weight, sometimes you may feel to eat more. When balance of body activities is altered, stomach may cry asking for more food. For smooth dieting, smoothies are best. It won't affect dieting too much, yet reduce the appetite. You can substitute a meal with a smoothie, where you can add fruits and vegetables of your choice. Fiber content and anti-oxidants in smoothies can provide defence mechanism against life style diseases. Oats contain proteins, carbohydrates, minerals and vitamins, yet calories in low content. Soaking oats has many health benefits. It reduces natural phytic acid content, reducing gas related problems, better digestion and absorption of nutrients in oats.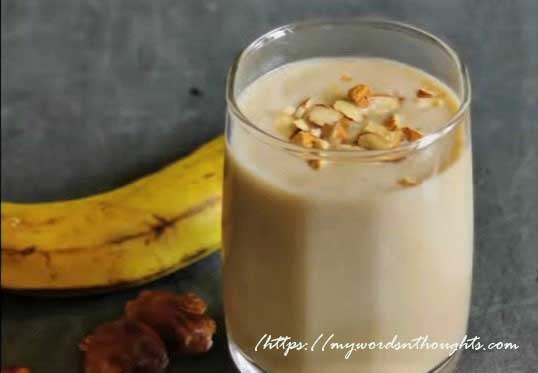 Ingredients for Banana – Oats Smoothie:
1. Rolled oats – 3 big spoons
2. Banana – 1, small
3. Dates – 2, seedless
4. Water – ½ cup
5. Fried groundnut – 2 big spoons
6. Cinnamon powder – ½ small spoon
How to prepare Banana – Oats Smoothie?
1. Add water to oats upto its level, and soak for 10 minutes.
2. Drain off water and transfer it to mixer blender.
3. Add remaining ingredients also, and make a smooth drink.
4. Transfer your oats smoothie to serving glasses and sprinkle some fried groundnut.
Courtesy: Vanitha Magazine April 30 – May 13, 2022
Also read a few more oats recipes. Click on the images in the gallery to read.
(Visited 28 times, 1 visits today)