Kanaka – South Indian film actress of 'Karagatakaran' fame
Kanaka is a former film actress associated with south Indian film industry in the 1990s. She predominantly worked in Tamil and Malayalam movies, and remained one of the top heroines in both industries in the first half of 1990s. She shot to fame with her debut film, Karagatakaran (1989), directed by Gangai Amaran. She also had a successful career in Malayalam films, with super hit films like Godfather, Vietnam Colony, Golanthara Vartha and Narasimham to her credit, playing female lead in first three.
Great-Granddaughter of Raghupathi Venkaiah Naidu – Father of Telugu cinema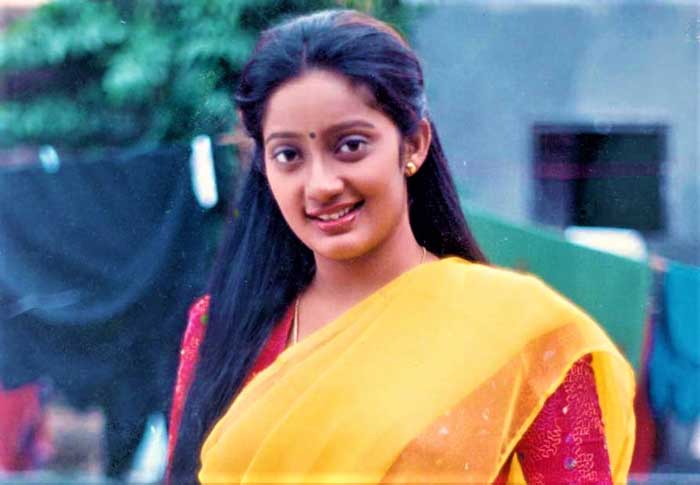 Kanaka was born in 1973 into a Telugu family with rich filmy heritage. She is the great-granddaughter of Raghupathi Venkaiah Naidu – Father of Telugu cinema, and the director of first Telugu talkie. She is the daughter of actress of yesterdays, Devika, granddaughter of Raghupathi Venkaiah Naidu. She had a strained relationship with her father Devadas, and she was brought up by her mother. Her parents were legally divorced.
Following mother's footsteps, Kanaka also stepped into acting, starting off with Tamil films. Her debut film, Karagatakaran opposite Ramarajan completed 1 year in many theatres, and was declared a blockbuster. Periya Veetu Pannakkaran (1990), Athisaya Piravi (1990), Samundi (1992), Periya Kudumbam (1995) and Viralukketha Veekkam (1999) are some of her major hits in Tamil.
She had a short, yet glorious career in Mollywood
She marked her Malayalam film debut with Godfather in 1991, which became an all-time blockbuster, and also earned the title of longest running film in Malayalam. She was paired opposite Mukesh in this multi-starrer. Her pairing with Mohanlal in Vietnam Colony gave her yet another super hit in Malayalam. She played female lead in Mohanlal starrer Pingami, which was an average grosser at the time of release, yet earned cult classic status. She was paired with Jayaram in Ezhara Ponnana and with Mammootty in Golanthara Vartha.
Kanaka's career started degrading in the second half of 1990s
Bhoopathi, Manthri Kochamma, Narasimham, Mannadiar Penninu Chenkotta Checkan, Mangala Soothram, Kusruti Kaattu etc are some of her Malayalam releases in the second half of 1990s. Thalaimurai, Simmarasi, Viralukketha Veekkam, Periya Kudumbam, Katta Panchayathu etc were her Tamil releases, doing this period. Most of the films failed at box office, and she retired from films in year 2000, completing a decade. Narasimham and Ee Mazha Then Mazha were her last releases, both released in 2000. Till then she did more than 50 films. She has also acted in Telugu movie – Valu Jada Tolu Beltu.
Troubled personal life and marriage
Kanaka fully disappeared from limelight shortly. In 2007, she secretly married California based Mechanical Engineer Muthu Kumar. But as she claims, he disappeared 15 days after their marriage, never met him again and also accuses some cinema financier behind his abduction, while her father claims she is mentally sick and the marriage is her illusion only. Her father also claimed, he met his daughter only after 18 years of separation from her mother, in 2007.
Death rumours came out in 2013
After actress Kanaka's mother's death in 2010, she was left all alone. In 2013, there were rumours that she is in final stage of cancer, and even death news came out. Kanaka came in front of media, proving all claims false. But it was very hard to recognize her. Lately in 2021, she appeared in a video, where she expressed her desire to comeback to acting.
Kanaka – Some interesting and less-known facts
1. Kanaka's real name is Lakshmi Priya.
2. Her debut films, Karagatakaran in Tamil and Godfather in Malayalam, where she played female lead, completed 365 days. In fact Godfather is the longest running Malayalam film with 434 days, a record still to be broken.
3. Many of her Tamil films became huge hits in B and C Centres giving her the Epithet of 'B Centre Queen'.
4. With a troubled childhood, she claims, her father tarnished her mother's image, and later spread fake news about daughter too.
5. She couldn't complete schooling. Her mother always feared, her father would separate both. She couldn't continue education. Later she joined films at the age of 15 or 16.
6. After playing Mohanlal's heroine in super hit film, Vietnam Colony, in one of her last releases, Narasimham, she played his estranged younger sister.
7. She played female lead in Manthri Kochamma, the film title coined from the hit song of her debut movie – Godfather.
8. When stories of her cancer and death spread like wide fire in social media in 2014, she appeared in front of media after a long time. She cited personal reasons, for not been a part of film industry after year 2000.
(Visited 108 times, 1 visits today)