Dates Balls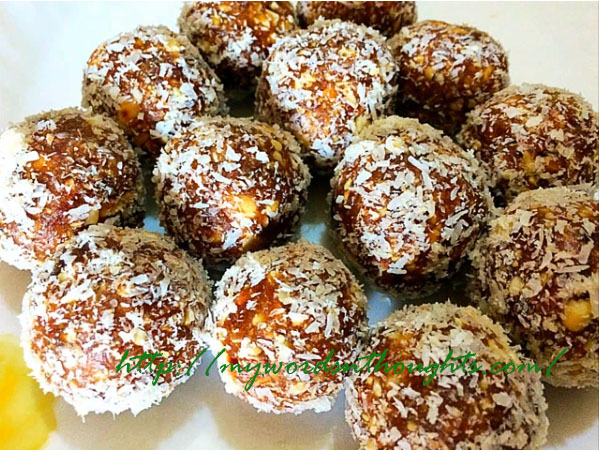 Ingredients for Dates Balls:
1. Dates cut into very fine pieces – 1 cup
Butter – ½ cup
Sugar – ½ cup
Broken cashews – ½ cup
Egg – 1
Vanilla essence – 1 small spoon
2. Scrapped coconut blended once in mixer – 1.5 cups
3. Corn flakes – 2 cups
How to prepare Dates Balls?
1. Mix together ingredients no: 1 along with blended coconut.
2. Transfer the contents to a pan and heat in low flame.
3. When sugar gets fully melted, take the dates mixture from flame.
4. Once the contents get cooled, make small balls out of it.
5. Place them in small paper cups and serve.
Courtesy: Vanitha Magazine November 15-30, 2016
Also read: Dates Aval Balls
Read a few more dates recipes here. Here is the page link. Click on the images in the gallery to read.
(Visited 132 times, 1 visits today)