Chakka Kuru Ladoo (Jack Seed Ladoo)
Jack fruit is one of the nutritious fruits available in Kerala, and almost every part is edible. Its seeds, also known for its medicinal value can be used to make a wide range of snacks, sweets and side dishes. Read here about a few facts of jack fruit, its nutritious value and medicinal effects.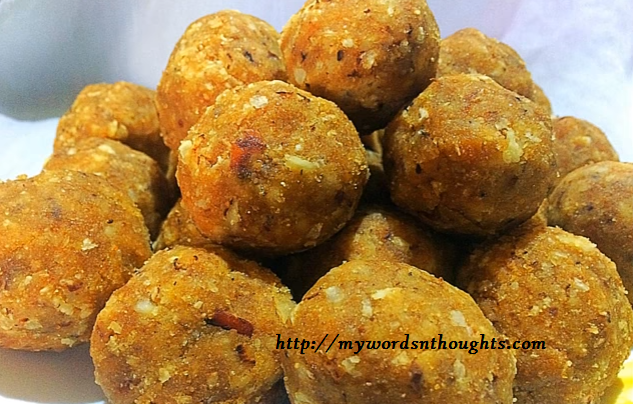 Ingredients for Chakka Kuru Ladoo (Jack Seed Ladoo):
1. Jaggery (Sharkkara) – ½ kg
2. Jack seeds (Chakka Kuru) – Fried and powdered – 1 cup
Coconut – 1 scraped and fried
Cardamom powder – ½ small spoon
Raisins – 50g
Broken cashews – 50g
How to prepare Chakka Kuru Ladoo (Jack Seed Ladoo)?
After frying coconut, blend it once in a mixer (not to be powdered).

Heat jaggery in a thick-bottomed pan. When it boils and becomes thread-like, add ingredients no: 2 to it and mix well. Put the flame off.

Before the mixture completely cools off, make small ladoo balls from it.

Once cooled you can serve Chakka Kuru Ladoos (Jack Seed Ladoos).
Courtesy: Vanitha Magazine April 16-30 2017.
Read a few more Laddu recipes. Here is the page link. Click on the images in the gallery to read.
(Visited 814 times, 1 visits today)