Chicken Wrap for Lunch Kit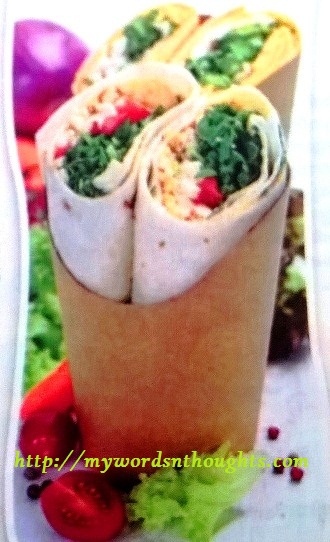 Ingredients for Chicken Wrap:
1. Cooking oil – 2 big spoons
2. Onions cut into fine pieces – 1
Red capsicum medium sized cut into fine pieces – 1
Garlic crushed – 1 clove
3. Boneless chicken cook and cut into fine pieces – 1 cup
4. Corn – 1 cup (Optional)
Tomato cut into fine pieces – 1
Cumin powder – ½ small spoon
Salt and pepper – As per preference
5. Coriander leaves cut into fine pieces – 2 stalks
6. Chappatis – 4
7. Lettuce – 4
8. Cheese grated – For decorating
How to prepare Chicken Wrap?
1. Heat one spoon oil in a pan, add ingredients no: 2 and stir once. When it turns translucent (but not change colour), transfer all these contents to a bowl.
2. Place the same pan back to flame and pour the remaining oil, sauté chicken pieces for a few minutes.
3. When it turns brown, add ingredients no: 3 to it, and stir continuously till water content of tomatoes are fully absorbed.
4. Now add the sauted onions to this mixture, and mix well.
5. Transfer the whole contents back to bowl. This is our chicken filling for chicken wrap.
6. Now place one chappathi in a plate and place one lettuce leaf in the middle.
7. Now spread a little of our chicken filling on it, and grate a little cheese too.
8. Now roll the chappathi without giving it much pressure.
9. You can cover this chicken wrap using a foil paper.
10. Your snack is ready. Now you can place it in your kid's snack box or lunch box.
Courtesy: Vanitha Magazine, May 1-14, 2017.
Also read two more chicken wrap recipes: Recipe 1 and recipe 2.
Read a few more chicken snack recipes here. Here is the page link. Click on the images in the gallery to read.
(Visited 127 times, 1 visits today)