Bombay Lakshmi Rajagopalan – Popular Carnatic vocalist from Matunga
Bombay Lakshmi Rajagopalan is a leading Carnatic vocalist from Matunga, Mumbai. Of south Indian origin, she is an 'A' Grade artist of All India Radio & Doordarshan Kendra. She is a recipient of numerous honours and gold medals including prestigious Tambura prize in various competitions conducted by Music Academy, Indian Fine Arts Society, Chennai, Sri Shanmukhananda Fine Arts Mumbai and other Sabhas.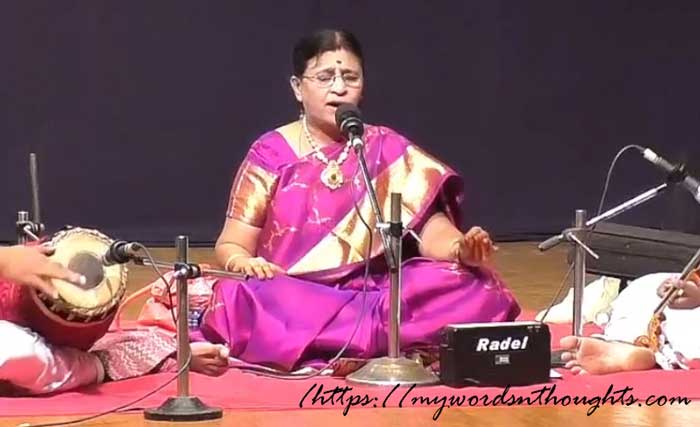 "Asthana Vidhushi", "Sangeeta Sevamani", "Sangeetha Bhushana", "Guru Seva Rathna", "Sangeeta Visharada" and "Sangeetha Kovidha" are some of the honorary titles she received in her illustrious musical journey.
Lakshmi Rajagopalan hails from a musical family of Matunga
Bombay Lakshmi Rajagopalan hails from a south Indian family settled in Matunga, a suburb or south Indian Brahmin street in Matunga, Mumbai. It carries a culture of its own. There are many artists of south Indian origin, brought up in Matunga. She was born to T. V. Panchapakesan and Radha. She got her first musical lessons from her mother at the age of three. All her four sisters have also learnt Carnatic music. Her musical journey was well supported by her family.
She graduated in commerce from Mumbai University and also did C.A.I.I.B. from Indian Institute of Bankers, before she took 5-years musical course from Bharatiya Music & Fine Arts, Mumbai. She continued her lessons in music under T. R. Balamani, who taught her Raagam, Thanam and Pallavi of Carnatic music. Though she joined Bank of Baroda and later worked in Manager rank for a while, she took VRS to pursue her career in Carnatic Music.
She never keeps any notes or hints during her stage concerts
Apart from live shows, she also performed in Doordarshan, AIR and other TV channels. She resides in Navi Mumbai, and has been a regular performer in almost all popular sabha's in Mumbai and other cities of India, and has also performed abroad. She has performed at the prestigious Chembai Sangeeta Utsavam on Guruvayur Ekadasi Day and Thyagaraja Utsavam at Tirupati.
She also conducts demonstrations and classes in various cultural societies. She has always been supporting, encouraging young artists as her accompanies. Bakthi Manjari in 3 volumes, Kanchi Sankara, Devi Saranam and Carnatic Classical are her released albums.
Bombay Lakshmi Rajagopalan – Some interesting and less-known facts
1. At the age of 8, she won a major singing competition and received prize from the hands of M. S. Subbulakshmi.
2. She has been a banker by profession. But she quit her job to pursue musical journey.
3. Apart from her deep knowledge in Carnatic music, she has sung in 7 languages. It includes all south Indian languages, Sanskrit, Hindi and Marathi.
4. During her professional career as a banker, she won All India Inter Bank Music competition multiple times.
5. She has appeared as a vocalist in the popular TV shows, "Suprapadam" on Asianet (2005) and "Vanakkam Tamizhagam" on Jaya TV (2007).
(Visited 42 times, 1 visits today)