Grandma's tastes – A walk into those glorious yesterdays with traditional and special Vishu dishes
Vishukani and its variant colours – Vishu offers much more to Keralities. It's a festival season of tastes and traditional dishes too. During those glorious yesterdays, every backyard had one vegetable garden, and most of the dishes were prepared using seasonal vegetables and fruits. Not many families relied on fast food, and they used to prepare everything at home. With less use of fertilizers and pesticides, dishes prepared in earthen pots and kadai were healthy too.
A lot of local tastes termed as 'Naattu Ruchikal' have already faded from taste buds and human memories. In those days, there were not too many methods to preserve old recipes, and only passed to next generation orally. Thus we missed many grandma recipes! Yet certain tastes linger our taste buds and not easy to forget at all. For instance, cooking Ilayada using banana leaf, rice, coconut & jaggery in wooden hearths, Karolappam fried in hot ghee, Mambaza kaalan made in Kadai, Paal Payasam using rice, sugar & milk…. Vishu special dishes are many. Through this column let us walk into those glorious yesterdays to cherish a few Vishu memories related to customs and cuisines. These memories are still pondered by many grandmas, who share fading memories of those glorious yesterdays through their words.
Vishu tastes of Mid-Travancore
There is a popular legend connected to the celebration of Vishu. And it says – Lord Sun feared Ravana a lot and in that fear, he never rises straight. He always hides behind due to fear till the death of Asura King. After Ravana got killed, sun rose straight for the first time on a Vishu day. Before Kollavarsham came into being, Medam was the New Year for Malayalis – the month of Vishu.
Vishu kani was given great significance during olden days, and it was given in coins. Ana was given to young ones as Vishu Kani by Karanavar, and it was well-sufficient for them. Sambar was not included in Vishu sadya those days. A season of jackfruits, a variety of dishes was made using it. Chakka avial was quite common. Jackfruit, mango and cucumber used for Vishu Kani were later used to prepare Chakka avial.
The outer skin of raw jackfruit will be peeled off, the long threads (chakka chakini) inside were also removed, and then chopped into thin lengthy pieces. Snake gourd and cucumber were also cut into similar sized pieces. Drum stick & long beans cut into lengthy pieces and jackfruit seeds were also added and cooked well. If it's overcooked, it tastes unpleasant and grandmas know how long these vegetables are to be cooked. To get sour taste for avial, green mangoes are added. Along with mangoes, scrapped coconut is added on the top and placed as a heap. On top a banana leaf is placed.
Similar to this jackfruit avial, there is one Koottuthoran. Jackfruit seeds, snake gourd and drumstick are its main ingredients. Finely chop jackfruit seeds and snake gourd, and drumstick in length pieces. If drumstick is too mature, only its flesh is used. Cook these three, adding salt, turmeric powder and chilli powder. Crush shallots and scrapped coconut and add to it. Finally sauté rice (kuthari) and mustard in oil and add to this thoran. In those days, there were not much items to fill the whole leaf. Yet dishes served were purely traditional, and vegetables plucked from courtyard.
There was a practice in those days to give sadya to ants. Only the special sadya (before which lamp is lighted) is used for this purpose. Cooked rice, daal, pappad and payasam are mixed together in a bowl. They are made into balls. In the front side (Nadakallu of old homes, where a stone is placed at entry) and corners of the home, small bits of plantain leaves are put and thread dipped in oil are placed. They are lighted and on each plantain leaf, a rice ball is placed.
Vishu Kani in Uthara Desam of Kerala
Uthara desam means places related to Kasaragod. Vishnu Kani was given great importance during old days too. As it's new year, each family member should see good things on the dawn break of Vishu day. Time of Vishu Kani is also calculated in several families.
There existed a practice called 'Pothu kollal' in few places of Kasaragod district. Soon after Vishu Kani, the elder member of the family goes to the field accompanied by a few people for the custom, Pothu kollal. He takes Kodi vilakk (a lamp) and some seeds along with him. The group also carries a few instruments for sowing the seeds. Boys of the family carry coconut and karolappam. The senior member sprinkle tender coconut juice in the field, place karolappam as offerings and put a handful of seeds in the field. After Vishu Kani, 'Pothu kollal' is the most important custom of Vishu celebrations.
After the group returns from field, they show Vishu Kani to cattle. Sandal will be applied on the forehead of cattle, and show them Vishu Kani in Kerala lamp lights. Then they will be given chopped jackfruit and cucumber, along with Karolappam prepared in coconut oil. For kids who visit homes with Vishu Kani in the early mornings, Kayada, Murukk and Karolappam will be given. You can read the recipe of Kaayada here.
Among Vishu dishes, Chakka Erisseri (Jackfruit Erisseri) owns a prominent position. Chickpeas will be soaked and cooked, and provided as snack. Chakka Erisseri is prepared through traditional methods. Well-ripen raw jackfruit is cut into pieces and its seeds are crushed. Cook them together adding salt, turmeric powder, pepper powder and enough water. Make a fine paste of a little cumin seeds, 2 green chillies and ½ scrapped coconut, and add to the cooked mixture. Crush ½ scrapped coconut using traditional method. Heat oil in a pan, splutter mustards, sauté urud daal & curry leaves and then crushed coconut. Fry it well. Add this mixture to Erisseri and close with a lid.
Perakk is prepared just before serving the Vishu sadya. Cut salad cucumber into fine pieces, and mix it well with a little salt. Make a fine paste of a little curd, coconut and mustard and add to cucumber pieces just before serving. It's called Kakkarikka Perakk in local language. Kids love to play in fields eating snacks such as Kayada, Murukk and Karorappam in those days.
Vishu sweets of Valluvanadu
Valluvanadu mainly comprises of southern Malabar districts. Coconut is cut into two halves, filled oil and lighten lamps for Vishu Kani. Then members go to temple in the early morning and after that steam cake, pappadam and banana are normally served as breakfast in most houses. During early days, rice use to carry a special sweetness, and steam cake made by this rice were delicious. As time passed by, soil changed its colour and so are its tastes too.
For Vishu sadya, Olan using pumpkin, Raw Pappaya Thoran and Erisseri using raw jackfruit were quite common. A curry using cucumber and green mango is also prepared. Mango should be well-ripen and mango fruit is also used. Skin of mango is removed, and it's cooked along with cucumber, jaggery pieces, chilli powder, turmeric powder and salt adding sufficient water. Traditional earthen pots or kadai are used for this preparation. When it's cooked and water content is fully evaporated, add a fine paste of coconut and cumin seeds. Sauté mustard seeds and curry leaves in oil and add to this cucumber-mango curry.
During those days, workers used to give green gram to their landlords. In return they will be gifted with Neyyappam in small vessels and Kaineettam; also 3 Naazhi rice, coconut oil and pappadam. Using that green gram, thoran or vegetarian side dishes are prepared, and the rest is used to prepare Kondattam. This kondattom comes handy during monsoon season.
Vishu Sadya of Ananthapuri
Coins given as Vishu Kani cherish the memory of many. As there are so many Krishna temples in the regions, bhajana will be conducted by youth to nearby homes on Vishu night, just before Vishu. They go as a procession; Krishna idol will be placed inside a carrier made of coconut or aracanut stem. When they reach each home, they sit down in the veranda or courtyard and sing bhajans accompanied by local instruments like Chinki.
As it's the land of Anantha Padmanabhan, Vishu Kani, Kaineettam and Sadya are given due importance. Vishu breakfast is always idli in most homes. Kadala Chundal is a very common Vishu snack. Chickpeas (Kadala) are soaked overnight. On Vishu morning, it's cooked adding salt. Mustard seeds are spluttered in coconut oil, and thin dry coconut slices are fried and add to cooked chickpeas to prepare this delicious snack. Kadala Chundal is served aside Katti payasam. Brown Champa rice is cooked, round jaggery is crushed and added to it, sauted well and finally a little ghee and scrapped coconut. Katti payasam is ready.
Vishu Pakshi was frequently seen in those days and its singing was quite common. Nowadays it's a rare sight. Now green plantain gardens and trees have disappeared from the city, and so are Vishu birds.
Conclusion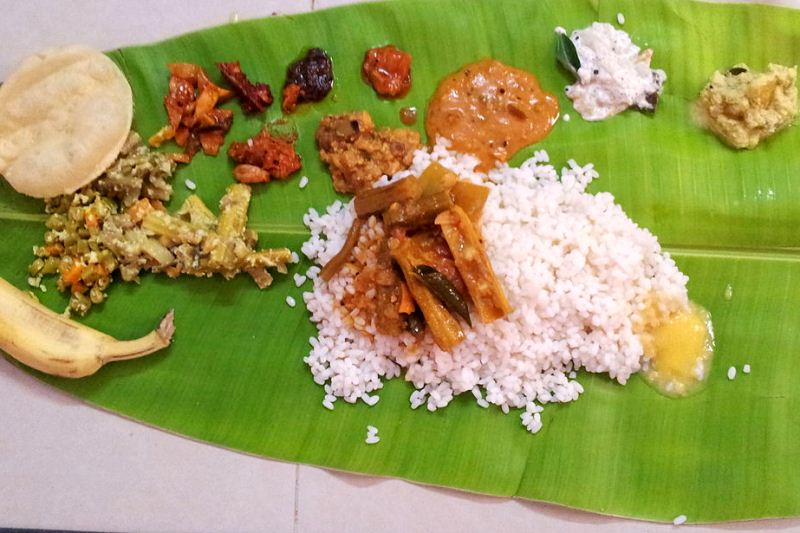 It's not easy to go back to those glorious days. In fact certain journeys are not meant for return. But certain memories cherish forever, so are old traditional Vishu dishes and grandma's tastes.
(Visited 652 times, 1 visits today)