Podithooval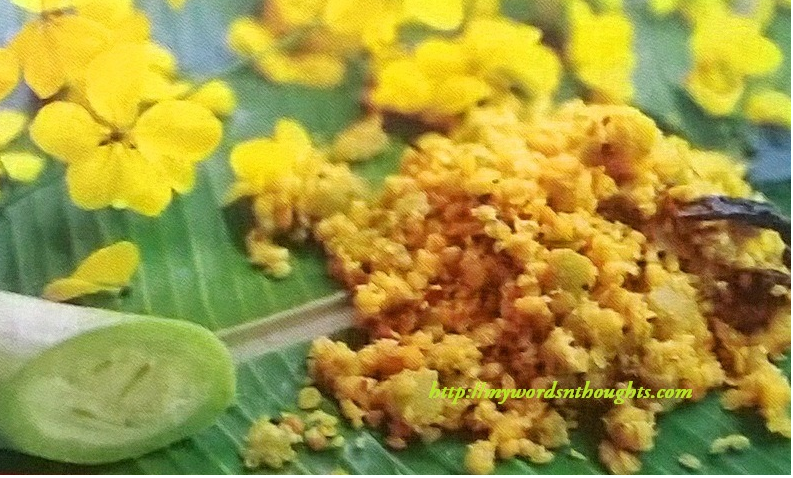 Ingredients for Podithooval:
1. Toor daal (Sambar Paripp) – ½ cup
2. Snake gourd chopped into small pieces – 2 cups
3. Coconut scrapped – ½ cup
4. Mustard – 1 small spoon
5. Urud daal (Uzhunnu paripp) – 2 small spoons
6. Green chillies – 2
7. Curry leaves – 2 stalks
8. Coconut oil – 1 big spoon
How to prepare Podithooval?
1. Cook daal adding sufficient water. But it should never be overcooked (When pressed it should be cooked, that's enough).
2. Crush together green chillies and scrapped coconut.
3. Heat oil in a pan and splutter mustard seeds.
4. Fry urud daal and then add cooked daal and snake gourd pieces to it. Never add water.
5. Cook in low flame and when it's done, add crushed coconut-green chillies mixture to it.
6. Also add curry leaves and mix well for one minute. Now you can use it.
Courtesy: Vanitha Magazine April 1-14 2017
You can read a few more vegetarian Ularth & Mezhukkupuratti recipes here. Click on the images in the gallery to read.
(Visited 270 times, 1 visits today)