Bichu Thirumala – Popular lyricist of Malayalam cinema since 1970s
Bichu Thirumala (1941 – 2021) was a popular lyricist & poet who wrote in Malayalam. He was also a singer, screenwriter & writer. One of the popular lyricists since late 1970s, he along with ONV Kurup is credited to creating the style of arranging beautiful words in Malayalam film songs, and also one among the leading lyricists who wrote lyrics for already made tunes. Winner of 2 Kerala state film awards for best lyricist, he constantly kept on updating himself, thus penning several popular songs appealing youth listeners. He wrote over 3000 film songs, and published a collection of poems titled – Kaalathinte Kanakku Pusthakam.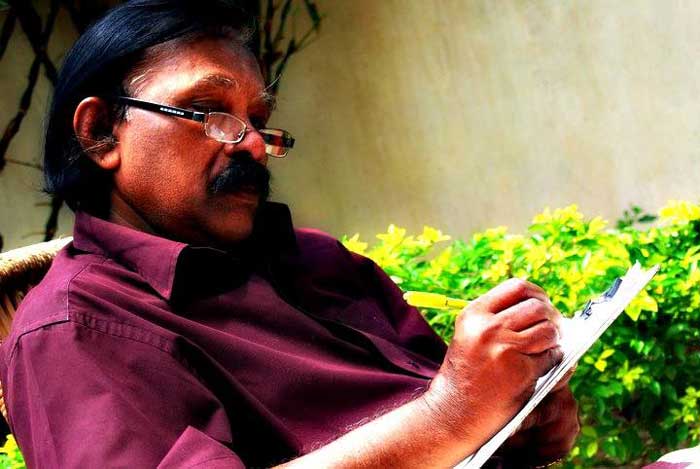 Bichu Thirumala's debut film Bhaja Govindam (1972) was never released
Born as B. Sivasankaran Nair in 1941 in Thirumala of Thiruvananthapuram district into a family of musicians, he graduated from University College of capital city. He had three siblings of whom, one brother died at younger age. His sister Susheela Devi is a singer and brother Darshan Raman is a music director. He was married to Prasanna, and their son Suman Bichu is a Music Director.
Bichu Thirumala used to write poetry since childhood. Yet joined film industry in 1970 as an assistant director, to pursue his filmmaking dreams. However, one of his published poems in a magazine opened him doors to penning lyrics. His first break was with the film, Bhaja Govindam (1972), a movie which was never released. Yet one of its songs, "Brahma Muhoorthathil" became popular as light music.
Neelakaashavum Meghangalum from Akkaldama (1975) composed by Shyam and sung by KP Brahmanandan was his first released song. Within a few years, he established as a successful lyricist, and his association with music director Shyam was a landmark. The duo gifted several memorable songs in the 1980s. Initially he wrote songs for music director A. T. Ummer. He gave some of his finest songs in Illayaraja's Malayalam compositions too, apart from songs composed by Bollywood music composer Ravindra Jain.
Known for simple writing style, he was proficient in songs of all genres
Lullabies, romantic songs, fun songs, songs of separation and griefs – Bichu Thirumala excelled in all types of songs. His lyrics are so simple too. He won state film awards for best lyricist twice – Mainakam of Trishna & Ottakambi Naadam of Thenum Vayambum (1981), and Manassil Ninnum Manassilekkoru of Kadinjool Kalyanam (1991).
Most active for three decades since 1970s, during one of his peak years, he wrote songs for 35 movies in a year. He penned lyrics for over 400 films. He wrote story, script and dialogues of two movies named Shakti and Ishtapraneshwari. He passed away on 26 November 2021 aged 80, following heart attack.
Bichu Thirumala – Some interesting and less-known facts
1. While studying in class 10, he wrote a poem for his sister, Chandamezhunnoru Poove, which began his writing career.
2. He dreamt to become a film director. But when his songs got noticed and he turned busy, he turned a full-time writer. In fact in 1970, he worked as an assistant to M. Krishnan Nair.
3. He wrote maximum songs for music composer Shyam.
4. His first song – "Brahma Muhoorthathil" belonging to unreleased film, Bhaja Govindam used to be aired on Ceylon radio in the 1970s and was popular.
5. He is credited to penning all songs of movie, Yoddha (1992), the only work of A. R. Rahman in Malayalam up-to-date. (A. R. Rahman's second Malayalam work, Aadujeevitham is yet to release).
6. Apart from film songs, he penned numerous songs for light music, devotional and Onam songs. Mamankam Palakuri is one such popular Onam song.
7. He composed music for some devotional albums too.
8. He was interested in penning lyrics for all songs for an album, and known for completing his work within the speculated time.
9. He owns the credit of forming successful combo with all leading music composers between mid-1970s and mid-1990s.
10. The title of the famous movie, Manichitrathazhu was coined from the song, Pazhamthamizhpaatt, he penned for the album.
11. He introduced many words that are not commonly used in the mainstream film lyric vocabulary.
Popular film songs penned by Bichu Thirumala
Vaakapoo Maram Choodum from Anubhavam

Ottakambi Naadam from Thenum Vayambum

Title track of Thenum Vayambum

Mainakam from Trishna

Shruthiyil Ninnunarum from Trishna

Aalipazham from My Dear Kuttichathan

Minnaaminungum from My Dear Kuttichathan

Rakendu Kiranangal from Avalude Raavukal

Unni Aarariro from Avalude Raavukal

Padakali from Yodha

Kunukune from Yodha

Mizhiyariyaathe from Niram

Prayam Nammil from Niram

Kannaam Thumpee from Kakkothikkavile Appooppan Thaadikal

Manassil Ninnum from Kadinjool Kalyanam

Ezhuswarangalum from Chiriyo Chiri

Kokkaamandi from Chiriyo Chiri

Samaya Radhangalil from Chiriyo Chiri

Oru Mayilpeeliyaay from Aniyaatha Valakal

Poonkaattinodum from Poomukhapadiyil Ninneyum Kaathu

Konche Karayalle from Poomukhapadiyil Ninneyum Kaathu

Snehathin Poonchola from Pappayude Swantham Appoos

Enn Poove Pon Poove from Pappayude Swantham Appoos

Olathumpathu from Pappayude Swantham Appoos

Paalnilaavinum from Kabooliwala

Puthen Puthukaalam from Kabooliwala

Pirannoree Mannum from Kabooliwala

Kaboolivala Naadoodi from Kabooliwala

Pranayasarovara Theeram from Innale Innu

Hridayam Devalayam from Teruvu Geetham

En Swaram Poovidum from Anupallavi

Neela Jalasayathil from Angeekaram

Naladamayanthi Kadhayile from Rowdy Ramu

Mizhiyoram from Manjil Virinja Pookkal (2 versions)

Manjadi Kunnil from Manjil Virinja Pookkal

Manjani Kombil/ Manjani Kunnil from Manjil Virinja Pookkal

Pazham Tamizh from Manichitrathazhu

Oru Murai Vanthu from Manichitrathazhu (along with Vaali)

Kaattu Thaarattum from Ahimsa

Paavada Venam from Angadi

Kannum Kannum Thammil from Angadi

Kannippalunke Ponninkinaave from Angadi

Pookkalam Vannu from Godfather

Manthrikochamma Varunnundee from Godfather

Pookkalam Vannu Pookkalam from Godfather

Oru Madhura Kinavin from Kaanamarayathu

Kasthuriman Kurunne from Kaanamarayathu

Swarna Meeninte from Sarpam

Penninte Chenchundil from Guruji Oru Vakku

Venpakal Thirayo Nizhalaattamo from Guruji Oru Vakku

Unnam Marannu from In Harihar Nagar

Title track from Unnikale Oru Kadha Parayam

Punchiriyude Poovilikalil from Unnikale Oru Kadha Parayam

Vazhappoonkilikal from Unnikale Oru Kadha Parayam

Kilukil Pambaram/ Panineer Chandrike from Kilukkam

Ootypattanam from Kilukkam

Meena Venalil from Kilukkam

Kannodu Kannoram Nee from Ente Mamattikuttiyammakku

Mounangale Chaanchaduvan from Ente Mamattikuttiyammakku

Aalorungi Arangorungi from Ente Mamattikuttiyammakku

Thaimanikkunju Thennal from Ente Mamattikuttiyammakku

Aayiram Kannumayi from Nokkethadoorath Kannum Nattu

Laathiri Poothiri from Nokkethadoorath Kannum Nattu

Kiliye Kiliye from Nokkethadoorath Kannum Nattu

Nakshatra Deepangal from Nirakudam
Kulambadi Thalam from Jackpot
Thaazhvaram from Jackpot

Pavanarachezhuthunna from Vietnam Colony

Pathiraavaay Neram from Vietnam Colony

Lallam Paadunna from Vietnam Colony

Nananju Neriya Patturummal from Ente Mohangal Poovaninju
Kaalindee Theeram Thannil from April 18
(Visited 98 times, 1 visits today)