Avnas Ambe Sasam
Avnas Ambe Sasam is a Konkani dish, which can be categorized as a side dish, served with rice. It can be also said to be a delicious salad, served during hot summer season. With the sweetness of fruits added, it also adds raw coconut gravy. You can make slight variations of the dish, based on the fruits chosen. In Konkani language, 'Avnas' refers to pineapple, 'Ambe' to mango and 'Sasam' to ground coconut gravy. Avnas Ambe Sasam is a part of Konkani food menu, used in celebrations and cultural events. As coconut gravy is not cooked, you should consume within hours of preparation. You can also store it in refrigerator.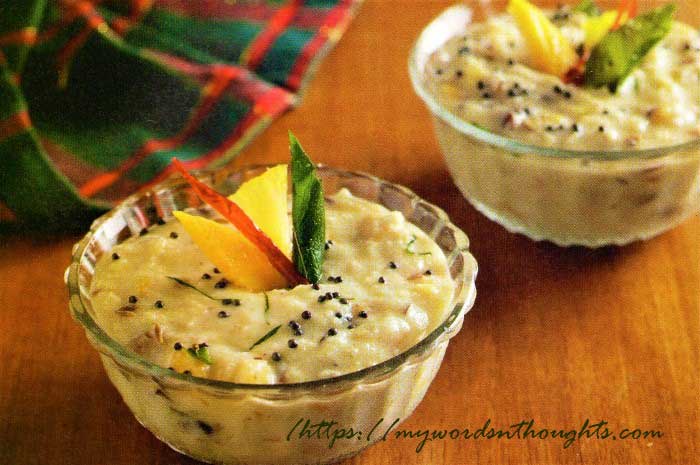 Ingredients for Avnas Ambe Sasam:
1. Pineapple chopped fine – 2 cups
Mango chopped fine – 1 cup
Dates and cashews chopped fine – 1 cup
2. Coconut scrapped – 1 cup
3. Sugar – 2 big spoons
4. Condensed milk – ½ cup
5. Oil – 1 small spoon
6. Mustard – 1 small spoon
Cumin seeds – 1 small spoon
Curry leaves – A little
How to prepare Avnas Ambe Sasam?
1. Mix ingredients no: 1 together.
2. Grind coconut to a smooth paste and add to ingredients no: 1.
3. Dissolve sugar too.
4. Add condensed milk and mix the ingredients together.
5. Heat oil in a pan and temper ingredients no: 6.
6. Add this oil to your prepared Avnas Ambe Sasam and serve as salad or with rice.
Courtesy: Vanitha Magazine January 21 – February 3, 2022
Read a few vegetarian salad recipes. Visit my page.
(Visited 15 times, 1 visits today)