Arjun Ashokan – Malayalam film actor of 'June' and 'Parava' fame
Arjun Ashokan is a character artist of Malayalam cinema, who made impressive performances in critically acclaimed and commercially successful 'Parava', ''B. Tech', June' and 'Unda'. He is the son of popular character artist and comedian, Harishree Ashokan. Orkut Oru Ormakoot in 2012 marked his film debut. After playing a role in less-known film To Let Ambadi Talkies in 2014, he got a major break through 'Parava' in 2017. His pivot role of Azad in 'B. Tech' (2018) was also well received. His roles in 'June' and 'Unda' both released in 2019 brought him to main stream of character artists of Malayalam cinema. He played side role with negative shades in Varathan too, and now gearing up for his first role in a lead.
Arjun Ashokan was born on 29 August 1993 in Ernakulam. Following his father's footsteps, he too reached cine world. Marked his film debut in 2012, during his plus-two studies in Orkut Oru Ormakoot, followed by Amdadi talkies Vilpanakk. When both films failed, he took a break. His first major movie, Parava was released in 2017, after 5 years of hiatus. Though the role was short, it was of great significance. His role as an engineer student in B. Tech was also well received.
He has turned a busy actor with two hits back to back in 2019 – 'June' and 'Unda' . He played meaty roles in both and earned appreciation. Since then he is regular in Malayalam films and has worked with several leading stars in popular roles. He has played supporting roles in highly appreciated films like Kaduva, Malayankunju, Romancham, Thattassery Koottam, Super Sharanya, Trance, Jan.E.Man, Thuramukham etc. He played lead role in 2023 release, Pranaya Vilasam. In 2018 December he married his long-time girlfriend Nikhita.
Arjun Ashokan – Some interesting and less-known facts
1. In June, Arjun played the role of Anand, a plus-two boy who has serious crush on the lead lady, Rajisha Vijayan. Though his character's love in the movie is unsuccessful, he married his long-time girlfriend in his real life – Nikita Ganeshan, a few months before the film's release. They were in a relationship for long 9 years before getting married with parents' permission. Interestingly they started dating during Higher secondary days, when Arjun was studying in Plus-two and Nikita in Plus-one at Chinmaya Vidyalaya, Vaduthala.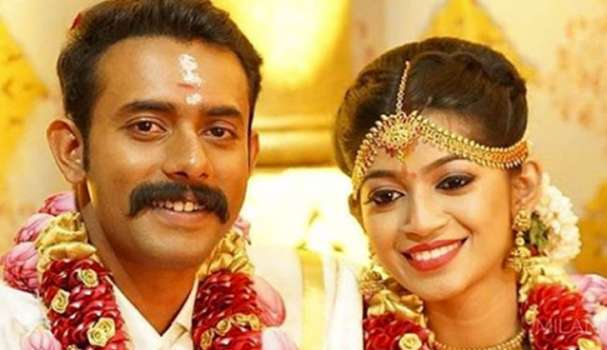 2. As per his horoscope, if his marriage doesn't happen before he reaches 25, it may happen 7 years later. So he got married before he reached 25.
3. Though his father succeeded as a comedian, Arjun is yet to try his hand in this genre. He mostly plays serious roles on screen.
4. His role for Parava earned him a nomination at SIIMA in Best Debutant Actor (Malayalam) category.
5. He played a cameo role in An International Local Story (2019), directed by his father. He is a trained singer and has rendered his voice for one of its songs.
6. His father has always advised him to accept only the roles which he like; then only he can find happiness in the profession.
7. He grew a beard for his brief role in Parava, which gave him a break in the industry. Since teens he loved to grow beard, which got into a few troubles as well, which includes a lost admission chance for graduation studies.
8. He is also a successful businessman, who started his profession soon after graduation. He was not much interested in higher studies, and used that money for starting business. Now he owns three successful ventures – car wash business, packed food and construction company.
9. His debut film Orkut Oru Ormakoot also starred his supportive father, Harishree Ashokan. His father directed him in 2019 flick, An International Local Story.
(Visited 808 times, 1 visits today)