Deva Nandha – The talented child actress who played Kallu in 'Malikappuram'
Deva Nandha is a budding child actress of Malayalam cinema. After playing brief and less noticed roles, she shot to fame playing the lead role in 2022 devotional film, 'Malikappuram', dedicated to Lord Ayyappa of Sabarimala. She received wide appreciation from critics and audience alike, and the movie became a box office hit. Unni Mukundan played the male lead. The film depicts the story of a 8-year old young girl Kalyani and her journey to Sabarimala for first time, along with her friend, the character played on screen by Sreepath.
'Malikappuram' is not the first movie of Devananda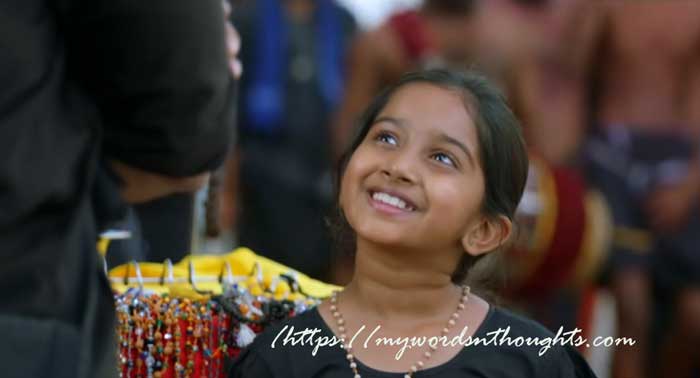 Devananda lives with her parents & grandmother. Her father Jibin is a businessman and her mother Preetha works in government sector. It's her grandmother who introduced her to the mythological world, telling her stories from Hinduism and also to Swami Ayyappan at the age of 3. Though her grandmother has not visited Sabarimala yet, she is a believer. In fact her family is staunch believers of Lord Ayyappa too. At the time of Malikappuram release, she is studying in 4th standard in Rajagiri Public School, Kalamassery, Eranakulam.
'Malikappuram' is not the first movie of Devananda. In fact, it's the 12th film of this budding star. Her upcoming movies include – 2018, Somante Krithavu, Neymer etc apart from a few movies in pipeline. 'Malikappuram' is her first movie in lead role. She has earlier acted in one movie produced by Venu and Anto in 2018, who financed Malikappuram as well. Through them, she got opportunity to attend auditions. She was selected for the lead role by the writer Abhilash and film's director Vishnu Sasi Shankar.
Deva Nandha's unforgettable moments associated with the movie, 'Malikappuram'
She had a wonderful experience, shooting with the big team for 'Malikappuram'. It's Deva Nandha's first movie in a lead role, and it's highly performance oriented. She got opportunity to go to Sabarimala twice to do shooting and see Ayyappa, which is an unforgettable experience in her life. Along with crew, she took 75-days vrita and followed all rituals to climb the steps of Sabarimala temple. They also visited Pandalam palace and Valiya Koyikal Dharma Shastha Temple, where they got opportunity to see Thiruvabharanam, used for the royal procession every year. At one occasion, actor Mammootty called her to stage and asked her if he can take a photo with her.
She is learning western dance and music
Deva Nandha has a lot of extra curricular activities. Apart from western dance and music, she is also learning Bharatnatyam, swimming, piano etc. After the shooting of the movie was over, she carried along with her, a small statue of Lord Ayyappa, used for film shooting. She later placed it in her pooja room. Though she handled almost all the scenes with ease during shooting, she faced difficulty in one of the fight sequences, where she failed to land properly multiple times.
Crab and eggs are her favourite non-vegetarian dishes. She is not much attracted to chicken. When film shooting was almost done, when 5 days were left (after sequences inside temple done), though non-vegetarian food was served, she continued with her Vrita.
A brief bio of Sreepath Yaan, who played Piyush in the film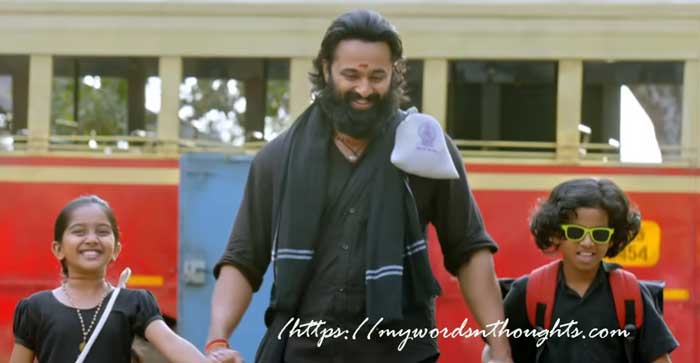 Sreepath Yaan played the role of Piyush in Malikappuram, who accompanies Kallu to Sabarimala. It's his third film experience. In his words, all the cast and crew have been very supportive, and only problem while shooting in forest was the attach of leaches and worms. As shooting progressed, he adjusted with it. Also shooting was done in forest, which look abandoned in the evenings and the crew has to leave before that.
Sreepath's first journey to Sabarimala was for the shooting for this film, and he was longing for that. The kids had normal fights at the shooting, as kids used to be and they solve it after a few minutes. If fight lasts long, actor Unni Mukundan acts as mediator.
Child actress Devananda – Some interesting and less-known facts
1. Malikappuram is not Devananda's first film. She has played brief roles in Minnal Murali, My Santa, Simon Daniel, Thottappan, Heaven, Teacher etc.
2. She fasted for 75 days, and just like a Sabarimala pilgrim, along with the crew she visited Sabarimala, for film shooting. Shooting was done during the time, when temple was opened during interim for devotees.
3. It was her grandmother who introduced her to Hindi religious figures, since the age of 3, telling her stories.
4. Thottappan marked her screen debut at the age of 3.5.
5. She loves acting, along with studies, and wants to continue both.
(Visited 12,029 times, 2 visits today)