Aaroor Dass – The celebrated screenwriter and dialogue writer of Tamil cinema
Aaroor Dass (1931 – 2022) was one of the prominent writing figures of Tamil scriptwriting. He has written the story, screenplay and dialogues for over 1000 films, which include 28 movies of Sivaji Ganesan and 25 movies of MGR. Started his career as a dubbing assistant of Thanjai Ramaiah Doss for the movie, NTR-starrer 'Natyatara' to Tamil in 1952, he turned a full-fledged writer with Vaazha Vaitha Deivam (1959). He was active in film industry for the next four decades, and remained one of the top most screenwriters during the glorious years of Tamil cinema.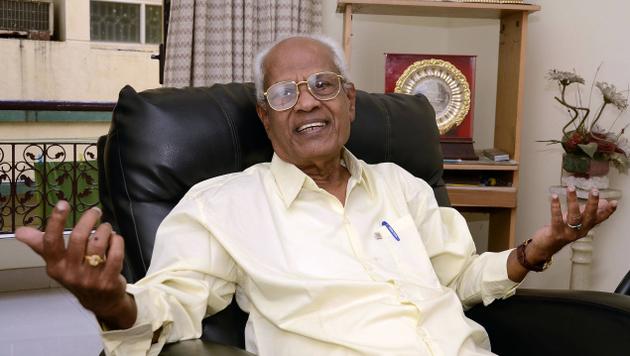 Aaroor Dass was a native of Thiruvarur, Nagapattinam, born in year 1931. Born into a middle class family, due to poor financial conditions of his family, though he pursued his college studies, he discontinued it. He kept his passions live and contributed stories for different magazines. At the age of 16, he started a drama troupe, Chinnappa Nataka Mandram, named after P.U. Chinnappa, his favourite actor. Watching one of his staged plays, theatre personality Somu Vadhyar introduced him to Kuzhikkarai Murugappa, who in turn introduced him to Thanjai Ramaiah Doss. Thus he started his career as an assistant under Ramaiah Doss in 1952. It was under him, he became an expert in writing.
NTR-starrer Telugu film – 'Natyatara' was his first movie as a dubbing writer followed by Hindi film 'Qaidi' in 1956 which was released under the name, 'Magudam Kaatha Mangai'. After his debut with Gemini Ganesan starrer Vaazha Vaitha Deivam in 1959, there was no turning back. He went on to become one of the top writers of 1960s and later. Pasamalar (1961) was his first script for Sivaji Ganesan, for whom he wrote majority of scripts.
From there on, he was fully active in the industry for next three decades, and became a seasonal writer in the 1990s. After a break of nearly two decades of his active career, he wrote the script of 2018 year movie, Tenaliraman. Parisu, Thazhampoo, Thaai Sollai Thattadhe, Anpe Vaa, Thozhilali, Vettaikaran, Thanipiravi etc are some of his scripts for MGR. Parthal Pasi Theerum, Annai Illam, Padithal Mattum Podhuma, Thangai, Deiva Magan, Pasamalar etc are his famous scripts for Sivaji Ganesan. He passed away on 20th November 2022, following age related ailments.
Aaroor Dass – Some interesting and less-known facts
1. His real name is Yesudas/ Jesudoss. He was rechristened as 'Arur Doss' by Thanjai Ramaiah Doss, under whom he started his film journey as an assistant writer.
2. In 2012, he released one book titled – Kodambakkathil Arubadhu Aandugal.
3. He is a recipient of Kalaimamani Award and many other honours.
4. During his initial days in theatre, impressed by his passion, he was given opportunity to display ads in the film intervals by many theatre owners of his hometown Thiruvarur. He manually wrote details about his plays in the given slides, as a sort of ad and with owners' permission, used to display them through film projectors. It helped him a lot to get more audience for his staged plays.
5. During his active years in cinema, he used to wake up at 4 am in the morning and wrote film scripts and dialogues in a small room of 15*10 dimensions, with no or less facilities of fan or air conditioners. Thus through his dedication to work, he set examples for youngsters to follow.
6. After working as an assistant for four years, Magudam Kaatha Mangai was his first credited work, which was a remake of Hindi film, Qaidi.
7. For his first film as a full-fledged story and dialogue writer, 'Vaazha Vaitha Deivam', he suggested the names of Gemini and Saroja Devi for lead roles.
8. He directed film Penn Endral Penn (1967), and following its failure never made films later. At that time MGR was the only person who didn't support his career as a director, as he was not willing to lose his writer.
9. He wrote dialogues for more than 30 films of director A.C. Trilokachandar, and for 17 films of K. Balaji.
10. He has written dubbed dialogues for more than 1000 films and original dialogue for 500 films.
11. As a playwright he wrote the plays – Thirisoolam and Jenma Thandanai.
12. In June 2022, he along with senior journalist I. Shanmuganathan were honoured with Kalaignar Kalaithurai Vithagar Award and e Kalaignar Ezhuthukol Award respectively.