Narthaki Nataraj – The first transgender woman to be awarded Padma Shri
Dr. Narthaki Nataraj is a classical dancer who performs Bharatnatyam. She follows Tanjore-based Nayaki Bhava tradition of this art form. She is the first transgender woman to be awarded Padma Shri. She was honoured in 2019. Nartaki Natraj is also known as a transgender activist, who founded the organization, Velliambalam Trust, which supports women belonging to her community.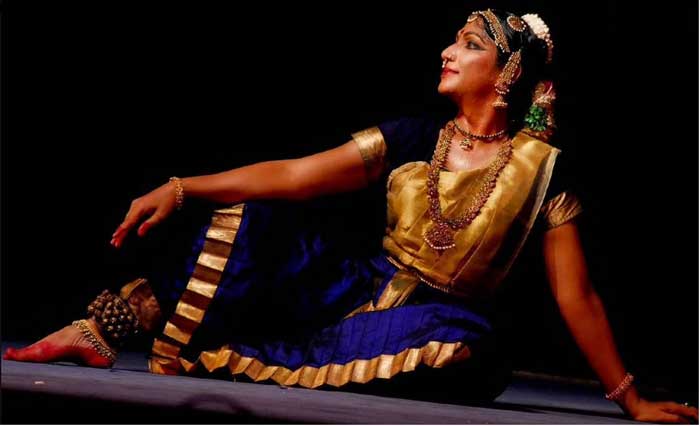 Social stigma forced Narthaki Nataraj to run away from home
Narthaki Nataraj hails from Madhurai, Tamil Nadu. From the age of 10, she started realizing her feminine side, and liberated herself through dance, the sole way of expressing herself. Because of social taboo existed in the society, at the age of 12 she was forced to run away from home.
A disciple of K. P. Kittappa Pillai, a scion of Tanjore Quartet, codifiers of the Bharatanatyam format
She got opportunity to learn from Namanur Jeyaraman of the Tanjavur bani, followed by K. P. Kittappa Pillai in 1984, under whom she got rigorous training in Bharatnatyam for 15 years. She made her first stage appearance in 1983, and also took the stage name "Narthaki". She also started Narthaki Nritya Kalalaya in Madurai. In year 2000, she moved to Mylapore, Chennai, and a full-time professional dancer since then. Now she owns branches of her dance school in abroad too.
Her fights as a social reformer
After facing social stigma being a transgender in her early childhood, she had many such bitter experiences later too. She was stopped at many airports as her passport denoted the alphabet "U" for her gender. Her early fights started in 2002, and later she founded the organization, Velliambalam Trust.
Tamil Nadu Government recognized her with prestigious Kalaimamani Award in 2007. She received Sangeet Natak Akademi Award in 2011, Honorary Doctorate from Periyar Maniammai University 2016 and many more honours. While she received Padma Shri, chosen as one among 112 recipients, she said, she was not chosen because of her transgender identity but on basis of merit as a Bharatanatyam artist. By that time she had already dedicated more than 3 decades to this performing art form.
Narthaki Nataraj – Some interesting and less-known facts
1. In her opinion, Shiva's male-female combination form of Ardhanareeshwara personifies feminism.
2. Her life has been included in the 11th standard syllabus of Tamil Nadu school syllabus.
3. She is the first transgender person to receive Kalaimamani Award and Sangeet Natak Akademi Award.
(Visited 20 times, 1 visits today)