A food journey to Madhurai – The city of famous Meenakshi temple
Paruthi Paal, Muthaliyar's Idli, Thalappakatti Biryani – there are many trademark restaurants and their delicious dishes in the city of Madhurai, which have not lost their taste or charm even after decades or centuries. Many of its food traditions are centuries old, still carried over through generations, as traditional business without any lost flavours.
Madhurai is one among the rare temple cities across the globe. It's cultural capital of Tamil Nadu. Stories we hear about Madhurai city is mostly about devotion and blessings of Meenakshi Amma. Bhakti touches sky here. Gopuras touching skies, countless statues and 1000 Kalmandapam are the trademarks of the city. The flavours of filter coffee wake the mornings. Noon with the smell of Sambar, sour taste of Thayir saadam (curd rice), ghee roast dosa and potato masala hidden inside it – all add south Indian flavours to Madhurai cuisine.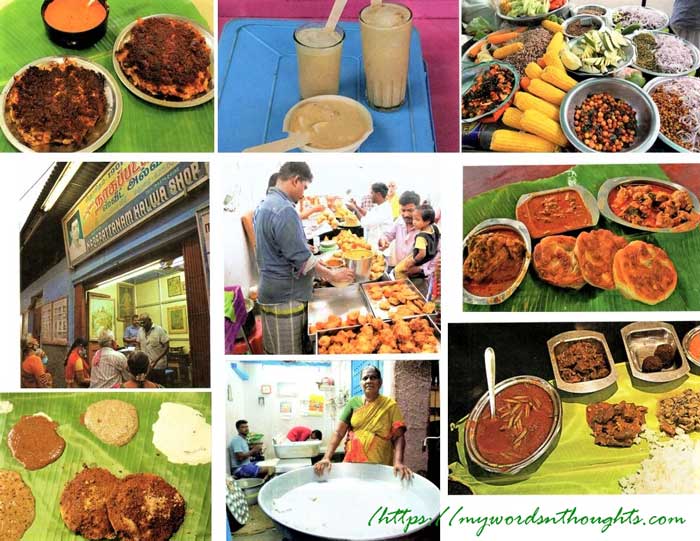 There are much more specialities in Madhurai cuisine. When you reach remote places, you can find many variety dishes. Streets are filled with non-vegetarian dishes, snacks and much more. Many of them are tiny shops where you can explore your 'food trekking' skills. You can play a long innings as long as you don't become 'run out' in your wild exploration of dishes.
Start your taste exploration after praying to Meenakshi Amma
All roads in Madhurai lead to temple. Outside the temple you can see ladoo, pongals and variety of sweet dishes. Ladoos are prepared using ghee and milk and sugar candies are also added. Now let's move towards something spicy.
Murugan's Idli shop whose fame reached outside the country also played a role in making Madhurai dishes famous. Murugan's coffee shop was started around 50 years ago in a single room with snacks and coffee, and now its fame has spread worldwide. Now the brand is selling idlis in U.K and Singapore.
Most 'breakfast' debates work in favour of idli & sambar, though there are arguments opposing it too. Whatever it is, idli, a trademark South Indian dish, it is loved not only by South Indians, but also North Indians and people outside India too. Idlis are served as 'Natural beauties' – normal white ones aside Sambhar and Chutney in Murugan's Idli shop. Along with it, idlis with 'makeup' are also served here. Podi Idli, where gun powder is mixed by sesame oil and idlis are marinated with them. Oottappams are also available.
Jigarthanda – The real cracker of sweet
Most restaurants fall in the circumference of 6 kms. Madhurai city is famous for Jigarthanda drink, something chilling the liver (if we decode it in Hindi). Two shops are famous – Famous and Haneefa. They are made in big urlis. The glasses are filled with light chocolate colour drink. A scoop of ice cream is placed on top. Milk and extra sugar are main ingredients, which gives the taste of a new generation Palada Pradhaman. When ice cream is served on the top, it chills hot summers.
Here is the story of Famous shop. 'Shake' Meeran reached Madhurai from Thirunelveli 50 years ago and started with ice cream business. He used to transfer ice cream in small vessels and sold house to house, to look after his family. All his 4 children followed his path. They started their business pulling a cart, and later started Jigarthanda. It's a milk shake which contains milk, nannari serbat and ice cream. This shop was started in the 1970s and when the drink became famous, people named the shop as 'Famous'. Earlier this shop didn't have any name. Basundi is another trademark drink served here. It's prepared by boiling milk till it thickens and is extremely sweet.
Nagapatnam Halwa Shop
There is one sweet shop in Madhurai where history sleeps. Nagapatnam Halwa Shop was started a century back. It's located outside the temple near the temple gopura, and you need to observe carefully to locate the shop. The picture of its founder V. Ananthanarayanan is framed in the shop, starting year too -1901. Halwa made here is different from normal halwas. They add ghee and milk extra. They give small bits of halwa in the leaves of mandaran plant, and claim, they won't get damaged for a long time.
Lunch with superstar fish curry
Rice meals and biryani are the options for lunch. If you choose fish meals, you can find variety dishes here. There is a local fresh water fish called 'Ayira Meen' (Spiny Loaches or Spined Loaches in English) tiny in size. From catching this fish to putting it on plate, it's a tale. Ayira Meen kulamb (the fish in curry form) is served in weddings as a special dish. Though it resembles small netoli, it's costlier than seer fish. It costs more than 1500 rupees per kilo.
You can serve meals with this fish curry. For Malayalis you get a feel of netholi curry and hence over costly. But it's favourite dish of Madhurai residents. Mutton Chukka, mutton balls etc go along with meals.
A biryani tale under a big palm tree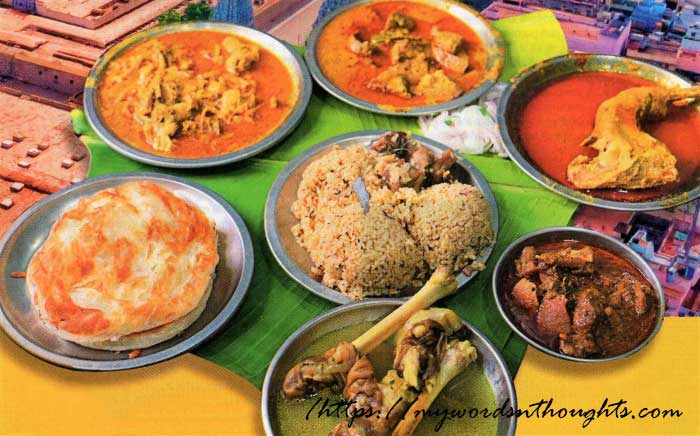 There was a big palm tree in the village, and a tiny restaurant near to it. This story happened 95 years ago. Special mutton curry made in that restaurant at noon attracted people from nearby streets. As mutton curry became popular among natives, they gave it a name – Panaimaruth Biryani Kada, which translates as 'Biryani shop beneath palm tree'.
Generations changed. Balayyar who started the restaurant advised his children – Never renovate the hotel or serve altered food. That palm tree was destroyed in a lightning and now stands as ablack pillar. But the restaurant is still the same, without any change in flavours or taste. Biryani, Mutton leg Paaya, Perotta, Bun perotta, Mutton liver gravy, Mutton intestine gravy, Mutton Paaya – the list is long.
Mutton leg Paaya (Aatumkaal Paaya) is a type of mutton soup. People come here from nearby hospitals also, for this soup. It's good for leg pain, bone fractures etc. Per day, legs of 10 lambs are used for the preparation of soup. If you use it regularly once you reach 40, you can walk easily till you reach 80 – says restaurant owner. It requires a lot of time for the preparation of this soup too.
There is one special dosa served at Konar shop at Simmakkal. It's not normal zero sized ghee roast, but a type of thick curry dosa. Batter is spread thick and one broken egg is added on top. Then thick mutton curry is put on top, and dosa is cooked. Dosa is flipped and cooked both sides. One side is almost burnt when it's done. This dosa is too spicy hot.
Dikashan coffee and snacks in the evening
Now it's the coffee time. Dikashan coffee served there is super. In KPS Coffee shop near Periyar bus stand, different types of snacks are available – varieties of Baji and bonda, miniature uzhunnu vada, paripp vada, sukhiyan & churutt, and many more fried snacks.
Sellers also carry murukk in carts. Jackfruit is another variety, displayed inside glass containers in the carts. It's cheap also – 10 rupees for 20 pieces. Salted or masala added to chopped cucumber, green mango, carrot, guava, gooseberry etc are also available in streets. There are people selling corn in the streets for more than 25 years. Beans, corn, tapioca, peas, red beans etc are boiled, and spread in round vessels inside the cart. Finely chopped onion, carrot and coriander leaves are added to them, mixed well and served.
Thengin Kural is another variety dish. It's the inner part of coconut flower, chopped into pieces and sprinkled with sweet or masala. For 10 rupees, you will get pieces.
Bun perotta & Burma Idiyappam with chicken curry and mutton roast
Burma Idiyappam is normal Idiyappam sold in a shop in Madhurai. Thousands of them are sold every day. Only parcel is available. You can eat idiyappam, standing in the streets. There is an interesting tale behind the name – Burma Idiyappam. Owner's parents, originally belonged to Burma who came here and got settled. To support the family of 10 kids, the couple started making idiyappam and sold in the streets. They started this shop in 1969. As his mother ran the shop, a native of Burma, people started calling it 'Burma Idiyappam'. Now the shop belongs to third generation. On busy days, they sell Burma Idiyappam made from 30 kg rice.
Padma is currently running the shop. Her both kids are engineers – one of them settled in America and second in Bangalore. Yet she is continuing her hard work. Usually idiyappam is served on a banana leaf, a little coconut milk is poured, with a little sugar sprinkled on it.
Bun perotta is yet another trademark dish. It was born in a small street restaurant in K. K. Nagar. Now its fame has crossed country borders. It's different from layered perotta available in Kerala. They simply fold it and roll it. It resembles a bun, hence the name. But it has layers inside and looks fluffy.
At first flour is kneaded, prepared dough, and then made into a thin sheet. It is folded in special technique and given bun shape. In big cast iron pans, oil is poured and these buns are placed. They are flipped and both sides are fried in oil. You can serve with mutton curry, chicken or any side dish of your choice.
On your return journey, you can have a slice of Nagapatnam Halwa, close your eyes and think about the delicious food journey you have just had.